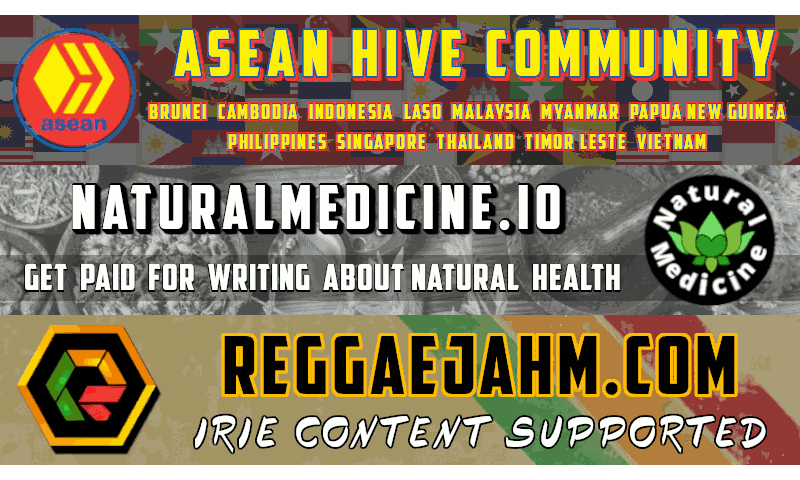 Greetings Hivers, I just finished creating several 800x150px footers/banners, and I wanted to share them all with all of you awesome Hivers.
---
👨‍👩‍👧‍👧 Operation New Family Footer Complete 🏁
     During brief periods of free-time over the last several weeks I've been working on a new and updated animated GIF footer for the family (@Sreypov & @KidSisters) and I to use in all of our future posts.
     With an increase in HP over the last year, we can now support several more tribes, curation projects, tokens, games, and Dapps on the Hive blockchain, so I wanted to give each and every one of these a little love at the bottom of our posts without consuming a massive amount of physical space within the post body.
     The core of my Hive efforts are with the ASEAN Hive Community, NaturalMedicine.io, and ReggaeJAHM.com, but I do try and post content within Hive's various communities, even ones I don't yet have the ability to support with delegations.
---
The Finished Product? 🤔
     Just like life, Hive is an unending work-in-progress, and I would like to improve a few of the individual footers/banners in the near future, but time is the master and I was already rushed to get so many completed in a short time.

     The whole purpose of creating this massive collection of footers/banners was to assemble them into one animated GIF file, and above is the finished file. I realize this GIF will be of much of less interest to you Hivers that only want individual files, so I've included each footer/banner separately.
---
GIFs in GIMP Are Easy 🖼️
STEP 1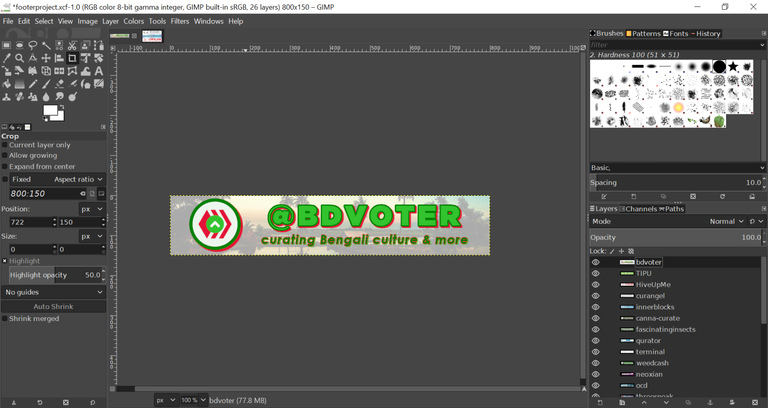 multiple layers shown in the bottom right-hand corner
     If you are comfortable working with layers in GIMP and have a basic knowledge of the program, it is super easy to make a simple animated GIF file from several layers. If you have more than one layer you've already completed STEP 1.
STEP 2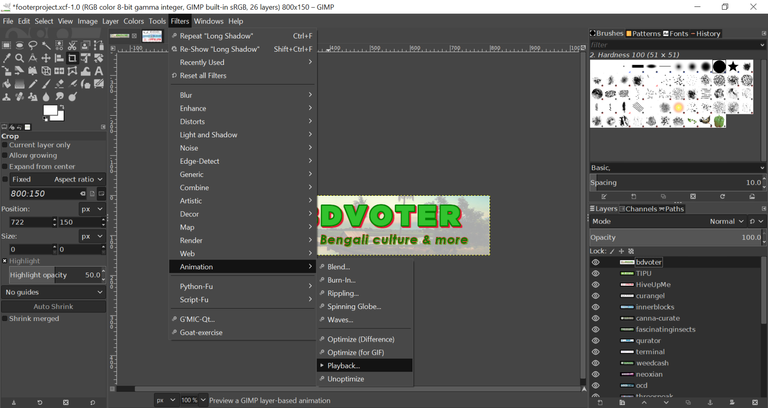 the playback feature has some cool features like adjustable playback speed and zoom
     If you want to see a preview of your handywork before you export a GIF, just click on Filters, select Animation and then click Playback. Your layers will be presented to you in slideshow style, and this will allow to you to determined how your GIF will look.
STEP 3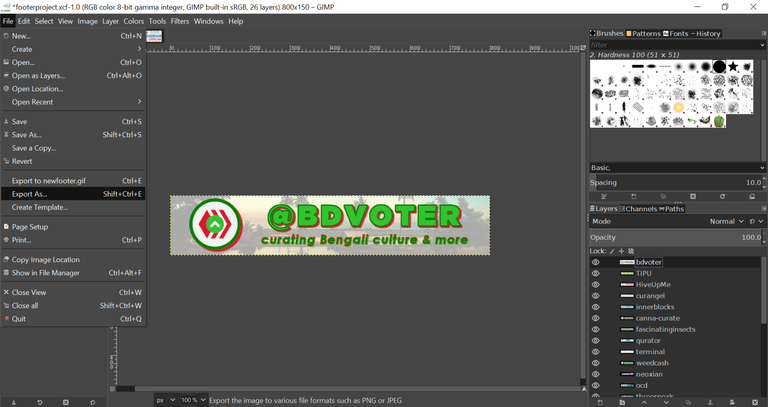 several file types are available in the export menu
     If you like your animation preview, you simply click on File and select Export As...*.
STEP 4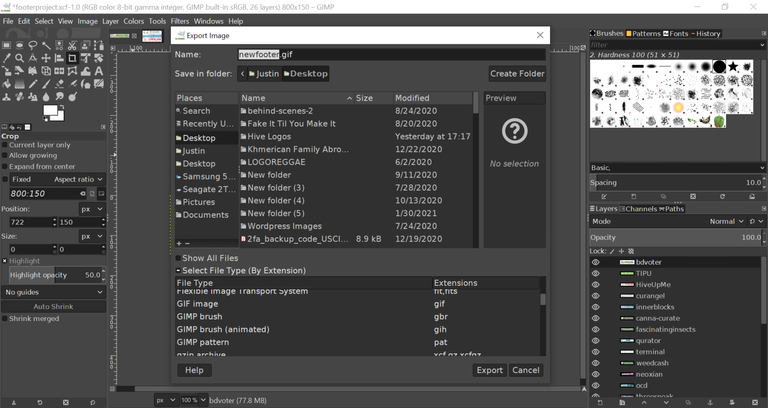 gif file type available within the submenu
     Within the Export Image menu, go to Select File Type And choose gif, then Export.
STEP 5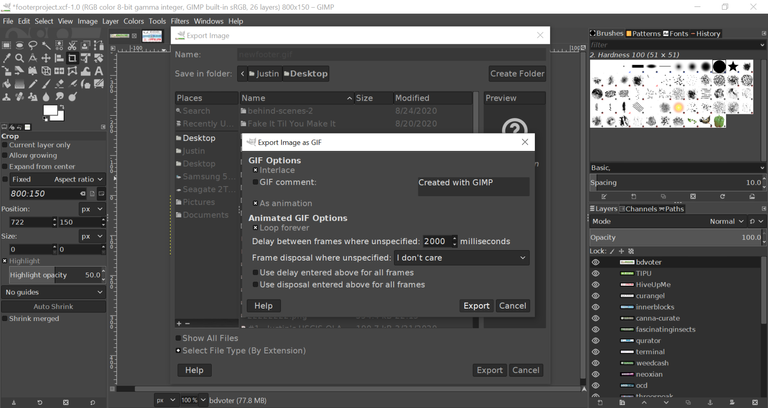 **
     To reduce image flicker, I like to use Interlace, and I also deselect GIF comment. Make sure Loop forever is selected and choose how much of a time delay you want between frames. I chose 2 seconds (2,000 milliseconds). After that, click on Export and save your .gif file wherever you like.
---
🦶 Free Footers For All 🎁
     I realize many of you may be interested in the individual .png footer/banner images, so here they are presented individually. Each image is 800x150 pixels.
     Please use these images and/or modify them in any way you like. There is no need to ask permission from me, I simply wanted to share these with all of you because I also know many tribes don't have any footer images at all, and I hate to put in all this work just to use these files for a personal GIF footer.
Want A Custom Footer/Banner For Your Token, Dapp, or Tribe?
     I might be able to help, just let me know in the comments below. A logo and a catchy phrase are a good places to start ,and often all I need to get the job done.
---
🙏 THANKS FOR READING 🙏
If you enjoyed this post, please upvote and reblog.