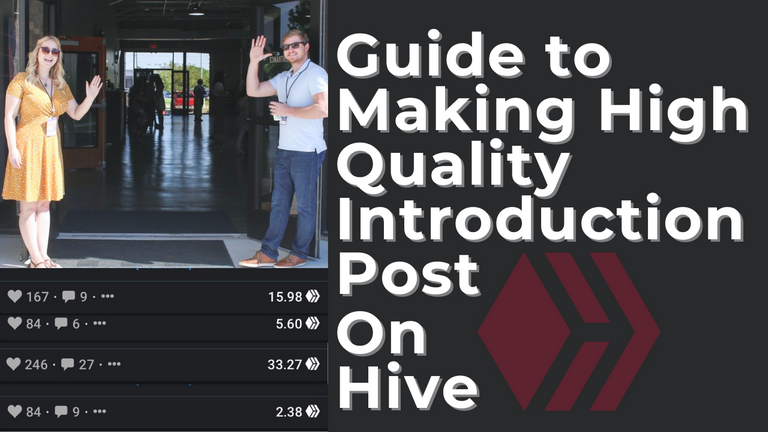 Making that first post can be a bit intimidating but don't let the whole blockchain thing freak you out.
Just go through this guide, have fun with it, and you'll be golden! 👍🏾
---
(Unsupported https://lbry.tv/$/embed/how_to_introduce_yourself_to_the_hive_community/1edf04cb5624f6c87f0d5461d584df0861e73bf4?r=Fxger7EDm18E3c2T55hEoiknMVVkSfJx)
https://odysee.com/@Coinrunner7:e/how_to_introduce_yourself_to_the_hive_community:1?r=Fxger7EDm18E3c2T55hEoiknMVVkSfJx
🙏🏾 THANKS FOR WATCHING! 🙏🏾
---
If you're not on Hive yet be sure to create your free account here:
https://esteem.app/signup?referral=bigtakosensei
Ecency Walkthrough -
https://odysee.com/@Coinrunner7:e/ecencey_hive_blockchain_cryptocurrensy_social_media_mobile_app_walkthrough:e?r=Fxger7EDm18E3c2T55hEoiknMVVkSfJx
---
Other sites to introduce yourself from:
Hive.blog
Peakd.com
" #introduceyourself " is the magical hashtag you'll need for your post to be found by people who want to upvote and interact with you!
✅ Who are you?
✅ What are your interest and goals
✅ Are you a Crypto vet or still figuring things out?
✅ Any pictures you can share?
Bonus Tags:
leofinance - crypto and financial focused content
sportstalk - sports and physical activity related content
creativecoin - arts, crafts, and creative focused content
jahm - reggae, hip-hop, RnB, and soul music related content
And MORE!!
---
Be sure to give @freddyisready and @genkocoin an upvote and a welcome!
https://peakd.com/hive-148441/@freddyisready/esp-eng-humilde-introduccion-valioso-esfuerzo-humble-introduction-valuable-effort-by-freddyisready
https://ecency.com/introduceyourself/@genkocoin/my-introduction-to-hive-en
---
If you know any bonus tags or good websites to share introduceyourself please share in the comments!?
Also drop links to your to your introduction post so we can find you!