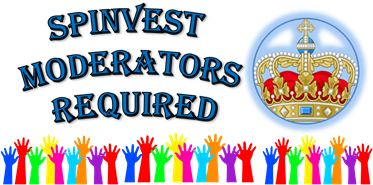 Local elections and campaigning have been postponed in England due to the coronavirus but Steem Power Investments (SPInvest) keeps steeming on. Next week nominations open for moderators to join the SPInvest team.
Moderators have an important role to play in SPInvest, you'll be involved in discussions about the future of the fund, what the priorities are and how we are going to do things.
For me, there are a couple of considerations. One of the main ones is that we've pretty much saturated the potential of the current investor base. Although token sales increased last week with the helpful low price of STEEM and a no fees fiat to tokens offer, generally sales have been plateauing for some time now.
We need to attract new and different kinds of people to SPInvest and, if we are going to do that, we need to start thinking about who isn't here already and how we can reach them. There are two big groups that are under-represented in the SPInvest investor base and club members. One of those groups is foreign language speakers and the other is women.
I'll start with women and why they're important:
In research carried out by Mintel, an overwhelming 84 per cent of women typically influence important financial decisions made for their family ... women, and mothers in particular, are enormously powerful in terms of spending on everything from holidays to finances and technology.
Mums – more than partners, more than children – are influencing every facet of modern consumer life. Whilst it may not surprise us that they are the lead decision maker when it comes to clothing, children, or choosing what goes on the dinner table, the reality is that they are also the lead decision makers in finance, holidays and technology purchases." (Source)
So having some women involved in running SPInvest would be helpful, and for two reasons. One is so that when women come across SPInvest, they can see that women are involved and that it is a place for them as well. Secondly, women moderators will understand and present things from a different point of view. We need these diverse views to have wide appreal and attract new investors.
Turning now to foreign language speakers:
Reggaesteem, a themed community with global appeal has addressed the problem of a global community with ambassadors for different languages and cultures. Reggaesteem ambassadors regularly translate important posts into their own language and help new users to engage with the community. Steem has some very big foreign language communities that we may want to attract.
Next week, on Monday 23 March 2020, SPInvest will be asking each club member to nominate up to three club members to stand for election as a moderator (full details in this post). You'll have a week to put forward your nominations before the club moves to the next stage in the process. Now is the time to be thinking about this and talking to people that you think would make good moderators before you put them forward.
Who do you think will bring something to the club?
Who can help us widen our investor base?
Have they got some time to give to SPInvest?
Some people might feel anxious that they don't know very much about investing: becoming a moderator is a great way to learn. Or they might have other questions about what's involved - you can be "asking for a friend" in the comments below (or on any @spinvest post).
What's involved in being a moderator?
Moderators will have a say in everything from planning and launching new services and incentives, building a bigger core membership list to running the project as a whole. You'll need to be able to take part in a fortnightly Discord moderators' meeting where you'll discuss ideas.
You'll also be helping members and investors - for example, when you see questions being asked on SPinvest posts, taking 20 seconds and answering it, small things like this. You'll need to know what SPInvest is about and to keep up to date with developments - which you will do, through the Discord meetings.
You will need to be a confirmed club member and have completed and published a completed a Partnership Agreement (information about becoming a club member in this post).
Moderators won't be running sub-accounts or asked to post (although if you do, that would be a bonus).
SPInvest has 35 confirmed club members who have completed the Partnership agreement. List of confirmed club members
Of course, there maybe someone who would be an excellent moderator who isn't a confirmed club member yet. That's okay - providing they published their completed Partnership Agreement by Monday 30 March 2020, they would be eligible to stand. List of current investors in SPInvest.
More about SPInvest
SPInvest is a tokenized investment fund/club for all users of the STEEM blockchain. Everyone is welcome! The concept of SPinvest is to get rich slowly by using time tested methods of earning, saving and compounding long term. This lets SPInvest offer an ROI of 20% per year on SPI tokens. We encourage long term investing on and off the STEEM blockchain. We hope someday everyone will HODL some SPI tokens that can be bought directly from @spinvest or through the steem-engine or dex.steemleo exchanges. Full details about SPinvest can be found here.