Québec - Canada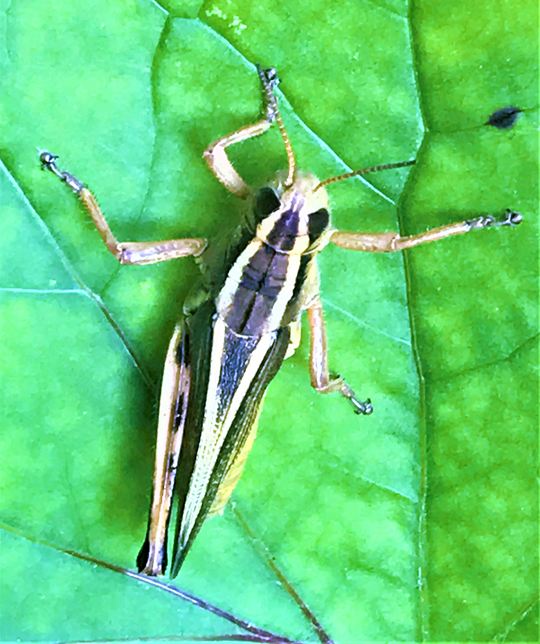 (Photo crédits: @ancolie)
[FR]
Sauterelle ou criquet ?
Les criquets comme les sauterelles font partie de l'ordre des orthoptères.
Au Québec, il y aurait une trentaine d'espèces de criquets et une quinzaine d'espèces de sauterelles.
Les deux espèces possèdent une première paire d'ailes plus dure et épaisse que la seconde.
Leurs pattes postérieures sont dans les deux cas très imposantes et adaptées pour le saut. Leur appareil buccal ressemble à un petit broyeur à végétaux.
Le criquet est de couleur, brune, verte et jaune, mais celles-ci peuvent varier selon les espèces. Chez le criquet, les antennes sont plus courtes que le corps.
La sauterelle, quant à elle, est habituellement de couleur verte. Son corps est plus cylindrique et aussi comprimé sur les côtés. De plus, ses antennes sont plus longues que son corps.
Alors vous aurez deviné que sur ma photo, c'est … Un criquet.
À présent, plus jamais vous ne les confondrez !
:o)
[EN]
Grasshopper or locust?
Locusts such as grasshoppers are part of the order Orthoptera.
In Quebec, there are about thirty species of locusts and fifteen species of grasshoppers.
Both species have a first pair of wings that are harder and thicker than the second.
Their hind legs are in both cases very impressive and adapted for the jump. Their mouthparts look like a small plant grinder.
Locusts are colored, brown, green, and yellow, but that may vary among species. In the locust, the antennae are shorter than the body.
Grasshoppers are usually green in color. Their body is more cylindrical and also compressed on the sides. In addition, its antennas are longer than his body.
You'll have guessed that on my picture, it's ... A cricket.
Now, never again will you confuse them !
: o)
Tourlou !
---
Source de l'info