What is Newdex? https://newdex.io is a DECENTRLIZED exchange one that does NOT HAVE ANY deposits or withdraws! You trade with what is on your Scatter, Lynx or whatever wallet you use. Newdex doesn't keep your money like Binance Bittrex Poloniex etc, newdex doesn't need to. Newdex so far trades in EOS tokens and has a TRX tron market for USDT Tether but primarily newdex is all about EOS. Although there is a github issue request open for adding steem to scatter to then allow steem pairs to be listed on newdex, we will primarily be discussing newdex as an EOSIO exchange for EOS Telos BOS and other EOSIO forks/sidechains.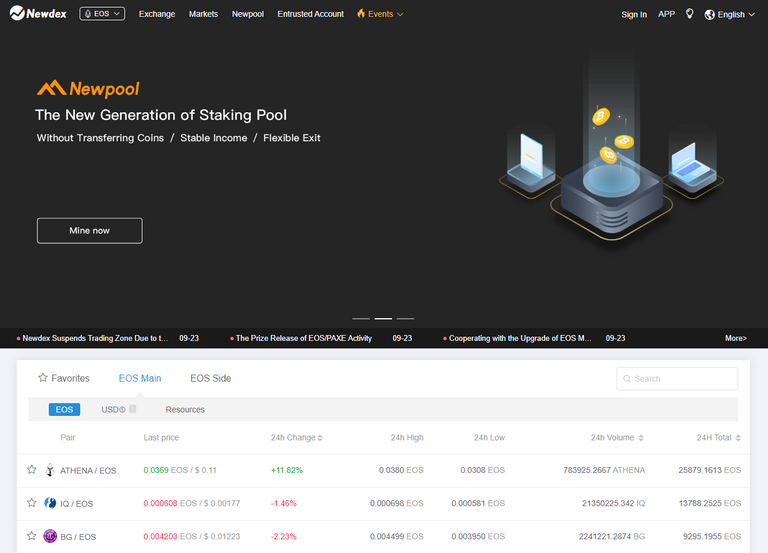 So here is how Newdex looks. It has a vote staking pool that can also allow you to earn an extra few percent a year APR on top of your REX earnings. Promotions can be seen along this introduction page, and trading is all done via a third party wallet that you have to authorize.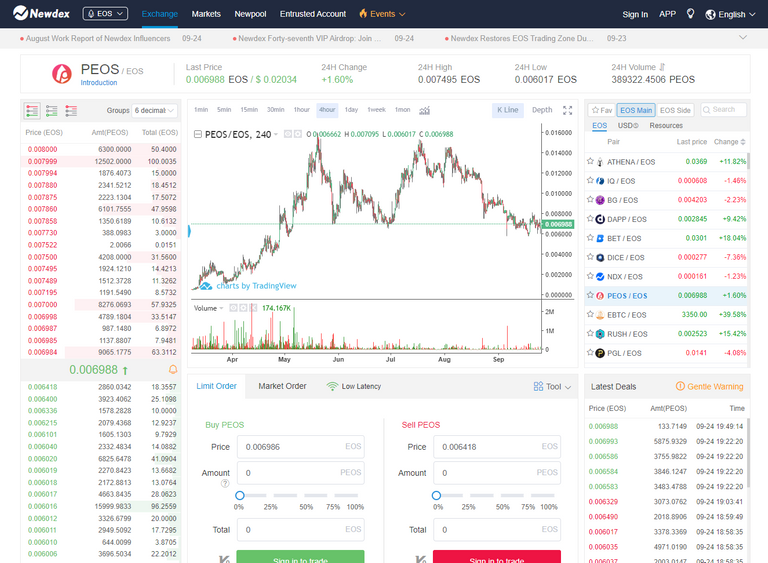 So when you click "log in" on Newdex.io youll be met with this screen: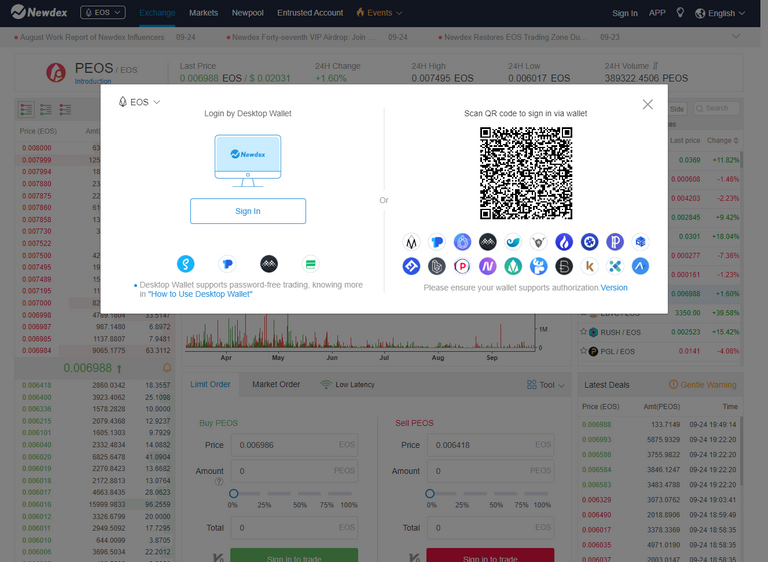 And you have a few options. I recommend scatter http://get-scatter.com but if you are on mobile you may want to use Lynx https://lynxwallet.io and this wallet even comes with an account creation tool that lets you pay with debit card/ Google Play while Scatter account creation takes EOS which doesn't help if you need an EOS account. You can also use TokenPocket which has great reviews as well but for desktop just try SCatter, and import your EOS private active key into Scatter to start using it. if you use Metamask for Ethereum or Keychain on Steem-Engine you will be familiar with how it works. You will be asked to verify every trade you make on Newdex.io and although you can white-list and set it to stop asking you every time, this is one of the best safety protocols and features any exchange could have.
Scatter even has a built in exchange for trading your EOS to BTC ETH USDT and so on. I recommend using https://CashAppCard.org to get your BTC into USD for a very low fee, and cash app works at any ATM. So with these tools you can use newdex and start trading EOSIO tokens, 5 of which are also on Steem-Engine ANX PSO PEOS CHL and SAND. Arbitrage opportunities already exist between Newdex.io and Steem-Engine.com and we hope to build bots and automated updates for telling the steem community when profitable arbitrage opportunities are available in an effort to boost Steem-Engine trading volume.
Remember that newdex keeps clear of user's private keys - as newdex stats in this new message to all users.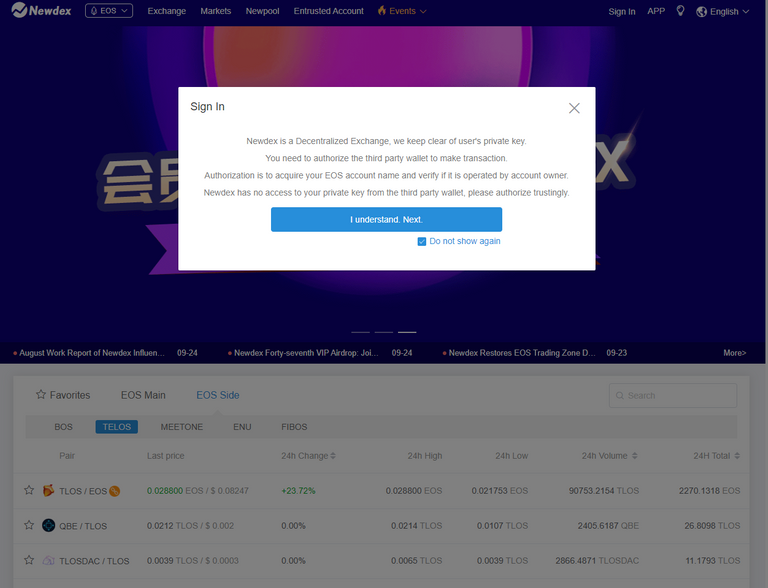 Newdex requires YOU to authorize your third party wallet (like scatter) to make a transaction. Newdex does not deal in depositing or withdrawing user funds and it makes its money from exchange fees which can be lowered by buying and staking (or burning) enough NDX as you can see in this chart:
As you can see this example account is staking over 11 thousand NDX and is at VIP Level 1 enjoying 5% off trading fees and has already saved 0.007 EOS on these fees.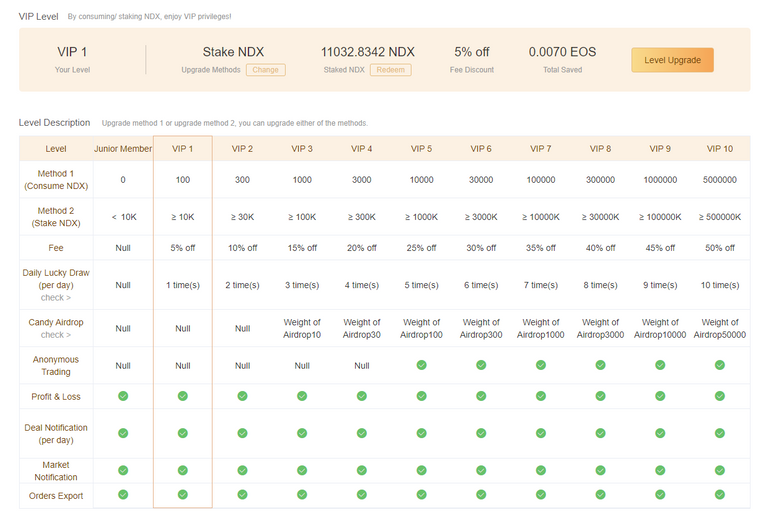 So stake at least 10,000 NDX and get to VIP1 level or 5% off your trading fees. (or burn 100 NDX for a temporary VIP1 membership)
Stake 30,000 NDX and get 10% off. Stake at least 100 thousand NDX to start qualifying for a cut of the Candy Airdrops, a buffet of participating exchange listed partner tokens being ever so kindly distributed for your bag holding pleasures.
Official telegram https://t.me/NewDexio
Start trading Today https://newdex.io
Use Lynx for Mobile https://lynxwallet.io/downloads
Scatter for Desktop https://get-scatter.com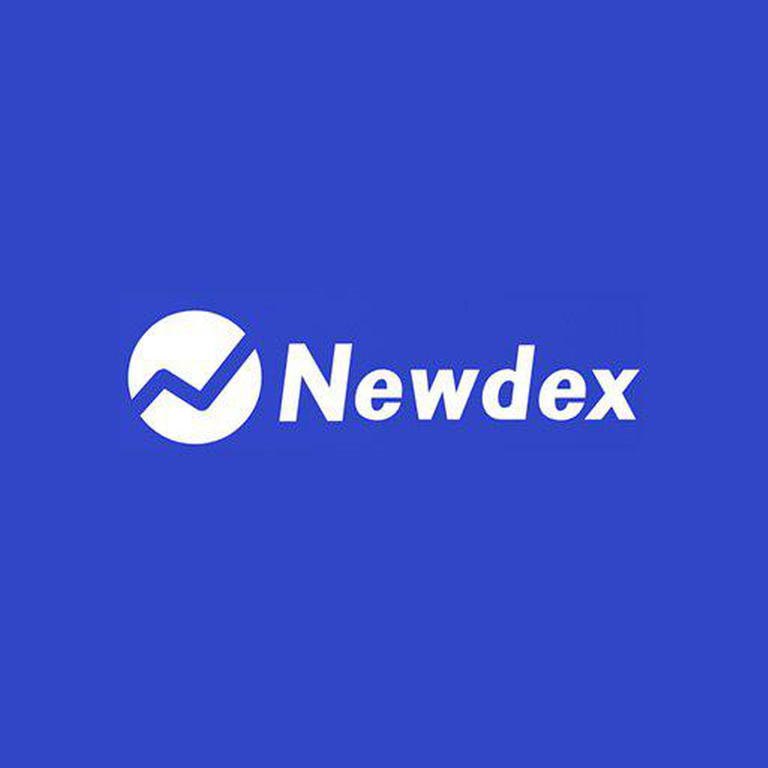 Join the Newdex Discord and get 1 free NDX token sent to your EOS account.
https://discord.gg/SY3Hp6Z