Hello Buzzy Bees!
The CTP Community is the best!
Never felt so welcomed and had so much support from what I'm doing!
To be honest, it is strange and kind of sad to receive so much love and support from a group of "strangers" than the people near us, like co workers and sometimes family!
Luckly my family is supportive, but maybe some of you don't have that luck.
On the other hand, co-workers and even some bosses should have a community mentality, because we are on the same boat, we want to be successful so the company can be successful. In my case there are times that I feel completely alone, because I can't trust no one!
That's why I mostly anti-social and never had a voice...
But thanks to all of you my voice is getting louder and louder and confident enough to help and support all of you like you do to me and we can all be successful together!
Today my 5 Engaged posts are all dedicated to the CTP Swarm supporting my cause!
Thank you everyone for all your posts and comments!
Hope you enjoy the party!
Now, for #MyHiveGoals, here's the spreadsheet: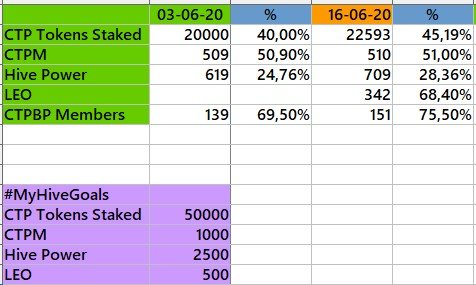 Got 1 Miner for participating at Crypto Mondays webinar yesterday! YAY!
You can check the replay here:
https://open.lbry.com/@jonolson:6/crypto-mondays-on-a-tuesday:5?r=8c8SoHBozM1JhS1J164zkJjhF789RFg8
About my CTP Tokens..Now that I have an ongoing Giveway I must resist staking much AND Fireshopping!
Will be rough, but I will manage! lol
LEO is growing slow and steady!
As for CTP Blueprint, yesterday turned 1 month and the goal for the first month was 200 Members. Even though I didn't reach it, I think it wasn't too bad!
And that's it for now!
Thank you so, so much for everything!
Let's keep pushing each other towards success!
Happy Tuesday!
---