Hey Jesstigramers
Like it or not Instagram is still one of the most popular social media platforms around, it's a simple to use photo-sharing app that has social aspects like comments and in-app chat, being a mobile-first tool, it's taken off in the Smartphone generation and gathers billions of users around the world to its services and millions login every day. Having that kind of reach has driven people into a frenzy as people try to grow their accounts and then use it to make money in a digital world.
Instagram is monetising attention, and nothing else, its the selling of views online in an informal market done inside direct messages and emails. One of the popular practices for making money with a big Instagram account is follower loops.
Once you've grown your account to a certain size, brands, businesses and individuals will come knocking. Some will be brands that would offer you favourable deals for promotional posts, others may not, and you turn them away, but that sucks, you're literally turning away money.
So how do you still accept their payment without being directly associated with those accounts? Follower loops of course.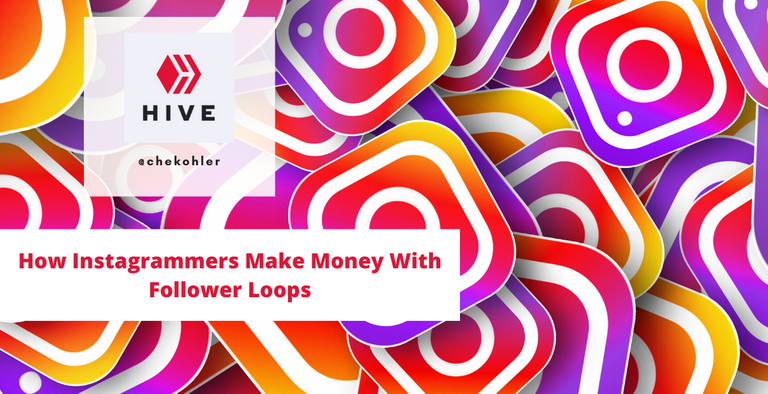 How follower loops work?
Let's say I want my business or personal Instagram to grow in a niche, lets say fitness. Instead of trying to post all the time, what I would do is approach a fitness account with a lot of followers. I would then pay them to put up a post, this is usually done via a giveaway.
The popular account then creates a post for a certain time period with the giveaway and requests that you follow my account to qualify and comment. This means the post gets, even more, reach because of the engagement and both the large account and my account would get more followers.
After the giveaway is done, the caption of the post is changed as if nothing happened and we both walk away with new followers. It is then up to me to try and use this boost in followers to grow my account and keep posting to increase my reach.
Growth hack, is wack
Follower loops are one of those growth hacks for vanity metrics and have proven to not work overtime as people start to unfollow you the moment they see you in their feeds.
Really the only one that wins is the larger account accepting payment to promote themselves to their audience.
Instagram is probably one of the most inefficient ways to grow your business, but people seem to love it. There is a lot of backdoor deals going on and the curated world outside never get to see behind it.
Have your say
What do you good people of HIVE think? Did you know about this method to make money with Instagram?
So have at it my Jessies! If you don't have something to comment, comment "I am a Jessie."
Let's connect
If you liked this post, sprinkle it with an upvote or esteem and if you don't already, consider following me @chekohler and subscribe to my fanbase
| Browse & Earn Crypto | Stack Sats For Free | Earn Interest On Crypto |
| --- | --- | --- |
| | | |
---