We have great news for everyone. Daniel and I started today's contest for CTP Tokens.
You need to pick your personal branding link for Halloween Special Surfer Rewards Promo from Crypto Traffic4U SITE, looks like this
https://www.cryptotraffic4u.com/splashpage.php?splashid=2&rid=45
Each view of that link will give you 10 CTP Tokens and we are going to check in surf who promote it

Daniel will check on the Tezzers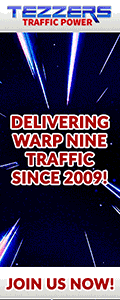 https://tezzers.com/?rid=119413
Elizabeta — I'll check on COOPMG

You can easily get some CTP Tokens today so I hope you join in as many as you can
I hope you like the contest that Daniel and I came up with and spend as nice a day as possible

Here is guide for the #IAmAliveChallenge
The Start
The #IAmAliveChallenge started with the announcement in this video, I Am Alive - Day 1 - #IAmAliveChallenge - #HiveIsAlive.
Our Hive Community
We also have a Hive Community which has been set up to help you find other participants and to spur engagement among the participants, and our community makes this easy.
More Info here
https://peakd.com/hive-155221/@flaxz/i-am-alive-challenge-the-guide
We have a Discord for Team Alive and there you can ask any questions and get help, there is usually someone around at any time.
https://discord.gg/qXqv63J
How to set a beneficiary for your posts on Hive
https://peakd.com/hive-119732/@achim03.ctp/how-to-set-a-beneficiary-for-your-posts-on-hive
I continue with
Beneficiaries - @ctpsb 10%