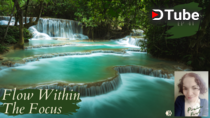 ---
#PixiePost #PixVlogs #FlowWithinTheFocus
As I went about my day today, I was all set to do a gaming video (my usual weekly Splinterlands episode) but unfortunately since the game was under maintenance, I was unable to do so... (stay tuned for a video tomorrow!)
About to move on with other things, something made me push the record button & start talking...the Universe had a simple but powerful message to convey as I have seen so many people struggle with different aspects of their lives lately...
I was one of those included but things snapped to clarity as the message channeled through...it's such a simple concept but hard to implement...
Watch here as I break down what the flow within the focus actually means & share how you can do this as well...
Thank you for watching! 🧚🏼‍♀️💖🙏🏻
+:+:+:+:+:+:+:+:+:+:+:+:+:+:+:+:+:+:+:+:+:+:+:+:+:+:+:+:+:+:+:+:+:+
Today's Music: Symbolism - Electro-Light
─── ・ 。゚☆: .☽ . :☆゚. ───
Coffee, Cards & Pixie Dust podcast https://anchor.fm/pixiepost
Give this a like or an upvote if you enjoy this kind of content. It lets me know what videos give YOU value. Don't forget to subscribe & hit the notification bell so you don't miss the next video.
💜 To Know Thyself Is To Know Thy Truth 💜
─── ・ 。゚☆: .☽ . :☆゚. ───
Get a 30 Day Free Trial of Epidemic Sound https://www.epidemicsound.com/referral/cgrnmi/
A Must Have Tool To Grow Your Channel
https://www.tubebuddy.com/pixiepost
💜 This video is not sponsored - affiliate links above are products I fully believe in and use 💜
─── ・ 。゚☆: .☽ . :☆゚. ───
Connect with me on the following social media sites:
LBRY: https://lbry.tv/$/invite/@ThePixiePost:9
3Speak: https://3speak.co/user/pixiepost
DTube: