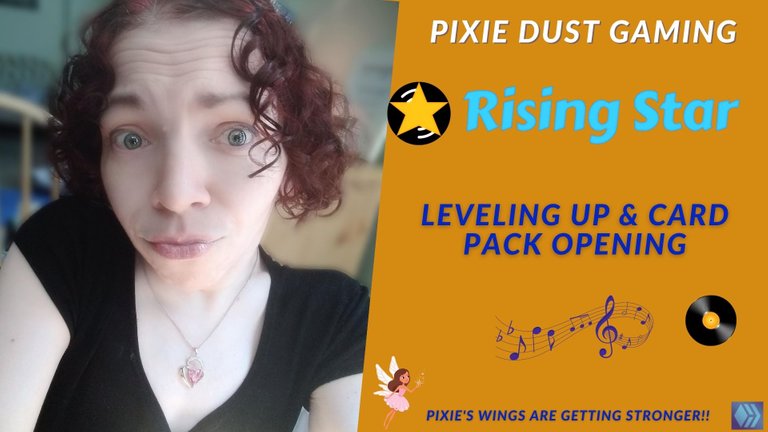 #PixiePost
#PixieDustGaming
#RisingStar
Today was a busy day with lots of online business to do, but I had to take a break to open a card pack I had bought on one of my favorite #HIVE games, Rising Star...
Also, it felt good to accomplish a small goal I set for myself & set up a new one, which I share in the video....
Forgive how tired and frazzled I look..it has been a day LOL. But still wanted to share the fun with all of you!
Thanks for watching & let me know how YOU are doing on this game & what your goals are!
Want to try out Rising Star for yourself? Sign up HERE to check it out! ;)
+:+:+:+:+:+:+:+:+:+:+:+:+:+:+:+:+:+:+:+:+:+:+:+:+:+:+:+:+:+:+:+:+:+
Rising Star's Latest Post: Drum Crafting Is Now Live!
Rising Star's Discord: https://discord.gg/dbB6Jc7
Atom Collector Records YouTube Channel: https://www.youtube.com/c/AtomCollectorRecords/videos
+:+:+:+:+:+:+:+:+:+:+:+:+:+:+:+:+:+:+:+:+:+:+:+:+:+:+:+:+:+:+:+:+:+
Today's Music: Tiger Tracks - Lexica
─── ・ 。゚☆: .☽ . :☆゚. ───
Coffee, Cards & Pixie Dust podcast https://anchor.fm/pixiepost
Give this a like or an upvote if you enjoy this kind of content. It lets me know what videos give YOU value. Don't forget to subscribe & hit the notification bell so you don't miss the next video.
💜 To know thyself is to know thy truth. 💜
─── ・ 。゚☆: .☽ . :☆゚. ───
Get a 30 Day Free Trial of Epidemic Sound https://www.epidemicsound.com/referral/cgrnmi/
A Must Have Tool To Grow Your Channel
https://www.tubebuddy.com/pixiepost
💜 This video is not sponsored - affiliate links above are products I fully believe in and use 💜
─── ・ 。゚☆: .☽ . :☆゚. ───
Connect with me on the following social media sites:
LBRY: https://lbry.tv/$/invite/@ThePixiePost:9
Instagram: https://www.instagram.com/pixie_post_dreams/
Timmy 🐾: https://www.instagram.com/timmytheangelkitty
Twitter: https://twitter.com/ThePixiePost
My NEW Store: https://www.zazzle.com/store/pixie_po...
Pixie Post Facebook Page: http://fb.me/pixiepostwithjennnieto
Hive: https://hive.blog/@pixiepost
PeakD: https://peakd.com/@pixiepost
─── ・ 。゚☆: .☽ . :☆゚. ───