Happy Friday everybody...
---
This day of the week is considered for the weekend of my country. Thus it is a day of leisure and somewhat spent with family and loved ones. I am not sure about you but since I am laid off from the job it feels like my every day of the week is feeling like Friday : ) While at the same time I am indeed exploring a lot of stuff thanks to this quarantine and lay off.
---
While since it was raining from the morning I was feeling like having some special dish for the day. I was quite lazy the whole day probably because of the weather and it was comfortable the whole day and most importantly the temperature was under control and felt really amazing. It feels like I can bear the chill vibes of winter than of the hotness of the summer. Besides all that, I finished this week's shopping stuff for my family (all the basic stuff like groceries and all) and honestly I am still quite surprised, as still we are in the red zone but people are not really abiding by the rules of safety. May they get some sense within themselves before it is too late.
---
Since the day was a little comforting, I asked my mother to prepare Polao and make some other dishes along with it. And it was nice to have the dish in this perfect weather. Even though there was some sort of delay while having my lunch today. It was a little late and I probably had my lunch at around 5.30 pm today. I know it's way too late but there was so much I could do to make the schedule work on my favor. I am honestly working on that.
---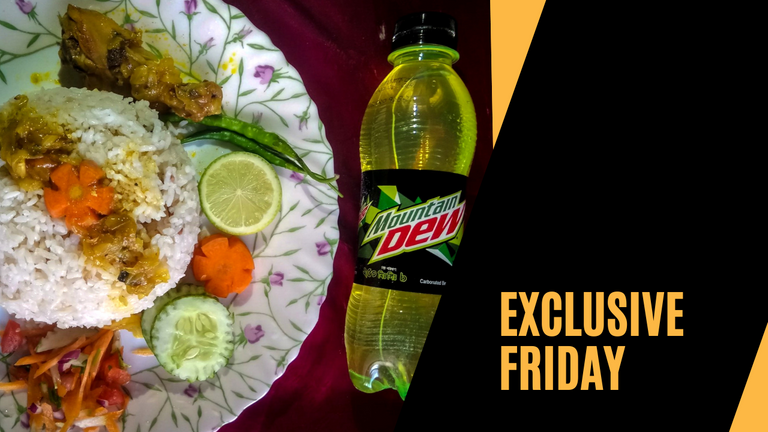 ---
Polaw and your favorite dish is a perfect mixture of making the lunch worth it. While I must say that my mom can really cook literally the best dishes that I can explain. From what I can say it was a perfect day to have this dish and my belly is still full : ) Not sure i will have dinner today lol.
---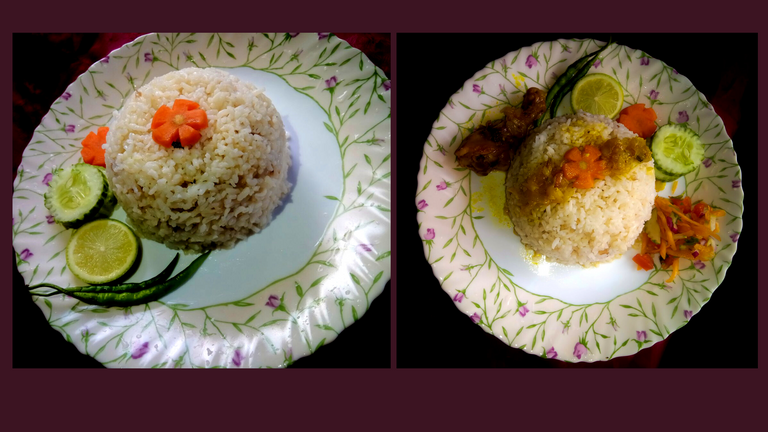 ---
As I had my lunch a little late today, I was also in the mood of taking a walk on the roof top today. And as I was walking through the there I found this fly lying around on the garden of ours. I must say, I was little surprise as last time I saw a black dragonfly and this time a complete golden one. That is indeed an interesting one. She was really a beauty to watch.
---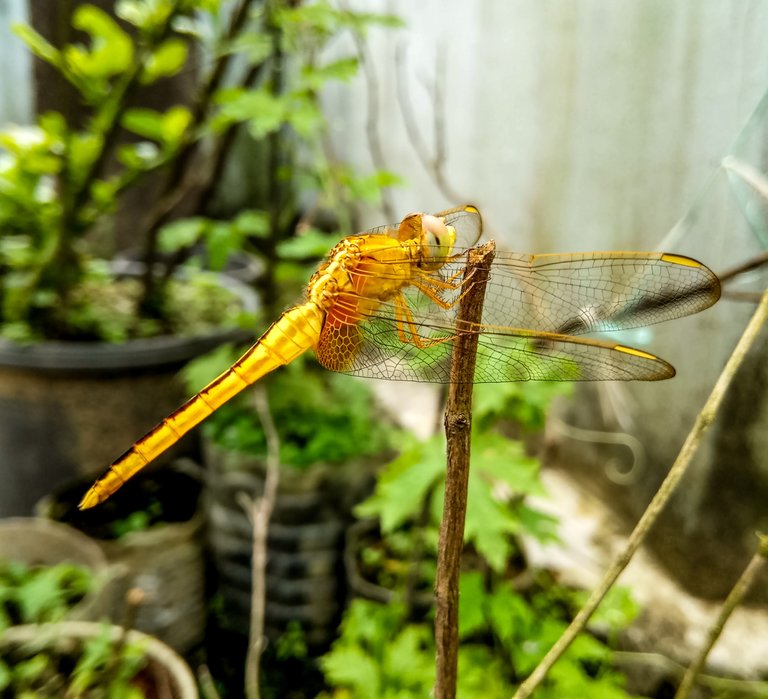 ---
---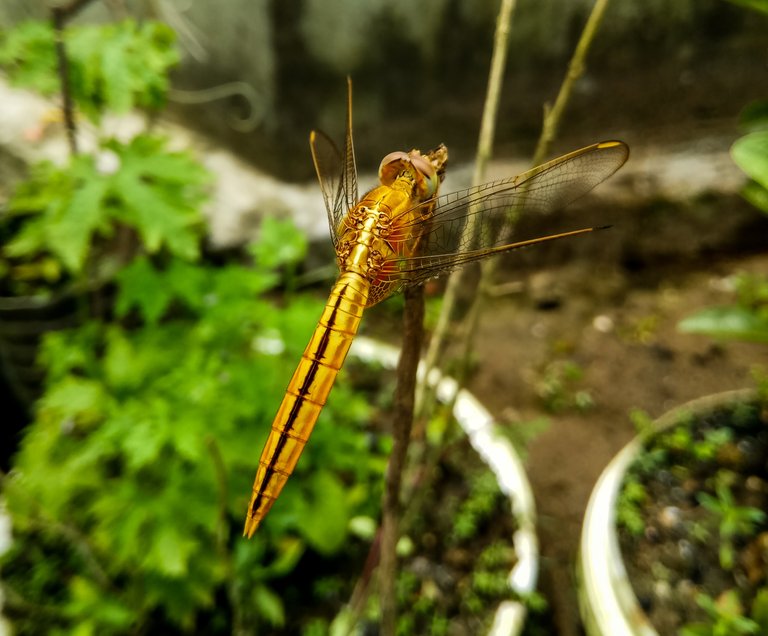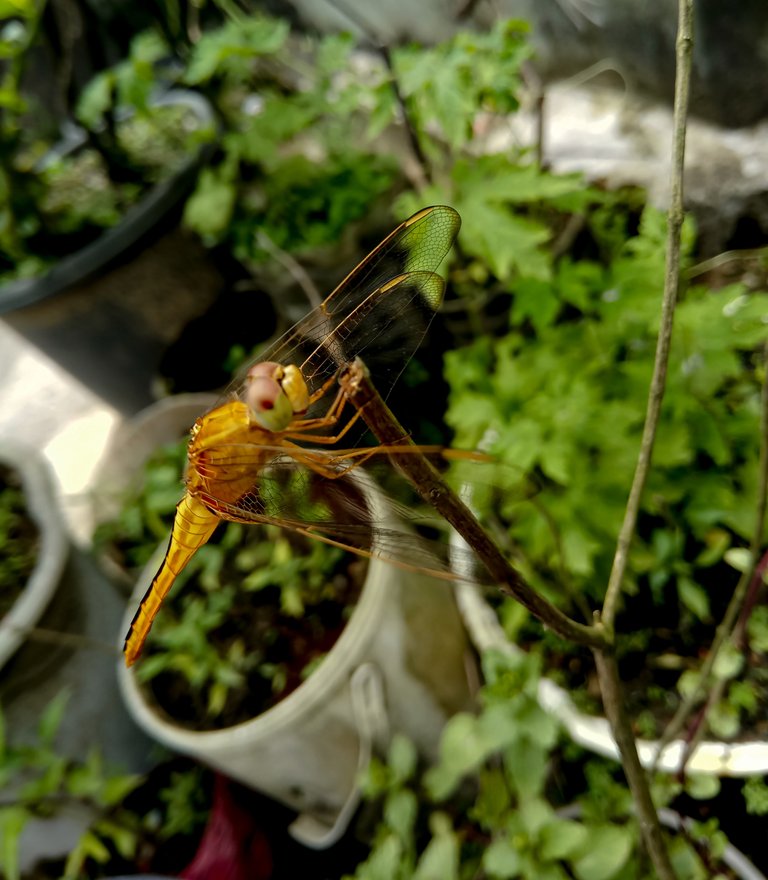 ---
I am quite surprised as because, normally flies or any sort of insects tends to move away from the human and these shots were taken very much closely via a smartphone. I suppose, I was being sneaky or the dragonfly was sleeping. I was able to take some pictures and sharing them with you all. Enjoy!!
---
---
Nothing much really happened today but I am still disappointed on what is happening with our current situation and how people are really reacting to those. It is going to be a long night for me as I have some tasks pending, which really needs to be done. Hopefully I would be able to complete them ASAP!
---
On another news, if you might have heard about some of the alts are rising and good news for us well, as HIVE is getting the touch of that. Lucky for us we might see this pump for a short while as well. It is currently 6% up from yesterday. The bitter truth is I sold some HIVE yesterday at a lower rate, so that was a loss for me lol but I suppose it happens in crypto market. On the other hand, that is a decent price rise from my POV. Looking forward to what happens in the next coming days.
---

---
Keep posting my friends and keep accumulating HIVE for yourself! Let's meet at the top, guys!!
---

---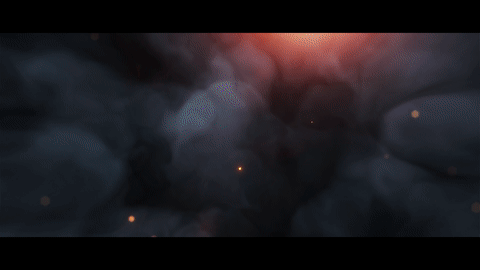 Want to Play in Splinterlands
---
---

---
Be a part of the community, which is not only supporting content creators from Bangladesh but from all across the globe!
---
---
Be a part of my Vlogging journey on DTUBE
---
Watch my Videos on Youtube
---
---
---
Best regards
Rehan
---