Dear friends,
I am happy that this place is about Education as well.
I am a trainer, coach, author, researcher...etc.
I'd like to be able to travel this year to Germany for this amazing opportunity and I hope to
find enough strength and time to apply by their deadline
improve my health so I can get there
They are inviting me each year since 2018 and I didn't manage to participate until now.
Here is the exact info that you need, in order to apply, if you're also interested.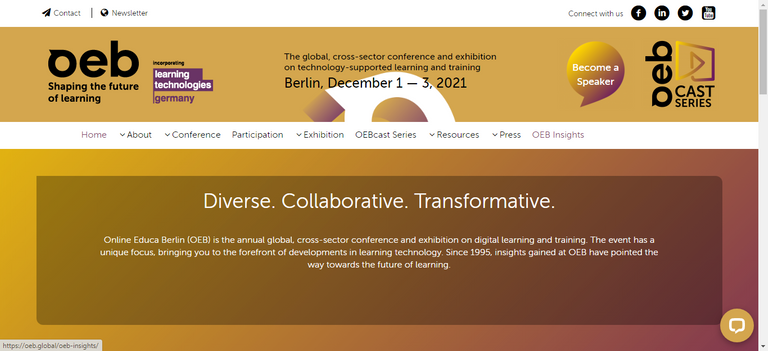 The Call for Proposals for Online Educa Berlin will close on May 3, so you have just one week left to submit your ideas to be considered for this year's global, cross-sector conference on digital learning and training, which will take place from December 1 – 3, 2021.
You might not want to miss this opportunity to share your practice and thinking with the international learning community.
OEB's participants come from the entire learning ecosystem: from the education sector, workplace learning & development, governmental organizations, and EdTech solution providers.
Participation will bring you to the forefront of learning and technology developments, give you new insights on opportunities and challenges that are changing the world of learning and allow you to meet, discuss and network with international learning professionals and experts.
Read more about the conference's overall theme "Learning Resilience", discover all formats and topics, and submit your ideas on their website.
https://oeb.global/
The agenda will cover a wide range of subjects including:
Getting to Grips with Learning Design & EdTech
Making Higher Education Fit for Purpose
Collaboration between Sectors
L&D's Influence
The Individual in the Learning Organisation
Stimulating Social Connectivity
Reconceptualising Teaching, Training, Tutoring
Using Data to Accelerate Outcomes
Content for Good
Achieving Policy Aspirations
If you need more information, here is the inside info that you need and their contact person
Channa van der Brug
OEB Programme Director
---
OEB Learning Technologies Europe GmbH
Leibnizstrasse 32
10625 Berlin
E-Mail: channa.vanderbrug@oeb.global
Website
Managing Directors: Astrid Jaeger & Michael Westcott
Register Court: Berlin-Charlottenburg
Commercial Register: HRB 81670
VAT: DE 813 274 721
Channa van der Brug
channa.vanderbrug@email.online-educa.com
Do not worry, that's not sensitive info or private. Feel free to write to her and ask for more details if you need them.
I'm not sure if attending as a speaker requires a fee or not. I've seen nothing mentioned but didn't look in too deep.
I hope to see you there!
With friendship and respect,
@regenerette