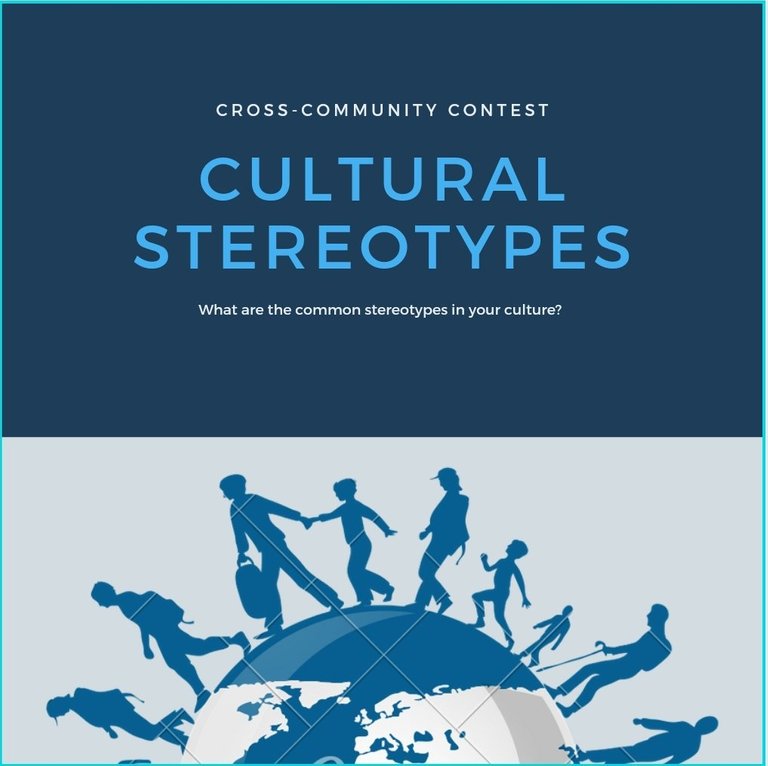 So happy to see yet another contest by the @crossculture I want to seize this chance to say hi to my hive friend @starstrings01, its really been long I heard from you, hope all is well🤗🤗🤗🤗🤗🤗🤗🤗🤗🤗???
Well reading through this contest makes me remember a whole lot if things I missed all because of where I came from.
Let's begin with it meaning; What is Stereotype?
The dictionary defines it as A conventional, formulaic, and often oversimplified or exaggerated concept, opinion, or image of (a person)
Now from the meaning one can see how this could be deadly, annoying and hurtful.
Let's begin; A brief about me.
I am a Nigerian, precisely from Akwaibom state, precisely precisely from Eket.🤗😀😀🤗
Now the things I hear or the stigma I receive due to where I come from is always so annoying and hurtful.
As a Nigerian you will hear other country saying Nigerians do not have brains, as an Akwaibomite you will hear people saying we too like sex, most times they will say Una Calabar girls too like sex(Nigeria local parlance), as an Eket girl you will hear people say Eket girls aren't faithful to their spouses and they too like money
If I may ask who no like money ni😀😀😀😀???
You see, when all this things get to me I feel so bad.
A man once told me he can't marry me because I am from Eket, you can imagine that.
Once met a man and he said he is afraid to marry any Calabar or Akwaibom girl because he won't be able to satisfy their sexual urge, Ah! Isn't that too harsh.
What of meeting and outsider(maybe not from Nigeria) and he or she will say Nigerians are shallow minded people and that we lack thinking faculty.
Well to me all these are mere fallacies, that you met a dullard that is in Nigerian doesn't mean all Nigerians are like that.
That you met an Akwaibom girl that loves sex doesn't mean all Akwaibom girls are dogs.
That you met an unfaithful Eket girl doesn't mean all are the same.
That you met an Eket girl that talks carelessly, doesn't mean all are like that.
Seriously these stigmatization has to really stop, and we can do it.
Personally what ever I hear bout where I come I try to do the opposite, if Nigerians are dullards, I do my best to proof to you that we got stars here in Nigeria✌✌✌
If Akwaibom girls are rated sex lovers I proof to you that all a woman wants isn't sex.
If Eket girls are known for infidelity then I will help debunk such deadly and devilishly mentality.
The problem we have is that we allow these words gets to us and yet we still do nothing about it. Here is a quick one, everyone you meet that isn't from your country, state, community or village try as much as you can to proof to them that you are better version if the place you come from.
Its high time Nigerians proof to the world that we are unique in our diversity, proof to them that Akwaibom is the best states(The State known for good soups)😀😀😀😜😜 and that Eket girls or any where you come from isn't that bad.
Funny enough I just remembered one stereotype associated with Eket people, I hear people saying that Eket people spread whopping cough if you get them angry and then I sit to imagine how whopping cough could be associated with a group of people, lol isn't it funny, but it will shock you that people base their believe or tends to believe all this inconsequential things.
Hmmmmm I could go on and on and on to mention other stereotype I know about but let me give a break here, till we meet next time
Thanks for engaging my blog.
But before I leave I would love to call on @imoabasi, @zellypearl and @udygold to come tell us they stereotype they have been passing through, to participate just click here and you will get to the post.
I remain
glotokens