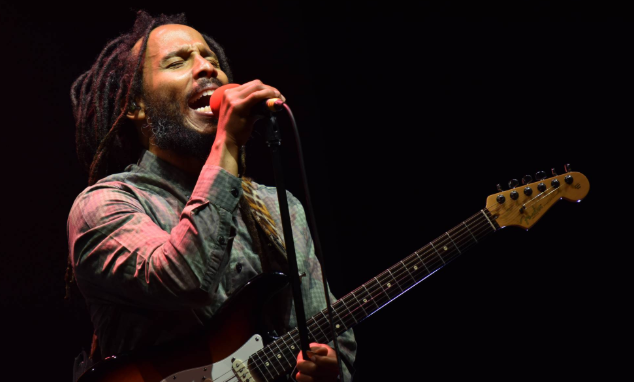 Answer slowly. A rhythm of pachyderm, rather. As sleepy. Anyone would say that Ziggy Marley (Kingston, Jamaica, 50 years old) is newly lifted from a deep nap, or has put one of those pointers he is so fond of. It is easy to bet on the latter. The fact is that the eldest of the male offspring of Bob Marley and Rita, also the one with the most notable musical trajectory, answers the phone somewhere on the road between Vertheuil (France) with Deurne (Belgium), a few days before to preside over the Rototom de Benicàssim poster, where he will perform on August 21 - the festival begins today and is held until 22, under the motto Stand Up For Earth - sharing spotlights with Busy Signal, Morgan Heritage, Marcia Griffiths, The Selecter, The Abyssinians or Macaco. He clarifies, with absolute parity, that his first name has nothing to do with David Bowie's Ziggy Stardust (1972), as sometimes read out there, but with the expression his father coined to describe a small joint.
"He taught me to learn things by reading books, not playing the guitar, he instilled in me the purpose and discipline of music," he tells about those seventies shared with his father, and a world star. A methodical character that contrasts with the extremely carefree of his voice, but that gives a good account of the prosperity of Marley teaches, which would not be understood without much work behind: "Good music is useless if it is not accompanied by discipline, and I apply that today in every essay, "he says.
Winner of eight Grammy Awards (the member of the saga that follows him, at a great distance, is the youngest Damian, with four), whom he only valúes
"for the boost they give your music in terms of visibility, more that by validating it ",
Ziggy Marley has almost two dozen albums in his curriculum whose diverse production has had the rhythmic base of Talking Heads, the couple formed by Chris Frantz and Tina Weymouth, with Don Was, with Scott Litt or with Rita Marley herself, her mother.
Involved for over a decade in Little Kids Rock, a charity that provides free music instruments and classes in American schools, Ziggy Marley still believes that music is "a driving force that benefits society," something that can be seen. in the fact that "the music that is most listened to today is the one that emits the most powerful messages". And he thinks that reggae is still as present in popular culture as it was 40 years ago - when the albums of The Police, The Clash, Pretenders or XTC were not understood without their three or four minutes of Jamaican cadences - only now appears " more dissolved "among all the other music, because" if you inquire a little, you realize that there are traces of all the music in the others ". On the music of his brother Damian or any other member of the clan, he barely says yes, that he listens to it and likes it, but with the same laconism his father spent when he was interviewed for TVE in Ibiza in 1978. After all, he is his music and his message. There's no more.
---
Posted via MusicForLife.io