Since hive has side chains called tribes, I try to optimize my tribe power. This is one of a strategy to leverage power, and credibility in this platform. There are wide opportunities in tribes to grow. You can try and research what tribe do you want to optimize. These are tips to optimize your power in hive tribes
Research and Select
First of all, you should make research to tribes and token that is used. You can use hive engine to read the marketcap, token price and circulation.
Second, you visit the tribe chain and read the faq. You can see the opportunity to grow. Find other tribes that match to your interest and compare with the first one.
Third, Allocate your budget from your reward to buy tokens and power up. Budget allocation is important because you will have the power from your money. Buy the token at lowest price so you can get more tokens.
Fourth, power up with the token you have bought.
Fifth, You become a whale curator in the tribe. You can join with other curators to increase your rewards.
Power up your reward, this is important since some tribes are in the early development. The future value to tokens tribe can increase when the development has completed or there will be advance development and function from the token tribes.
My Favorite Tribe
My favorite tribe is @foodiesunite . I am in no 9 of curator lists.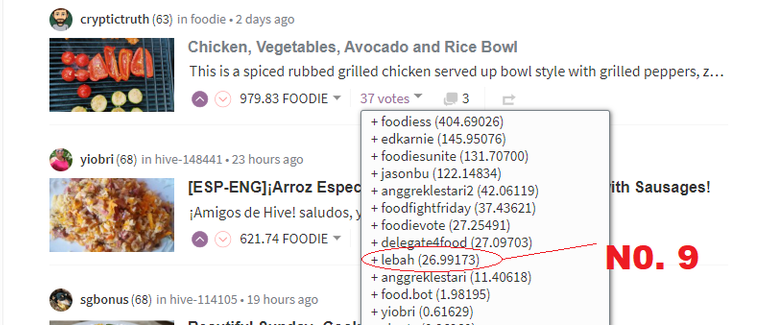 I power up with only 27.000 foodie tokens. I think in the future I will power up more tokens to increase my curation rewards. The price of foodie token is now 0.0018 Hive. The prospect of the foodie tokens will gain higher price since many there are more foodie fans topic join the sidechain.
What is your interest
It is very important to choose a tribe with your interest. I don't realy like cryptocurrency topic in heavy talks so I choose foodie topic. Foodie topic is easy and fun reading themes for me. I also can practice some recipes that are shared by members. I also sometime post my activities in cooking at home.
There are some tribes you can join from lassecash, neoxian, leo, foodine, naturalmedicine and others. I know that you have your own ideas about that. When you choose a tribe that suits to your interest, it will help you to make curration from members. You can also make a competition to attract more users with your own tags.
Conclusion
Hive tribes are side chain. They are in the early development. The future of the tokens hasn't seen yet now. You can see the token value grow in the next one or two years. At that time you will be a whale in tribe though you are still a minnow in Hive.