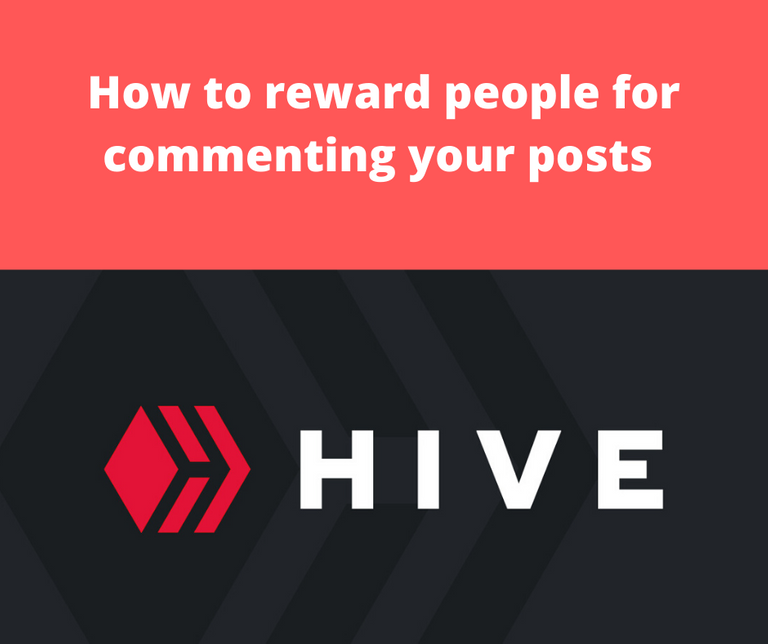 Some time ago, before HF 21 on steem, it was possible to give upvotes to people when they gave comments that you liked. After HF 21, the reward curve that was implemented made these upvotes almost worthless. Unless you have several thousand Steem Power, the upvotes on comments didn't manage the get over the payout threshold.
Giving normal upvotes to comments is not an option
Today on hive, it is very difficult to show your thankfulness to somebody who gave a nice comment to your post. Of course, you can give him a nice answer to his comment but this is about it. If you upovte the comments, you more or less waste your voting power because the upvote will be worth close to nothing and neither you nor the person who wrote the comment, will get anything out of it.
In communities on hive there is a real demand for more interaction on posts. So how can we encourage people to comment more and better, and how can we reward them? I would like to present you a way to do it. It's a concept that I've copied from other people some time ago and it. For specific reasons this concept can now be used again on Hive.
The recipe to reward people for interacting with your posts
There are two communities on Hive that have already been among the most actives on Steem. Both have made the transition and they are now completely on Hive. I speak about the tribes leofinance and ctp. Both tribes have their own tokens that are traded on Hive-engine.
Step 1 – Create special accounts
I've created an account achim03.ctp and an account achim03.leo. I've delegated a couple of HP to these accounts so that they are working properly. Over time, I had collected some CTP tokens and some Leo tokens. I sent these tokens to the respective accounts that I have created and staked all these tokens.
My account achim03.ctp has CTP token staked and the account achim03.leo has some leo staked
Step 2 – Using these special accounts to upvote comments
When I write a post about affiliate marketing, I will use the ctp tag in my post. This means that the post itself and also the comments, will be generating ctp tokens. When I get nice comments to such posts, I will give a strong upvote with my achim03.ctp account. Since the reward curve for these tokens is different, my upvote will be really visible for the author of the comment and he will earn ctp tokens that he can stake or exchange on Hive-engine into hive. Ctp tokens can also be used on many traffic websites as mode of payment. In addition to that, I will also earn curation rewards on these upvotes if I have enough staked tokens.
If I write a post that is relevant to leofinance, I will do the same with the achim03.leo account.
The advantage for me is that I can give upvotes that actually carry some value. In addition to that I have 10 full upvotes per day at my disposition and when I use these accounts, I don't lower the voting power of my main account.
What are the risks of this strategy?
Well, there are some risks and maybe not the most obvious ones. A little potpourri of some funny mistakes that I have made:
The cpt error
Once I wrote what I thought to be a nice post about affiliate marketing but unfortunately I managed to put a spelling mistake in the tag of the post. Instead of ctp, I put cpt. The result was that my post was not visible on ctptalk.com and also it didn't earn any ctp tokens. Unfortunately I've realized my error only when the post was paid out already...
Messing around with accounts
It's nice when you want to give upvotes with these special accounts but it's even more important to be concentrated and to know which is your active account of the moment. If you jump from one account to the other with keychain for upvotes and answering comments, it can become quite tricky. When you suddenly realize that you have given full upvotes with your main account and that you have commented with the special account, you might bang your head on your desk...
Mix up the blockchains
Well this is like to put your trousers over your head. Since I've created these special accounts before the hive/steem fork, I have them on both blockchains. One day I managed to answer and upvote comments with these accounts on the wrong blockchain...
You see the risks are there but maybe your concentration is better than mine and you won't fall into these tricky traps ;-)
---
Free e-mail course:
The 100'000 satoshis a week strategy
NEW
Interested in starting to play Splinterlands?
Check-out my free online course how to get started