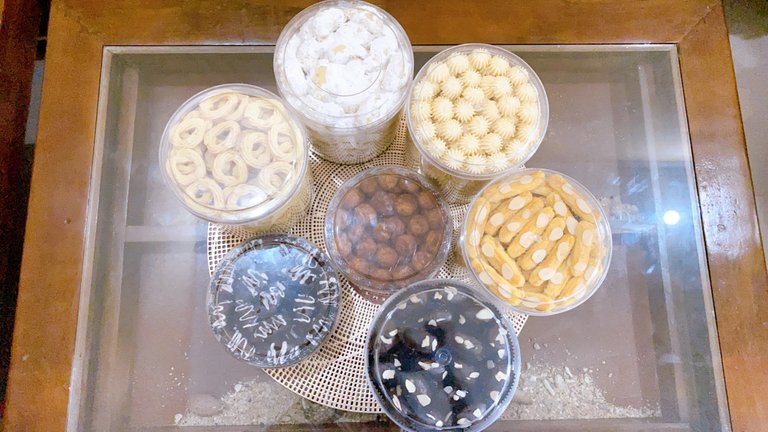 Hello guys.
In this post, i want to share about this special cookies that i can only find during Eid Fitri.
After a month fasting during Ramadhan, there's Eid Fitri.
Here in Indonesia, we have the tradition to gather with families during the Eid Fitri.
Not only gathering, we visit each other house.
So these cookies is one of the tradition that we must have in our house so we can give it to our guests.
There're so many variety of the cookies and i feel like as time goes by the variety is became bigger and bigger.
There're so many new cookies made.
It makes us even harder to choose like the photo above, all the cakes that i will shown here is the cookies that me and my mom bought from my aunt (my mom's younger sister).
Usually, people can choose either to buy or make the cookies themself.
My mom always make just one or two variant of cookies and buy the rest later.
Me too, i always buy one special variant of cookies every year.
Its a big no to skip that for me.
That is my most favorite cookies in the world and the only chance i can enjoy them were when its Eid Fitri.
So i always buy one big jar of the cake and keep it to myself and not share them with anyone else.
So, what is the cookies that we bought this year from my aunt?
Here it is: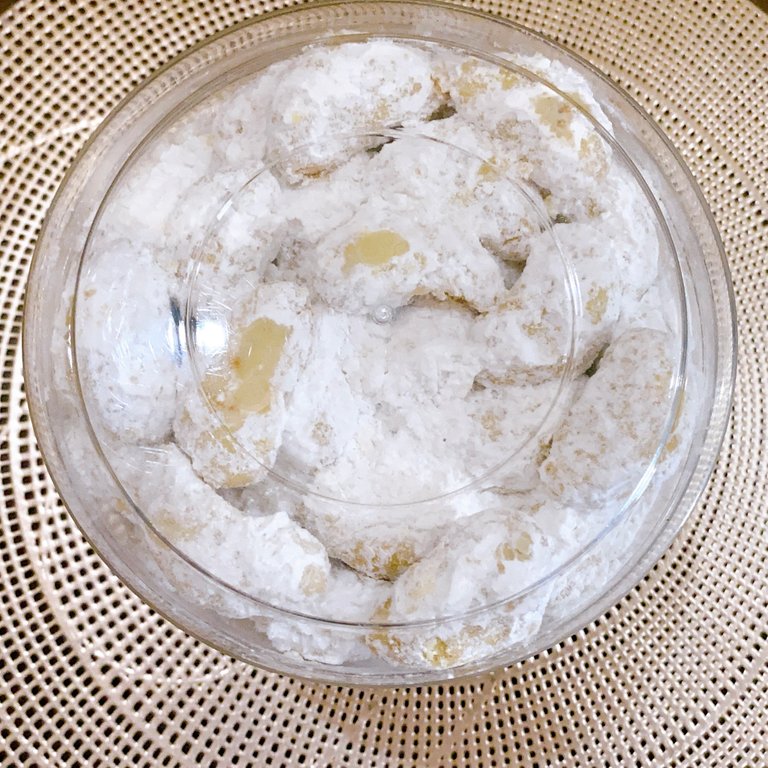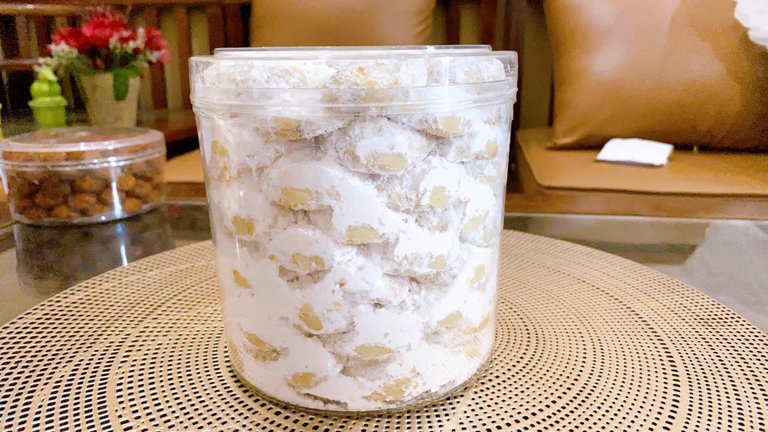 This is my most favorite and personally i think the best cookies in the world.
Its Snow Cookies.
Its called Snow Cookies because its covered in white like when its snow.
But the white is actually the sugar powder.
And i think it suits the name of snow cookies a lot because most of the time they use the powder sugar tat has this cooling effect the first time we put them in our mouth.
I heard this is my friend @anggreklestari most favorite cookies too.
We have the same taste.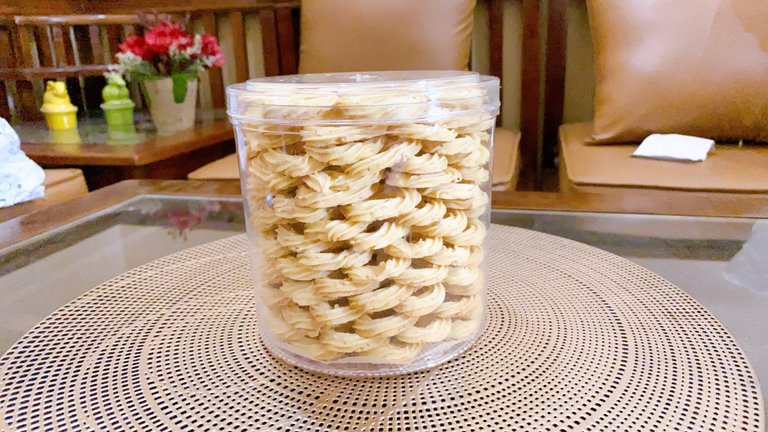 This is Bangkit Goreng Cookies.
Bangkit have so many types and variant and this is actually the first time i ever heard about it being goreng or fried.
Isnt it interesting to have a fried cookies?
The taste is interesting too, its very crunchy and not too sweet like commonly how bangkit cookies taste.
So this is a perfect cookies for people that doesnt really like sweet cookies and like a crunchy cookies.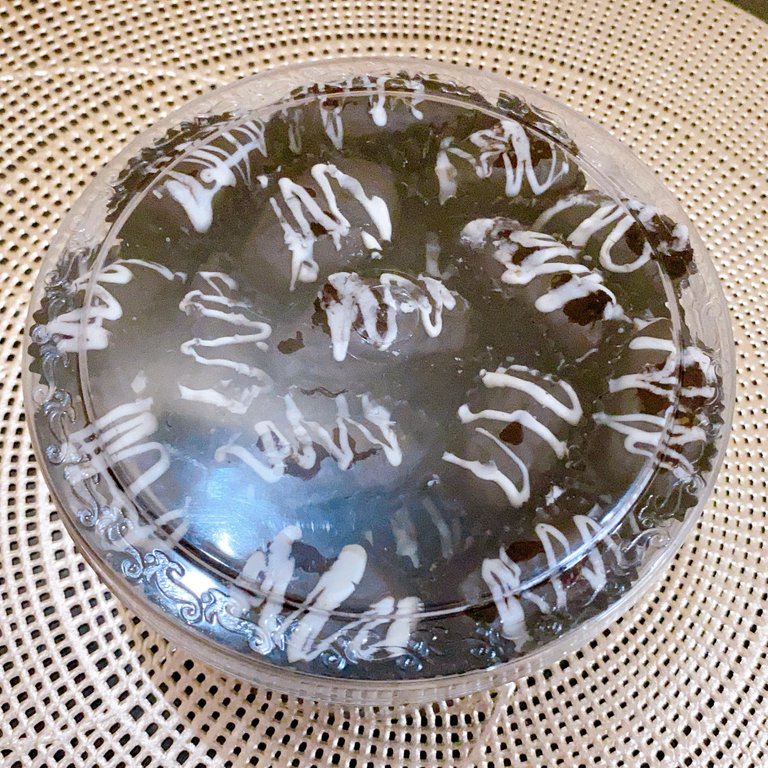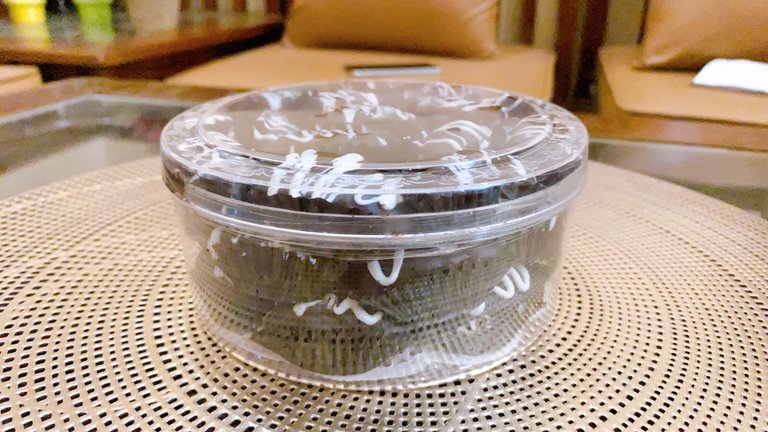 This is Chocolate Kurma Cookies.
The cookies is very simple to make actually.
We just need to take Kurma and put away the seed inside then feel the inside of the kurma with chocolate.
After filing the inside, we need to cover up the kurma with chocolate from the outside.
So its filled with chocolate outside and inside.
Perfect for kids that usually doesnt like to eat kurma, they can enjoy kurma in this way.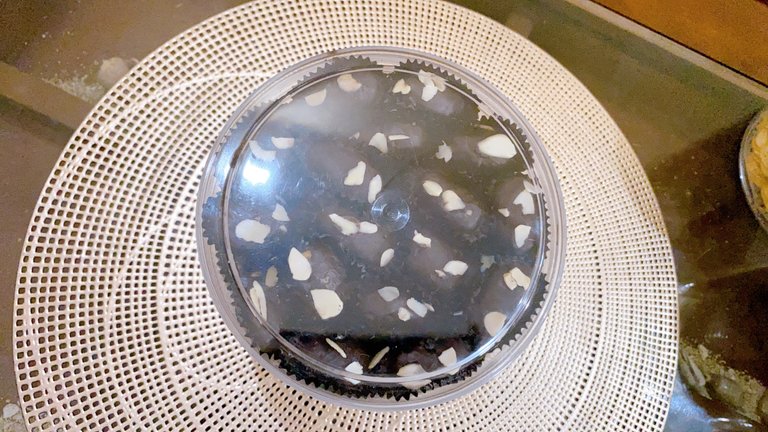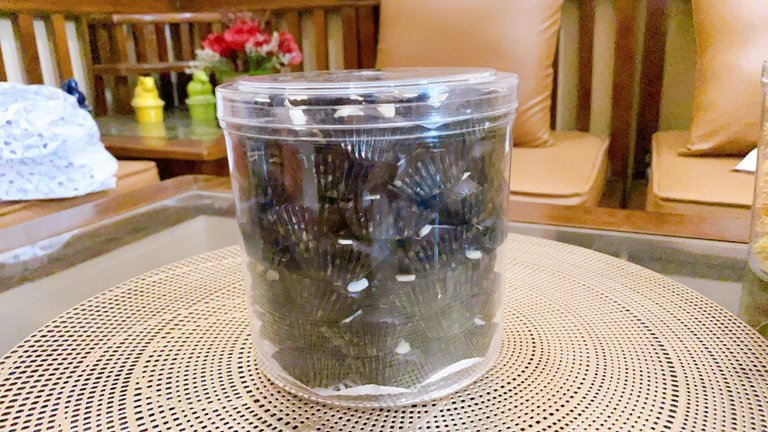 This is Chocolate Biscuit Cookies.
This one looks similar with the kurma chocolate oe right?
But the biggest difference is in the inside of the chocolate.
While the other one is Kurma, this one is simply biscuit.
The biscuit taste very good too.
Ths is gonna be another kid's favorite kind of cookies.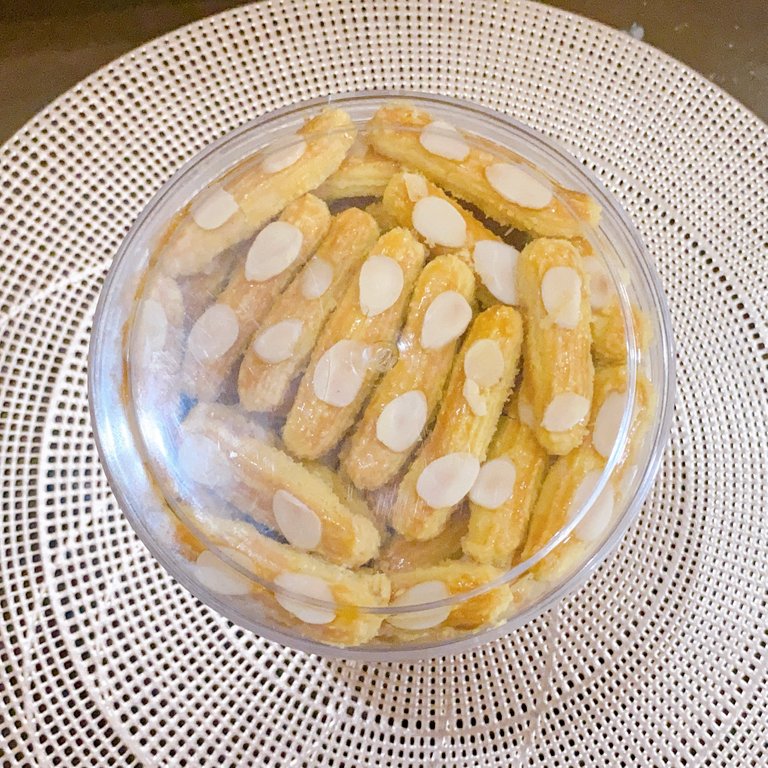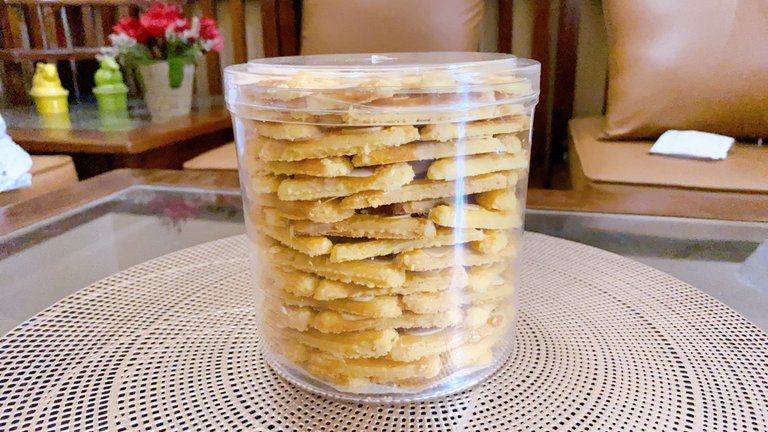 This is Kastengel Cookies or Cheese Cookies.
This is a simple cheese cookies with an almond on top of it.
Personally, his is something that i will not eat because i dont like to eat cheese without its companion.
So as expected, this one is my mom's purchase.
I just feel like this cookies is so boring.
Maybe because i like the cookies to be sweet so kastengel cookies is doesnt suit my type.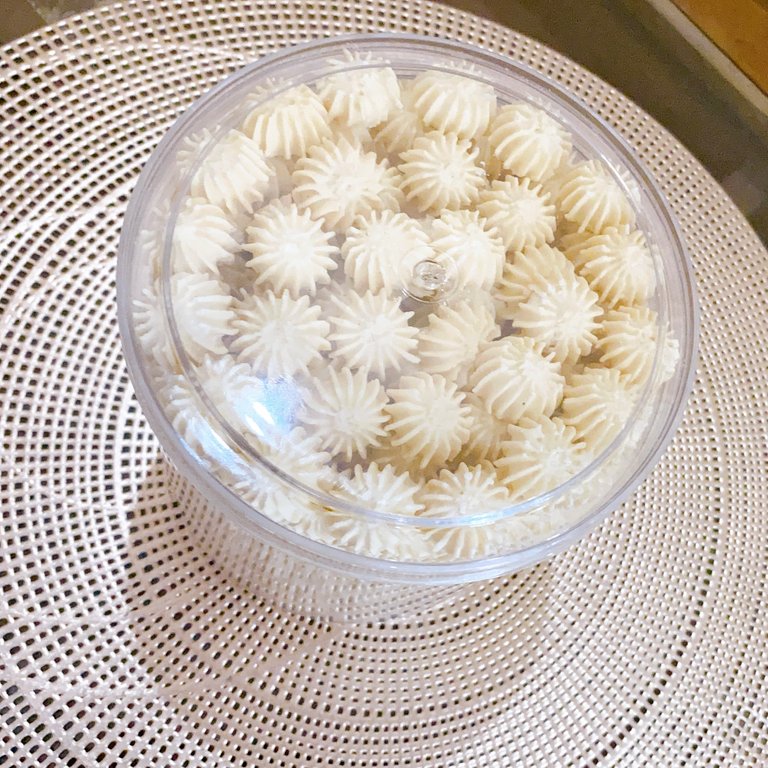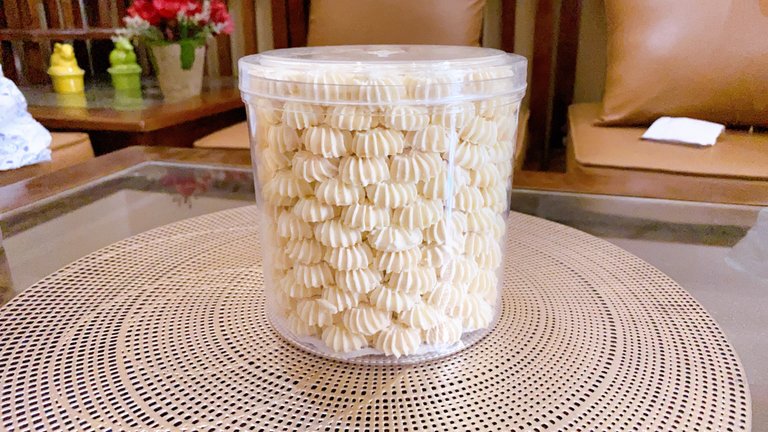 This is another Bangkit Cookies but this one is different than the other one because this is Milky Bangkit Cookies.
As expected from the name, while the other one is not so sweet and crunchy, this one is very sweet and soft.
Which is, totally, my type of cookies.
This is another interesting cookies because its Chicken Floss Cookies.
I have never seen a chicken floss cookies before so when i saw this cookies, i ordered them immediately.
This is surprisingly taste good eventhough for me this is the type of cookes that not making us wants to keep eating them till the jar empty.
So, that is all the cookies that we bought from my aunt to our houes.
Is it the end of our cookies?
Of course not, i already purchase some of other cookies and i hope that i will be able to share about the later.
What is your favorite cookies, guys?