Welcome to the Daily Crypto News: A complete News Review, Coin Calendar and Analysis. Enjoy!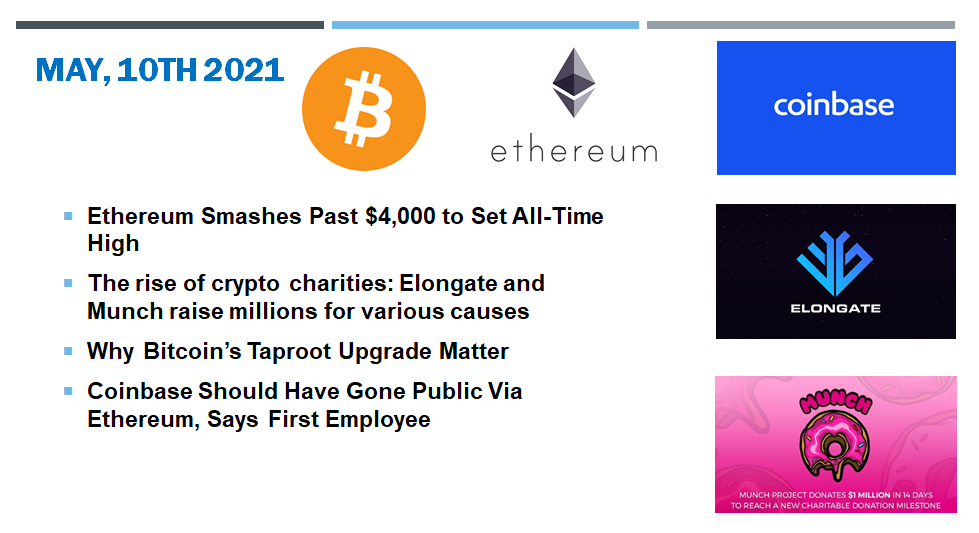 Ethereum, the world's second largest cryptocurrency by market capitalization, has smashed past $4,000.
Its latest all-time high concludes a week of remarkable growth. On Monday, the price rallied to $3,000. The next day it struck $3,500, and it's been rising ever since.
With a market cap of around $460 billion, Ethereum still plays second fiddle to Bitcoin. However, it's possible that this may change.
While Bitcoin is a form of digital cash, Ethereum is digital cash and more. Its blockchain enables the creation of a world of decentralized financial services through its pioneering use of smart contracts—self-enforcing bits of computer code.
This year, four Ethereum ETFs launched in Canada. The first three were launched by Purpose in mid-April, Evolve and CI Global Asset Management. They reached $138 million in trading volume in their first week. The same three companies launched successful Canadian Bitcoin ETFs earlier this year. A fourth Canadian Ethereum ETF was launched by 3iQ at the end of last month.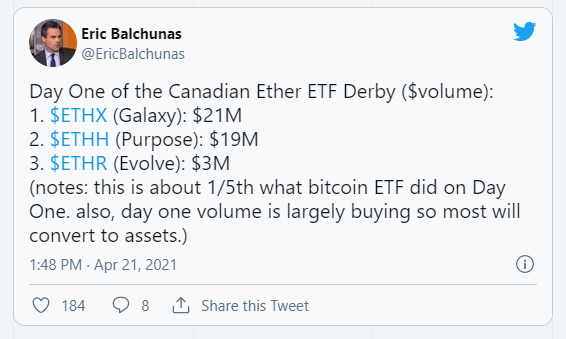 Two unrelated cryptocurrency projects have collectively raised over $3 million for charitable contributions this month, underscoring the potential of digital assets in aiding mission-based non-profits around the world.
Elongate, a cryptocurrency project that began as a parody of Elon Musk's reference to the Watergate scandal, has raised $2 million for various food and general support programs via Human Relief Foundation and Give India. The latter is a Covid-19 relief effort in the South Asian country in the wake of a devastating spike in new infections.
Some of the biggest Elongate contributors are Children International, Action Against Hunger, The Ocean Cleanup, Big Green, Human Relief Foundation and Give India, among others.
Despite starting off as a meme, Elongate has emerged as a major player in the market for crypto-based charities. The project claims to have over 400,000 holders worldwide.
Why is this important? It's not just the benefits the upgrade brings, which are significant. Taproot is important because it reminds us of what Bitcoin is.
The good stuff
Before we dive into why this matters, let's look at some of the main benefits of the proposed upgrade:
Increased privacy. This does not refer to Bitcoin addresses or enhanced anonymity; it refers to types of transactions. Taproot will make complex transactions, such as those requiring multiple signatures or those with delayed release, indistinguishable from simple transactions in terms of on-chain footprint.
Lower fees. The data size of complex Bitcoin transactions will be reduced, which will lead to lower transaction costs.
More flexibility. A new type of signature will enhance smart contract functionality in Bitcoin, making it easier and cheaper for users to set more complicated conditions for a transaction.
Lightning boost. Taproot will make transactions on the lightning network cheaper, more flexible and more private. The lightning network is a layer 2 solution that enables faster and more scalable payments that periodically anchor in aggregate form to the Bitcoin blockchain, offering eventual Bitcoin security while amplifying speed and potential throughput.
The real benefit
"Technology" implies risk, though – things can go wrong, code has bugs and/or unintended consequences. That's why it is key that Bitcoin's upgrades are few and far between, because they need to be carefully vetted and tested. Also, since there is no central body to decide on Bitcoin upgrades, they need to be agreed on by all the key stakeholders, and consensus is always extremely difficult to achieve.
Olaf Carlson-Wee said that Coinbase "would be valued at over double what it is," had the company gone public… on Coinbase.
His ideal scenario for Coinbase shares would have been USDC-style ERC-20 tokens traded on DeFi.
Coinbase shares trade for $263 each.
Olaf Carlson-Wee, the first hire at cryptocurrency exchange Coinbase, says that shares of Coinbase would be worth more today if the company had chosen a crypto-native way of going public.
"I think that if Coinbase would have gone public on Coinbase," he said, "[it] would be valued at over double what it is." Instead, Coinbase went public on April 14 with a direct listing on the Nasdaq.

🗞 Daily Crypto Calendar, May, 10th💰
"BitMart will list ElonGate (ELONGATE) @elongateog on May 10."
"We are so excited to announce that Dogecoin (DOGE) will be listed on Coinsuper on 2021.5.10"
Two billion FREE burned.
BSC Integration
"SparkSwap Official Launch On May 10."


➡️ Leofinance
➡️ Youtube
➡️ LBRY
➡️ Twitter
➡️ Publish0x
➡️ Den.Social
➡️ Torum
➡️ Spotify
➡️ Be paid daily to browse with Brave Internet Browser
➡️ Invest and Trade on Binance and get a % of fees back
Posted Using LeoFinance Beta