When it comes to investing in mining companies, it's often difficult to find a company that is best positioned to face the future. Mining is a capital-intensive industry that requires years of development and large sums of debt to adequately reach the scale needed to effectively compete. Above all, as a commodity player, miners can often by hindered by the changing winds of the economy with little capacity to maneuver towards or away from a trade imbalance.
As such it's almost a bit rare when an industry leader is so well-positioned to face the future. One such company that may very well be facing those beneficial tailwinds now is Freeport-McMoRan (FCX).

https://investors.fcx.com/investors/presentations/default.aspx
What positions FCX so well is its leadership in copper and gold specifically. Copper is often affiliated with growth and even more so with a future dictated by digital connectivity and renewable energy. Gold is often affiliated with safety as as store of value. Needless to say to the audience here about how gold is likely to continue to go up in value in light of the endless printing of fiat money by central authorities around the world at the moment. In terms of scale, FCX is the leading public miner when it comes to copper.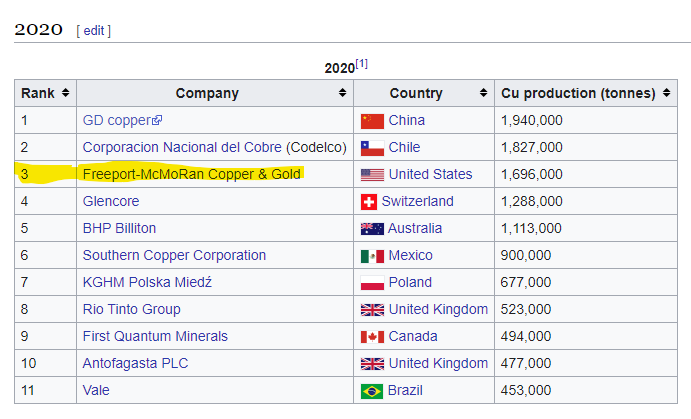 https://en.wikipedia.org/wiki/List_of_copper_production_by_company
Freeport-McMoRan currently trades with a market capitalization of $19.31 billion based on the current share price of $13.30/sh as of July 29, 2020. While operating cash flows to date have been less than stellar over the past year (as seen below), the rising price of its core metals are expected to significantly increase performance going forward. This is especially the case, as the company's Grasberg underground ramp-up scales up to full operations.


https://seekingalpha.com/article/4360890-freeport-mcmorans-q2-good-quarter-even-better-outlook
Gold production continues to do well, especially as prices remain on an upward track. It's worth pointing out that at the time of writing this gold now trades at $1953/oz., much higher than what's portrayed in the expectations below.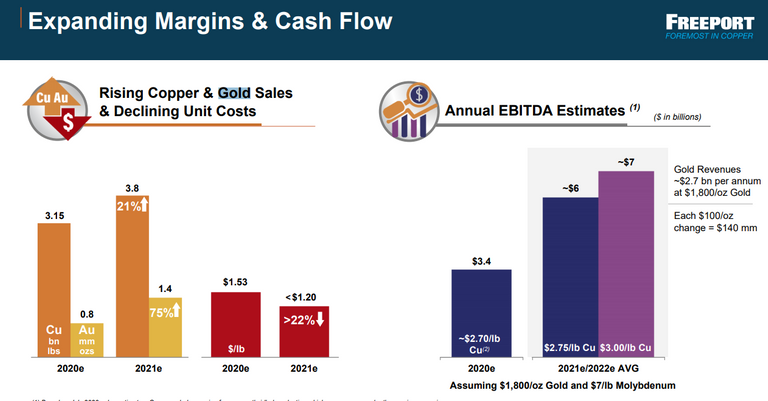 https://s22.q4cdn.com/529358580/files/doc_presentations/2020/FCX_2Q20_CC.pdf
Overall, Freeport-McMoRan appears to offer a good combination of offensive and defensive capabilities in an uncertain time and changing economic landscape. Yet most importantly, it's well-positioned to face two of the dominating trends that are becoming increasingly clear:
More fiat money is going to be printed.
The shift to a more digital and renewable future has been accelerated.
As we look at the chart below, I would expect that the company's share price may stall a bit in the near future and likely consolidate closer towards the pink line. Without a doubt shares have rallied quite strongly in the past few months. What is clear is that the bulls are currently in control of the share's movement at the moment based on a look at anchored VWAPs.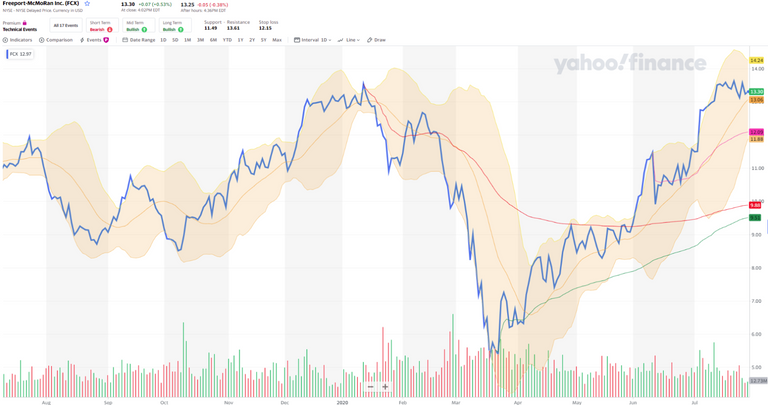 Posted Using LeoFinance