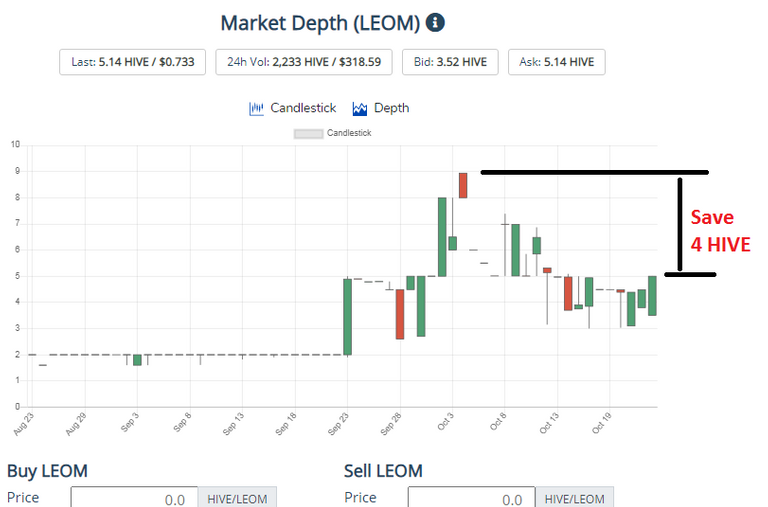 I just finished reading a 33 minute long report by @Leofinance on the investigation of WLEO attack and it's been a solid work. Thanks to Khal, his team and all Hive developer who have supported the push to make the Leofinance project more secure. That's a great show of patriotism and unity that abounds among the Hive developers and community at large.
With that, it is imperative that WLEO would relaunch on November 10, 2020. That date is about 17 days from today. Definitely, LEO would start up a mooning journey as many investors would begin to purchase LEO in wait for when they'll start providing liquidity for WLEO. We are anticipating a more participating relaunch of WLEO.
As at the time of submitting this post, LEO is trading on LeoDex at 1.19 HIVE per token. However, there is the likelihood that a 2 HIVE value for LEO would be reached before or on November 10, 2020 as there would be a buying pressure on the token.
About a month ago, a day to the first launch of wrapped-LEO, I wrote this post titled "The Gold in LEOM and LEOMM was conceeded to a few who understood the Tokenomics!" which was pointing to LEOM and LEOMM as cheaper options of earning LEO especially as the prices of LEO begins to shoot. Then, LEOM was trading for 2 HIVE each but after few hours all the initial supply by @LEObank got exhausted and the miner mooned to the highs of 9 HIVE each as shown in the screenshot above.
LEOM and LEOMM are miner tokens for LEO. All that a user does is to buy LEOM and/or LEOMM, stake the tokens and the he starts receiving some about 1.06 LEO at several intervals daily depending on the share of LEOM or LEOMM staked by the user over the total amount of staked LEOM and LEOMM. SImply put, the miner token helps a stakeholder to earn from the inflation pool of the token.

I had quoted @empoderat's post on the profitability of LEOM and LEOMM which was quite very revealing. I fomoed to buy some amounts of LEOM when the supply almost went off the market. In fact, it was sad that I never understood the awesomeness of the LEO miners as well as other Hive-token miners until then.
The amount of LEOM and LEOMM staked determines the frequency of receiving the mined LEO daily. The more, the merrier. That means that a user holding a stake of 10k LEOM for instance has more chances of receiving mining rewards than another account with a stake of 2k LEOM.
When the price of LEOM and LEOMM dips, it's just the best time to acquire as much as possible. This is because mining rewards would still be received when LEO grows in value. In fact, the rewards would be more as more users would be attracted to earning LEO. However, earning LEO, as mining reward when LEO reaches the targeted $37 would be the cheapest option. WLEO and LEO would become very costly in the coming weeks but miners would still receive same value or even more of mined LEO which would be worth much more than it is today.
Quickly rush to LeoDex to acquire some LEOM and LEOMM while they remain as cheap as 5 HIVE 35 HIVE respectively. As LEO appreciates, LEOM and LEOMM would worth much more.
Posted Using LeoFinance Beta