Today, I had a shocking discovery about SPORTS which just confirmed the muse I shared a few weeks ago. I had earlier shared in this post that the amount of liquid SPORTS available is insufficient should mass adoption happen. This is because a high proportion of the tokens have been locked in stake by curators and long term investors.
At 21/10/2020 14:19, I captured the below sell order for SPORTS token while trying to buy some tokens. A lot of buy pressure was evidenced which shoot the price of SPORTS to approximately 0.001 HIVE per token. Just then, I sighted that as the "big price" orders started coming up, two orders were set at 0.1 HIVE per SPORTS. That evidenced that the sell flange of the SPORTS market is almost bought up and we're closely approaching a bull season for the highly potential token of the Hive-engine.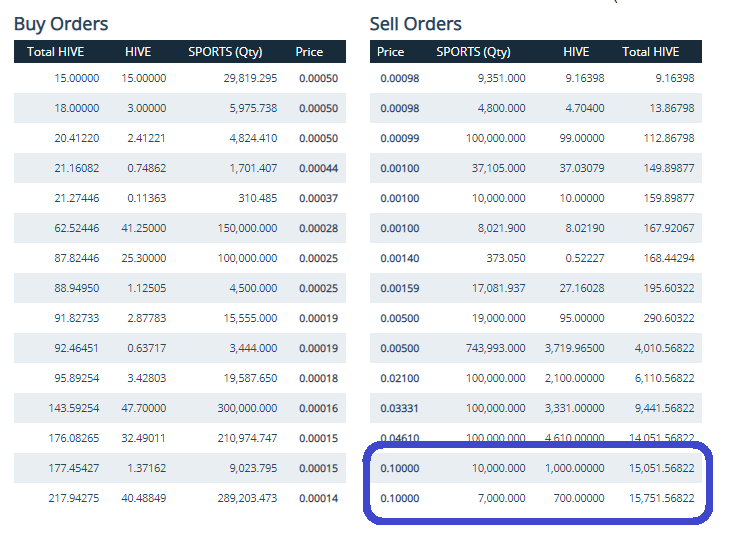 screenshot at 21/10/2020 14:19
Looking at the entire active users of Hive, let's take a lower limit of 15k and every user desiring to hodl a few hundreds of thousands of SPORTS token, then, we'll be begging for a token at $0.1. There are presently only 149 million SPORTS token in circulation and out of that, over 7 million are already sent to @null, leaving behind 141.7 million tokens in wallets and exchanges. A handful of 5 investors who want to rank on top of the richlist can comfortable pick up 50 million tokens each and there won't be any left in the exchange. - source
It is amazing to see that soon, 100k SPORTS would be worth 1,000 HIVE and even more. This surging price action is actuated by a handful of SPORTS investor ranking to the top 20 richlist slot of the token. It is imperative that we'll be having more of such investors in a few days and boom, all available liquid SPORTS in Hive-engine could be bought up.
A look at the depth chart of SPORTS has shown that the volume of tokens purchased is almost clearing off the sell volume. As I submit this post, there is over $121 worth of SPORTS traded against HIVE over the last 24 hours. This looks quite healthy for a token like SPORTS yet to be utilized in development.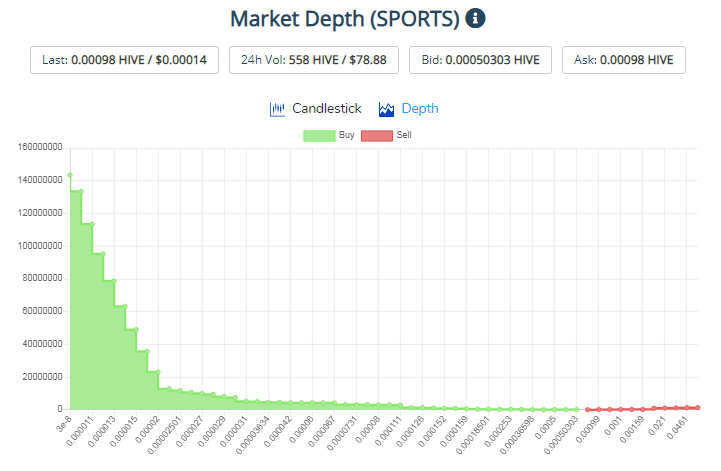 Can SPORTS be possibly worth 1 HIVE each?
I had asked this question a few days ago. While the answers may be subjective, there are indications that the SPORTS token may be approaching the 1 HIVE mark sooner than expected. As at the time of submitting this post, SPORTS market cap stands at $3,180,828 and presently, that value ranks SPORTS as the top token on Hive-engine with a tangible trading volume.
I had also mentioned that any sports team or organization that wishes to join HIVE and consequently the @SPortstalksocial community needs at least 50 million tokens to be able to cater for fanbase rewards. That much of token is worth over 30k HIVE especially as the token kisses the 0.001 HIVE price mark. Two weeks ago, 50 million SPORTS could have been procured for one=tenth of that amount.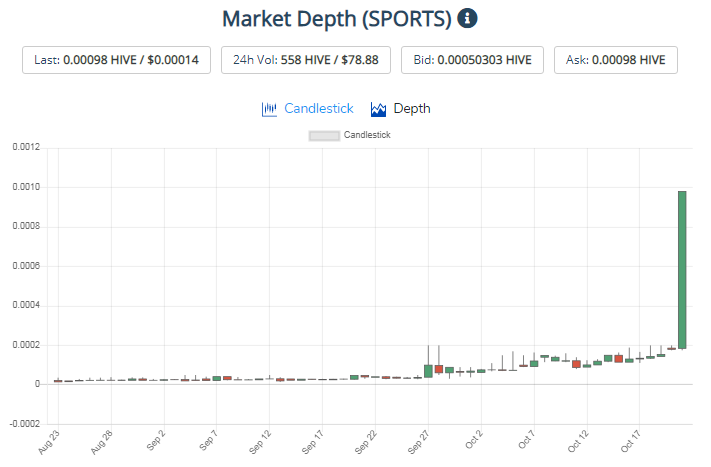 It'e not time to keep watching what will happen next. As BTC continues to bull over $12k, "tiny" crypto project leaders may have the opportunity to boost their tokens/coins. SPORTS may be one of such Hive projects that could experience insane highs over the next few days. I keep hodling and staking till I reach the 50 million mark.
Before you excuse yourself, always remember the LEO story and how everything changed in few days. SPORTS could be the next.
You may join my SPORTS Curation Trail to maximize your SPORTS stake. With the trail, your stake of SPORTS would yield profits without your active involvement.
You can buy some good amounts of SPORTS on LEODEX and smile in the next few weeks ahead.
Posted Using LeoFinance Beta