Finally, hive deposits on binance are finally open! Which means it's shopping time!

377 liquid hive to the dumper! It feels nice to be a traitor, hoho.
And got meself 55 RUNE and 55 AVA. The first is heavily shilled in the leofinance discord, and the later is @empoderat's favorite shitcoin! Imo, I still have no idea what RUNE is but AVA does look like a solid project which imo has good chances to moon after March/April when hopefully all the corona shit will be over and tourism will pump again.
My bags are still small, but little by little those purchases add up: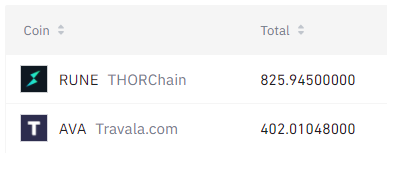 How about you? Did you buy anything on binance today?
Disclaimer: This post may have affiliate links. All ref earnings will be used to buy and power up hive. If you want HIVE to pump and me to be a whale please be a good boy and use them :D
Posted Using LeoFinance Beta