Hive is rapidly becoming a thriving ecosystem. While still rather small, we are seeing a foundation forming that is going to provide vast resources to many people going forward.
The expansion that took place over the last couple years, much of it since the fork a year ago, is offering more opportunities than ever before. If the development continues as it is going, we will only see this grow as we travel down this path.
For a number of years, all the wealth could be found in one place. This was simply determined by the amount of Hive that one owned. It was really the only token in existence (HBD was around but not given much attention). Thus, we were all confined to this area for wealth generation.
Even today, many look at things in the same manner. Believing that HIVE is the only wealth center is a mistake.
We can point to the charts that @arcange puts together each day that exhibit the amount of MVests held in each category as well as the percentage of the whole.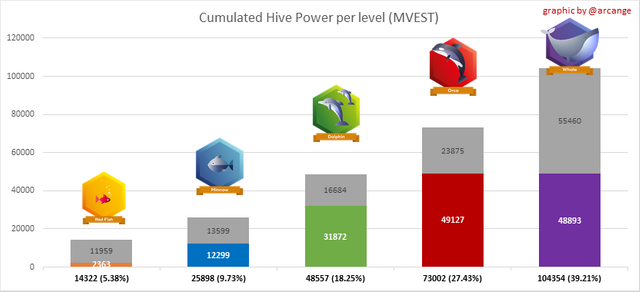 Source
Certainly this summarizes the situation with Hive Power. However, it omits the entire story outside this single currency. After all, does anyone judge Ethereum, which is the blockchain with the most money, based simply upon ETH? Do people not take into account all the other tokens such as UNI, SUSHI, and the different NFTs?
Obviously, they do.
Nevertheless, on Hive, the tendency by many is to overlook everything else that is going on, believing the only value here is Hive. This is not exactly accurate. Sure, the majority of the value is still in that token yet some other projects are starting to gain steam.
This is one of the reasons why many feel that a robust Layer 2 is the future of Hive. The main token provides the governance for the chain as well as the ability to operate through Resource Credits. However, like Ethereum, we can see a great deal of value being generated from the second layer.
We already know what Splinterlands has done. This is a project that already generated millions of dollars for those involved in the game. Many of the cards saw massive appreciation. If the game keeps gaining in popularity, we will see this expand. Those who are holding significant stake could see it skyrocket if the same happens to the user base.
Leofinance is another project that saw a great deal of success. The token shot up over the past 6 months as development rolled out a number of new projects. This created a nice wealth center as the market cap of that token entered the millions.
Of course, the latest venture is CubFinance. While residing on BSC, this is providing another avenue of financial growth for those on Hive as they are the primary ones involved in the Dens and Farms. It is still early for that one but the indications are that people are in for the long term.
Finally, we see another project on Hive that appears to be getting a bit of attention. The ProofofBrain token certainly has captured the imagination of some people. Many feel the tokenomics of that community offers something much different than we see elsewhere. Basically, it combines the Proof-of-Brain distribution on Hive with the tokenomics of Bitcoin. It is an interesting experiment and we will see how it works out.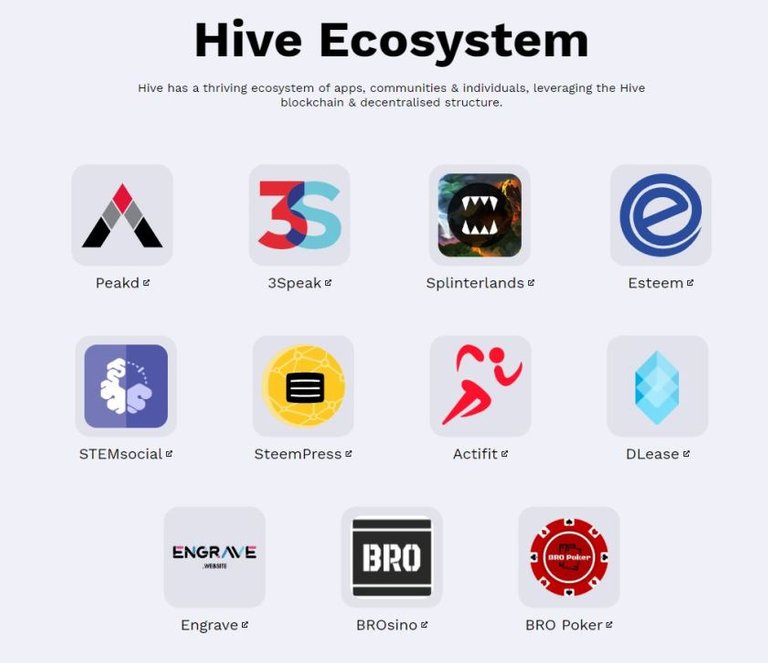 Source
There are multiple paths to the same end.
When we look at all that is taking place, we can see the monetary centers shifting. Again, we are in the early stages with many projects. Nevertheless, we cannot overlook the potential that exists with each of them. Many will end up as nothing yet some will emerge as long-term winners.
Ultimately, it comes down to getting users, in whatever form they take. Within the DeFi world, this means bringing money players to the table. In gaming, obviously it is those willing to use the games which can create a self-contained economy.
As individual bags grow, people will be able to leverage that as new opportunities arise. This is one of the keys. People say the "rich get richer". Well this is one way people can participate in that.
While most are not starting out with tremendous wealth, the compounding nature of what takes place on here allows for growth in many areas. For example, a single post can earn one 5 or 6 different tokens. If some of these are staked as well as growing in value over time, the impact can be exponential. Those of us who are active on here understand how this works.
The Network Effect takes place as more people start putting this model to work. It is a rather slow process based upon our history. However, in looking at the stats posted by @penguinpablo, it does appear the number of accounts transacting is drifting higher over time.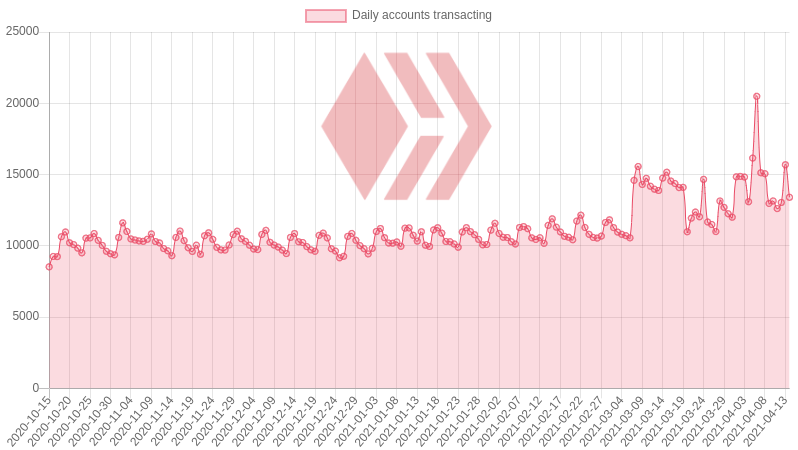 It is the chicken or the egg. Do we need more projects to get more users or is it more users that enhance the value of the projects?
Obviously, it is both. This is where we find ourselves. It is a grind as evidenced by the user growth. However, more people involved in more projects accumulating more tokens is going to reap its rewards. This is what will eventually lead to new wealth centers.
Isn't this what we see throughout the entire crypto industry? It is no longer just Bitcoin that is the entire story. Yes, that is still the bulk of what is happening in terms of price valuation. Nevertheless, there is a lot more to this story than just Bitcoin.
The same is true on Hive. We are at a point where the base token still makes up a majority of the value. However, that is not the only story.
This fact alone is what can allow for overall exponential growth. Since there is more than one wealth center forming, a run up has impact on many fronts. This helps the holders of the different tokens.
Ultimately, this is what spreads the power base further out. It is a process but we can see it happening.
---
If you found this article informative, please give an upvote and rehive.

gif by @doze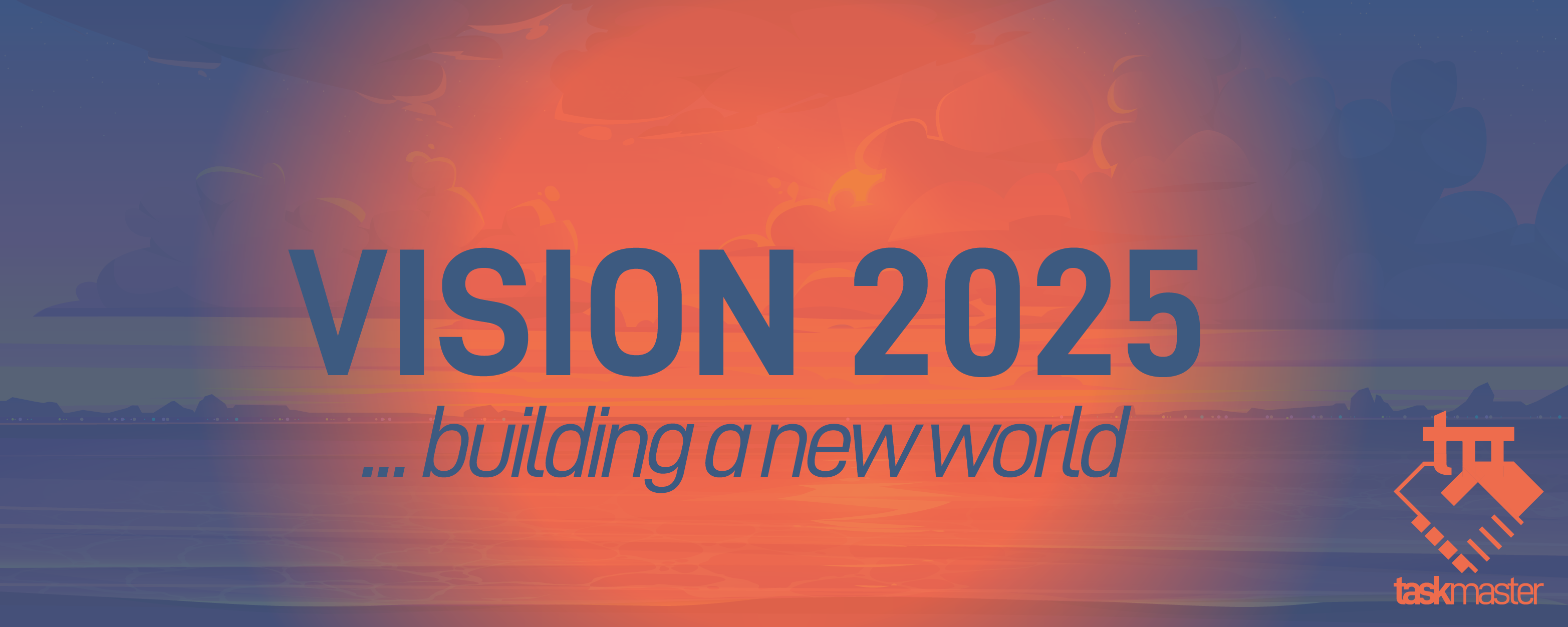 logo by @st8z
Posted Using LeoFinance Beta