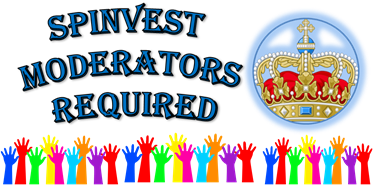 Steem Power Investments (SPInvest) will be electing new moderators over the next few weeks. Here's how I went about choosing my nominations.
Please note: due to the impending hard fork, nominations for moderators will open a week later on Monday 30 March 2020. This gives you about ten days to do your research and speak to people that you want to nominate. Make sure you are signed up to follow @spinvest-votes to take part.
What Are Moderators?
Moderators are community leaders who will have a say in everything from planning and launching new services and incentives, building a bigger core membership list to running the project as a whole.
You'll need to be able to take part in a fortnightly Discord moderators' meeting where you'll discuss ideas (the time of these will be arranged to suit the moderators that are elected).
You'll also be helping members and investors - for example, when you see questions being asked on SPinvest posts, taking 20 seconds and answering it, small things like this. You'll need to know what SPInvest is about and you'll keep up to date with new developments through the Discord meetings.
You will need to be a confirmed club member and have completed and published a completed a Partnership Agreement (information about becoming a club member in this post).
How Did I Go About Choosing Members to Nominate?
There are thirty-five confirmed members of SPInvest (this is the list of members). Each member has been asked to nominate three members to stand for election as moderators.
Looking through the list, several people are already contributing to the SPInvest club, one way or another, and some people have said they are not available. I scratched those from the list.
Then I asked myself three questions:
Who do I think will bring something to the club?
Who can help us to widen our investor base?
Have they got some time to give to SPInvest?
I looked for people that I knew well or had followed for a long time and that were either already active and posting or who had an interest in investing. I also thought about whether they were reliable and straightforward about letting you know what was going on if they were experiencing problems.
I came down to two potential nominees.
Approaching Potential Nominees
The next thing I did was to approach both nominations privately. I explained to them that I would like to nominate them for election and why I thought they would be good as a moderator.
I think this is an important step. It's one that I've learned over the past twenty years working in charities when I'm looking for new trustees to join the Board. I discuss what we are looking for with the current trustees: what gaps we have and who might bring the skills and ideas and opinions we need to the Board. Then I go and look for people who might have what we're looking for.
People are often touched when you approach them. They haven't always thought of themselves in that role or realised they have something to give. They also need time to think about it and to ask questions about what's involved.
In the charity sector, the first question they ask is:
Who else is involved?
That's because no one is interested in getting involved in conflict and drama. They want to know there's a set of people they are going to be able to work with and will enjoy doing it.
The people currently involved in running SPInvest are the founder, @silverstackeruk, who runs the @spinvest account; @jk6276, who runs the @spinvest-leo account and @underground, who runs the @spinvest-neo account. Anyone can check out these people, ask them questions on their posts and have a chat with them in Discord. You can see their record in their profile and through having a look at their account on steemworld.org.
I'm looking after @spinvest-votes for a while, as @conradsuperb is having a break. (Thank you, @conradsuperb, for your contribution to @spinvest, hope to see you here again soon).
The next question everyone asks is:
How much time is involved?
I would say to do this job well, you will need to think about an hour and half to two hours each week. You'll need to be able to attend the Discord meeting every two weeks, to read SPInvest posts and respond to any questions and pop into Discord every other day or so for ten minutes. You may want to do a bit of research and reading, but if you are interested in what SPInvest is about, you probably do that anyway.
Moderators will not be asked to run sub-accounts or to post (although you are welcome to do that if you want to).
How Did I Get On?
Well, I won one and lost one.
One person was very enthusiastic and has become more involved in @spinvest in preparation to being nominated. They had a little bit of sorting out to do about getting on to Discord and posting their confirmed Partnership Agreement, but now they're good to go.
The other person has other things going on in their life and isn't ready to take up a new role. They did appreciate being asked even though they weren't able to help on this occasion.
I'm happy with that.
How Are You Choosing Your Nominations?
We're looking for four or five people to stand for election as moderators, and to appoint two or three, depending how many members are willing to stand.
Do you know a member that you think would make a good moderator? Have you spoken to them about it? Maybe send them a private message today. If they're not on discord, perhaps leave a comment on an old post.
If you're interested in standing but would like to know more before committing yourself, get in touch with @silverstackeruk or me, here or on Discord.
More about SPInvest
SPInvest is a tokenized investment fund/club for all users of the STEEM blockchain. Everyone is welcome! The concept of SPinvest is to get rich slowly by using time tested methods of earning, saving and compounding long term. This lets SPInvest offer an ROI of 20% per year on SPI tokens. We encourage long term investing on and off the STEEM blockchain. We hope someday everyone will HODL some SPI tokens that can be bought directly from @spinvest or through the steem-engine or dex.steemleo exchanges. Full details about SPinvest can be found here.