Few days ago I posted about CTPSB token, that I am looking forward to purchase that token.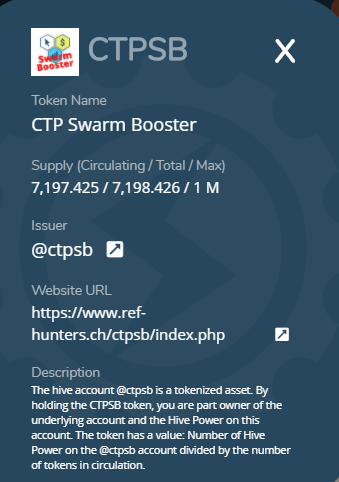 At that time 1 CTPSB token is priced at 1 Hive but due to lack of liquidity I just purchase 31 tokens by transferring 31 Hive to @ctpsb (this mode of method for purchasing CTPSB token is no longer valid. It is now will be traded on Hive-Engine only.)
So today I purchased 69 more, to bring my total tally to 100.


Current price of CTPSB token is increased by 4% in 2 days and interestingly no one sold their CTPSB token till now.
So what the reason of CTPSB token increase?
When you buy a token it's price can go in either way but for CTPSB it is supposed to go up in (compared to Hive.). All the tokens that are issued in market are backed by the Hive Power of the account. But with time curation activities will add more Hive to account but number of token will remain same so each token has now increased in value in Hive now. And new token in Hive-engine will be sold on 2% greater than the current token value is calculated. This will further increase the Hive power of account without diluting the token value in Hive.
Why I expect it's rock solid growth?
If you look at CTPSB token information, only 7198.426 tokens are emitted which are currently backed by 7347.634 of HP. Account also have 16K+ of HP delegated to it. so in current scenario, all curation rewards generated by 23K+ of HP is getting used to increase the token value only (Account is not paying anything to the delegators.)
What's your take?
You can buy the token and see the good growth of your Hive without locking it up for 13 weeks. Additionally you can delegate your HP to ctpsb account if you believe in the cause of the token and CTP tribe.
If you are interested about knowing more about ctpsb then you can read the posts of @ctpsb accounts and refer to this link
Posted Using LeoFinance Beta