I am very fond of ships on coins.
I know that many people share this fondness. I have a few coins depicting ships.
So, I will post a series called "Ships on Coins" and I will show all the coins that I have on this theme.
There will be no order of presentation or country of issue. As the coins are stored in several places, I will simply search on each place and publish those that I found.
The twenty eighth is a 2016 CAD $20 "Patrol Against U-Boats".
During the Second World War, Canada played an important role in protecting convoys from the U-boat threat that lurked in the Atlantic; but in 1942, the U-boat intrusion into Canadian waters suddenly transformed them into an additional theater of war. This fine silver coin commemorates Canada's coastal and convoy defenses during the Battle of the Gulf of St. Lawrence, which brought the war to the home front and within sight of our shores.
This is the fourth and final coin in the Canadian Home Front series, which reflects on the war's profound impact in Canada.
This coin weights 31.39g, has a 99.99% silver purity and Proof finish. The mintage was 437 units and the issue price was CAD $89.95.
Designed by Canadian artist Bonnie Ross, the reverse features stunning finishes and painstakingly detailed engraving in its tribute to Canadians who risked their lives to safeguard our waters during the Second World War. In the background, an engraved map outlines the shores and major waterways of Eastern Canada—specifically the St. Lawrence River and the Gulf of St. Lawrence—where U-boats sunk or destroyed vessels during the Battle of the Gulf of St. Lawrence. In the foreground is the Bangor-class minesweeper HMCS Drummondville of the Royal Canadian Navy, moments before U-132's attack on the morning of July 6, 1942. A view of the vessel's starboard side offers a glimpse of Drummondville's pennant number "J253".
The obverse features the effigy of King George VI, who was the reigning monarch during the Second World War.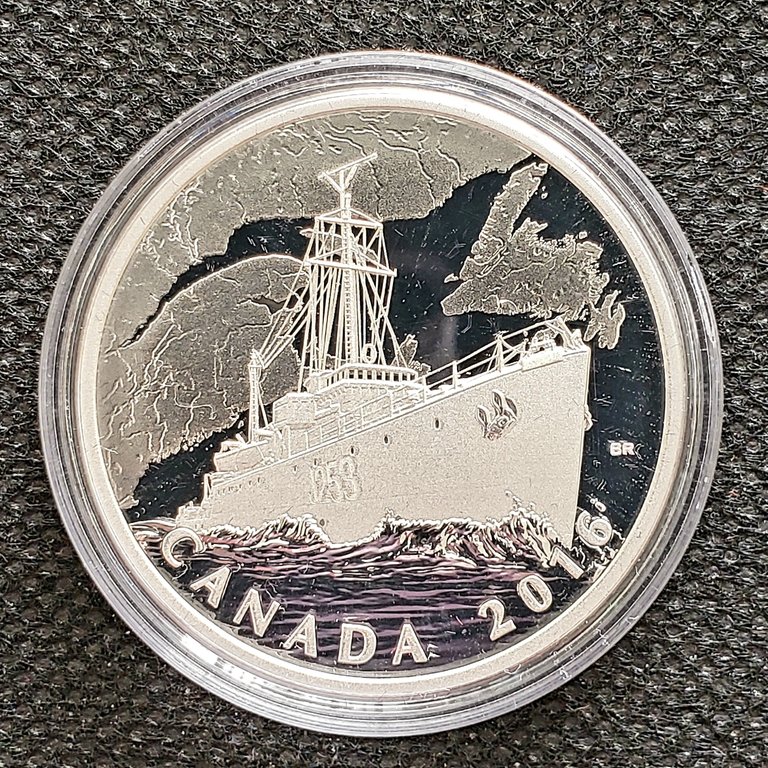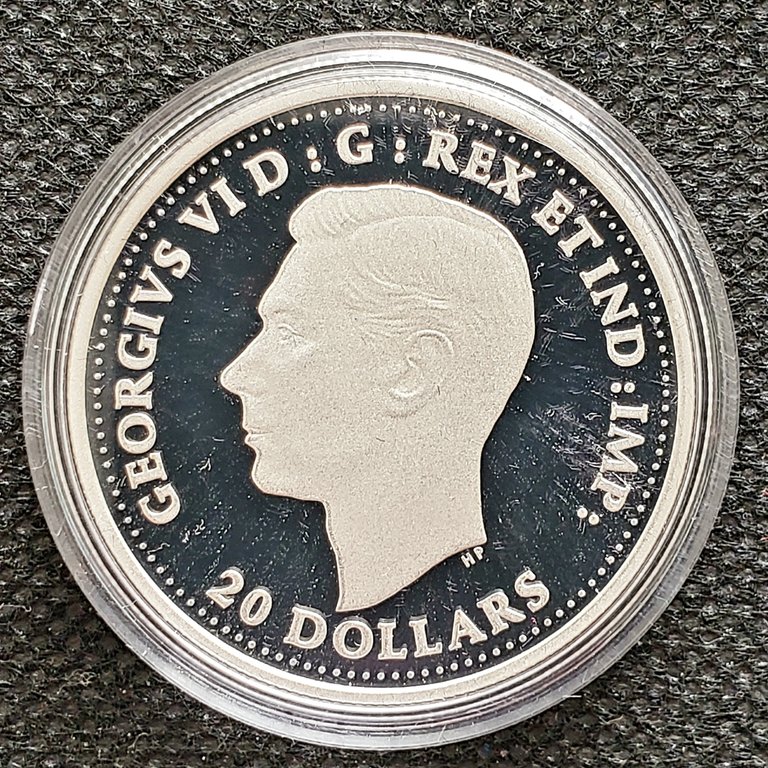 Thank you for reading. Please comment, upvote, reblog and advise me.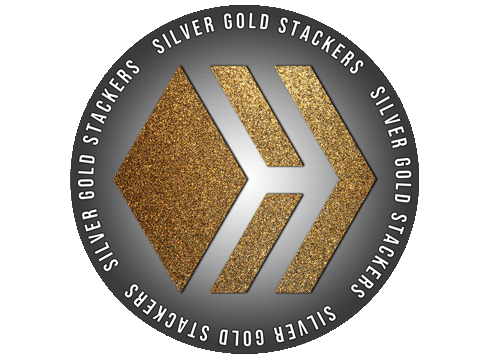 Posted Using LeoFinance Beta