I have to say, DTube has been my Go-To platform for getting introduced to creating Vlogs for myself. I still remember the first vlog, where I had to struggle a lot! More precisely, it was almost impossible for me to say something in front of the camera. Little did I know, this would be a solid turning point for my content creation on Blockchain. Yep, it took some time for me to get at ease in front of the camera but I was able to come to a sustainable position of not getting worried about the uneasiness of being in front of the camera. But the issue/difficulty of creating a vlog in front of a crowd is still there in my mind.
---
Dtube have been one of the most exciting DApp, to be a part of as a video content creator for me. No doubt this very platform has given so much to many users and also received plenty of support by the community.
---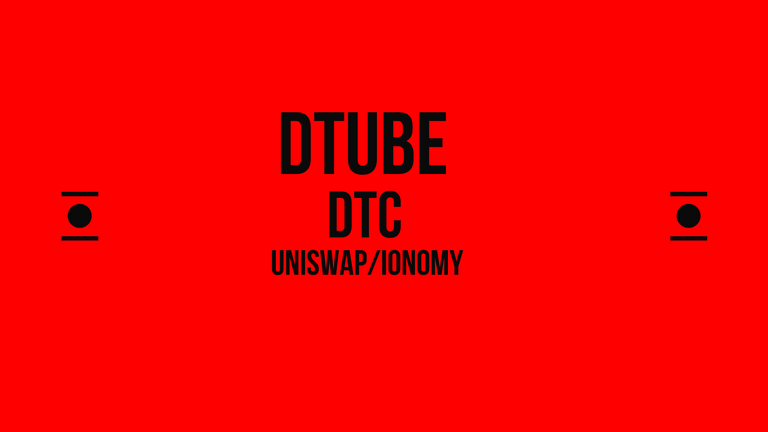 ---
Talking about DTube, the very decentralized video sharing platform has its own chain (Avalon Blockchain) and own tokenomics (Dtube Coin). How does DTube works? Here is a brief explanation ! Since the launch of Avalon chain the platform was running its testrun and as of now it is launched and have been running for some time in full throttle.
---
Token, Listing, current situation :
---
The next big thing which comes into mind of a user/investor is, what is the value of the token of a platform. Both financially and in perspective view as well. Currently Dtube coin is being traded on IONOMY exchange and it has also a pair on Uniswap, with the WDtube and ETH pair.
---
Uni-swap pair of WDtube Coin and ETH
https://info.uniswap.org/token/0xd2be3722b17b616c51ed9b8944a227d1ce579c24
---
Ionomy Exchnage :
---
https://ionomy.com/en/markets/btc-dtube
---
---
On uniswap the current status, as of writing this post is as follows :
---
Price : $0.30 / Dtube coin
Total Liquidity : $4,614
Volume (24hrs) (Untracked): $10,723
---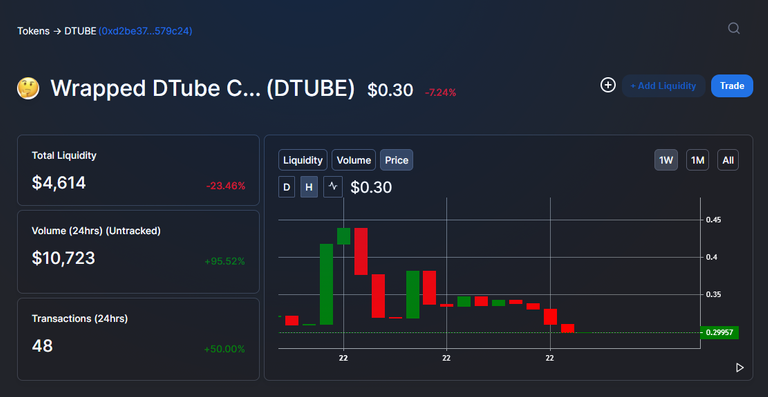 ---
IMO, the price is quite sustainable and honestly I was not expecting this much from Dtube coin. After watching HIVE price things really started to shook me real hard. But DTube has surpassed all of this and when you look at the price chart the ATH is at around $1.8, which is more than magnificent. Since it is in early stage lots of ups and down are going to happen and to decide which price it would a lowest low and where it will go shall be decided by the hodlers of the token.
DTube has done a very precise job in distributing the airdropped token into different stages. Which will actually give value to the token and thus we are seeing this price. Well, for myself I took some of the token and liquidated it but I am keeping the majority of my share will be more active on curation purpose and if possible will get back to creating vlogs on Dtube as well. Now, as a video content creator I do want to grab as many DTC as possible for myself ;)
---
How far will it go?
---
This is very early to say what will happen or what might happen? But I must say we need decentralized video sharing platforms and tokenomics as well, which would be a competitive platform to other centralized video sharing platforms. Time will say what will happen and how the community reacts that is also one of the major aspect of the rise of this platform. And also a big fact remains with the publicity of this whole operations. The more people will know about it, the more effective and lively it shall become. I am optimistic and really looking forward to everything!
---
---
Best regards
Rehan
---
---

Posted Using LeoFinance Beta