How about a new BTC personal record today?
Up with 5.11% on CoinMarketCap as I am writing.
📣 Bitcoin has just reached a new all-time high of $ 63,693.18. It looks like the road leading to the $ 70,000 mark will be quite favorable soon for most BTC investors, miners, owners.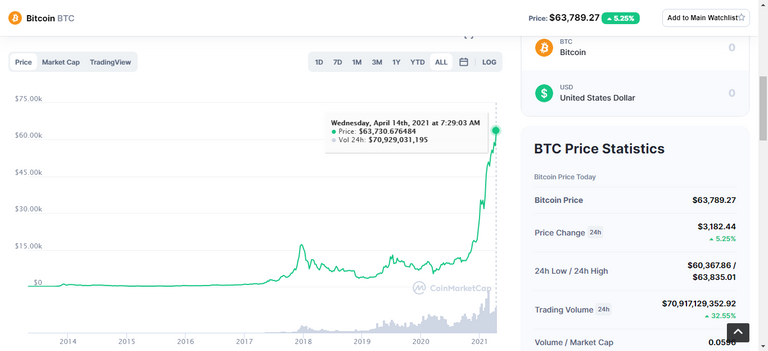 Today, the world's largest cryptocurrency in the world has risen to an all-time high (ATH) of $ $63,693.18. The ATH defeat a month earlier, on March 13, was the highest at $ 3.
Bitcoin often grows when news about new players enters the market.
Two days ago, it was reported that TIME magazine had agreed to partner with the world's largest Bitcoin fund, Grayscale, to make a series of videos around the cryptocurrency market.
In the transaction, TIME also agreed to be paid in Bitcoin and keep the largest cryptocurrency on the balance sheet.
Last month, the magazine published a job offer for the company's chief financial officer, which requires that the person have knowledge about Bitcoin and cryptocurrencies.
But most importantly, on April 14, Coinbase listed directly on the Nasdaq.
Crypto lovers, the times are changing by the second!
Thank you for reading until here!
With appreciation and research,
@regenerette

I'm inviting you to read my latest LeoFinance articles here:
SOCIAL HIVE CALL: Hive Growth. How Nathan $Mars and Wil Metcalfe Sent Me An Energy Boost
KINKY MUSK MOVE: Tesla Inc (TSLA) Is Trading On Binance Now - Check The Insights!
CLUBHOUSE MONEY: Clubhouse's Making You Money - Here is How! Payment Feature Enabled and Podcasts
COINBASE FLING: (Crypto)Love is In The Blockchain: Mina Protocol (MINA). Coinbase' New Fling - MINA Crypto Comprehensive Short Guide
THANK YOU!