When I first join the social blog Steemit prior to the fork Hive I have always been curious how much I earn and when I earn certain rewards. The place to look at all these kinds of data for me back then was Steemworld. I do not know if it still exists nor do I care since I am no longer active on Steemit. However I still have the same curiosity as I did back then today in Hive and wish to know where my progress in earning rewards has been on Hive. One great tool to use is LeoFinance's Hivestats application.
Type in my user name and login and I will get the following page information: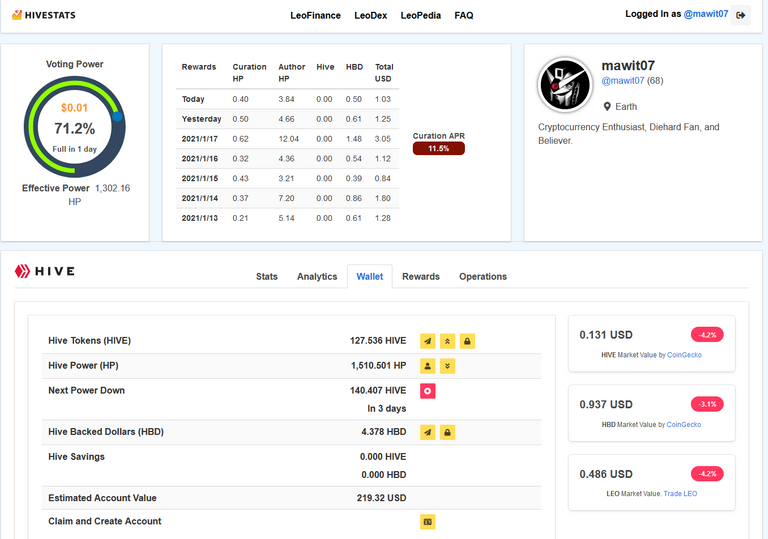 On average I earn a little more than 11% in my curation which is okay but I seen better. As a matter of fact you can review any account's curating APR just by typing in their user name. One of my favorites to follow is @tipu. They have a little over 15% APR for an account that has over 1.25 million HP. Wow!


Stats

Within Hivestats there are several tabs to select and view user's data activities. In the stats tab I can see my effective hive power and upvote value. Other data included such as RC, reputation, followers, and posts all easy to read.

Analytics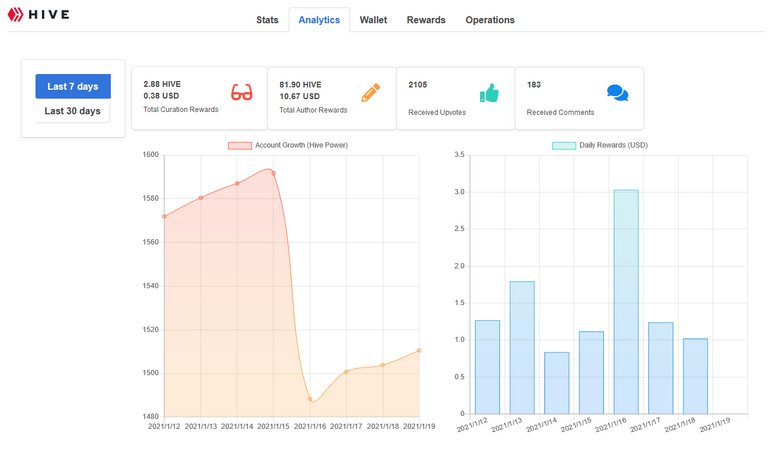 My favorite tab in Hivestats is the Analytics. This is where I can see my daily HP and rewards with a graphical chart. There is also stats for how many upvotes I earned and how many people commented on my posts. The analytics can expand to 30 days. This is a great way to visualize progress.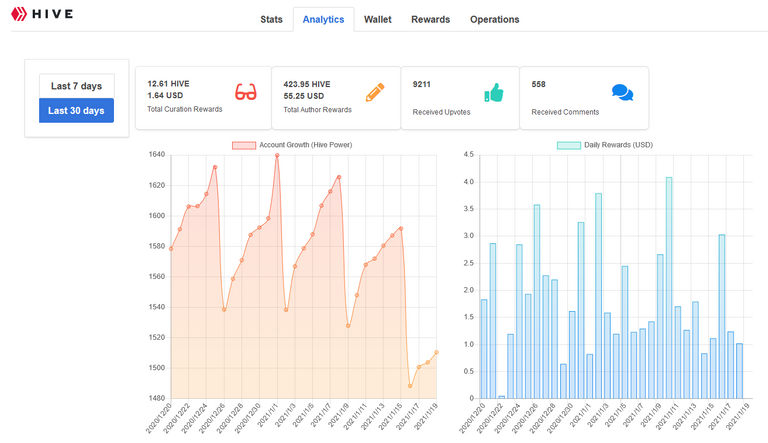 Without these charts/data I would not have known that I am close to 10k upvotes earned in the past month. How cool is that? Since a month ago I have been powering down and using my liquid hive to play games daily. Therefore I see the account HP have several steep declines during days of withdraw. The past week has been the steepest decline as I have not been able to keep up with earning as much as I spend. 😱 It is all transparent and visible for me to know what is going on.

Wallet
Third tab is the Wallet. When user scrolls down they will also see a wallet that includes all their second layer tokens based on highest total values to lowest.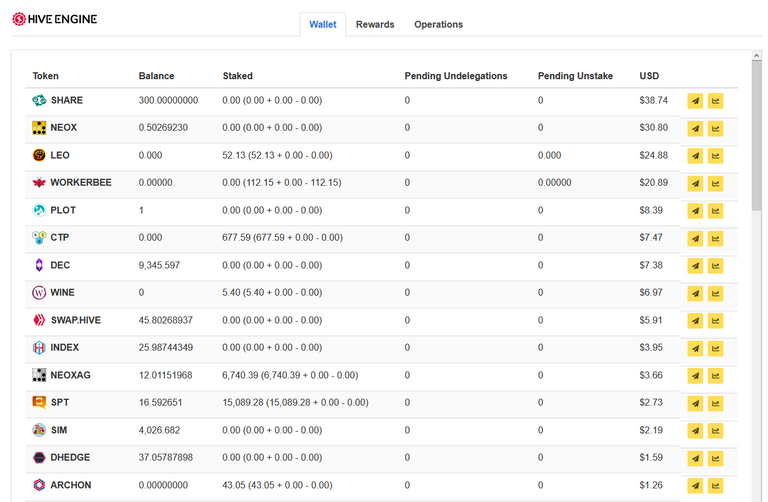 The data is straight out of Hive-engine but it includes total value including what coins I have staked. Hive-engine webpage itself by default does not include staked coins value. I prefer to see all my coins valued since I own them whether staked or not. That is why I like Hivestats for its full transparency and accuracy in presenting the tokens held in hive-engine wallet.

Rewards
The fourth tab is the rewards tab. Within the rewards there are two parts of data, one is earned rewards and the other is pending rewards. This is great to know since I would be aware of when my payouts will occur and how much I earn.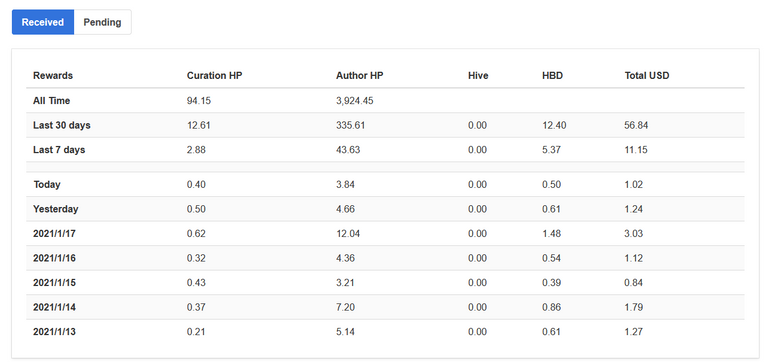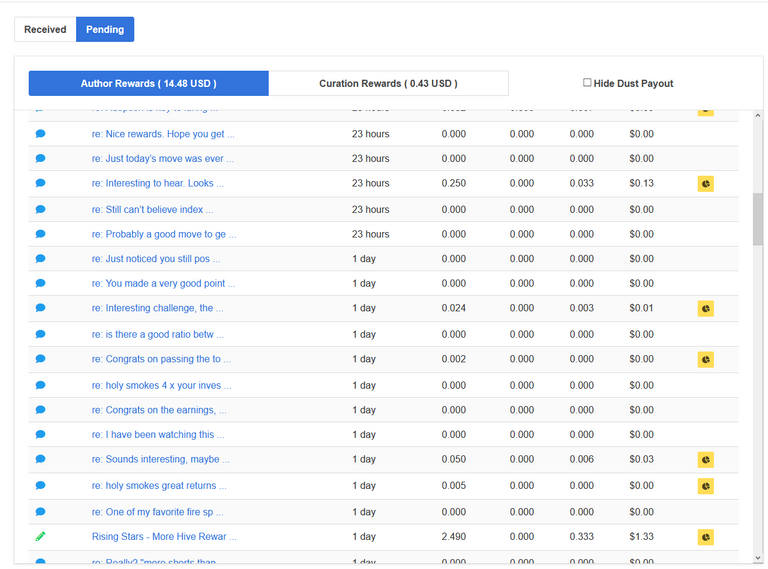 In the pending rewards there is additional data for users to review and learn from to earn more HP. Prior to rewards received user can select a data pie chart that will show how much $ upvote they earned from each curator. This is helpful in knowing who are the whales that are reading and curating my posts. That way if I ever want to continue earning upvotes from them I would need to focus on posts that interests them.
Below is an example of a pie chart breakdown of one of my best posts in terms of rewards and its pending earnings. By being aware who are my audience and which ones are upvoting my posts the most I would be targeting my blog posts to that audience that includes title and post tag related to what interests them in hopes of earning more of their upvotes.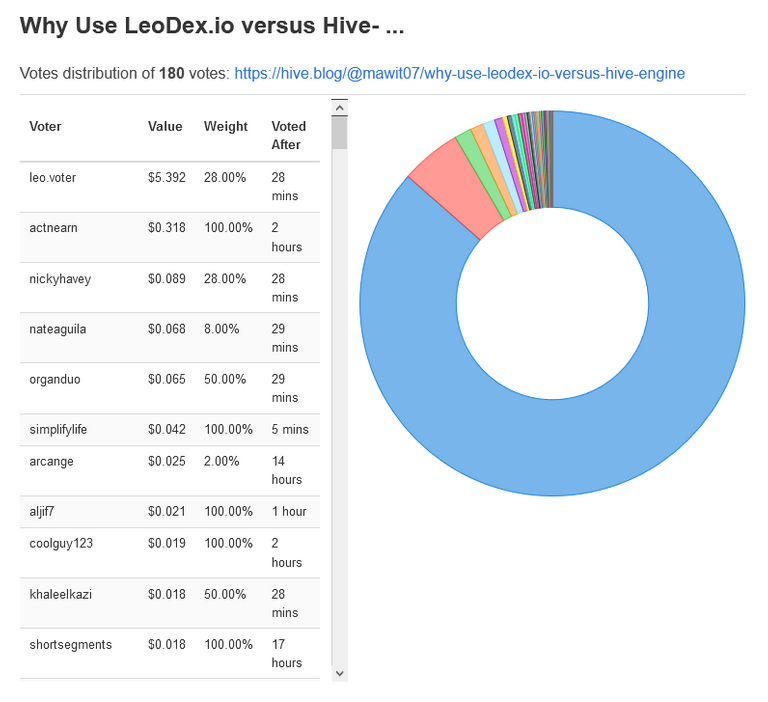 Operations
The fifth and final tab is the Operations. It shows the in and out transactions of all actions to the user's wallet. Whether it is an upvote given or earn or hive/hbd given or earn the tab lists all transactions within the past 24 hours. There is an option to select between 24 hours to 7 days of transactions. In addition below the hive wallet is the hive-engine wallet that has the same features but showing second layer tokens transactions.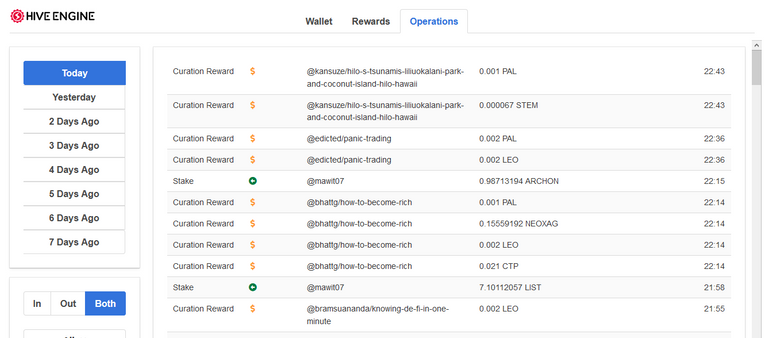 I believe the Operations tab in the hive-engine wallet is by far the best wallet for second layer tokens I have seen. This is because any second layer token is on that list and I only have to see it in one place, Hivestats.

Conclusions
If you have not tried Hivestats I recommend you to. hivestats.io
A great way to visualize progress, track and educate yourself on the activities you are doing and set goals for yourself to achieve on the hive ecosystem. I have been using Hivestats for a little over a few weeks and have seen many other Hivers do their posts related to data presented on Hivestats. It is a great tool and free for all Hivers. I totally recommend the application.
Thanks for reading!

LeoFinance
= Financial Blog
LeoDex
= Hive trading exchange for Secondary Tokens, Low 0.25% fees for deposits and withdraws.
HIveStats
= Hive stats per user
LeoPedia
= Informative content related to anything about Crypto and how to make financial gains in crypto!