---
This morning when I was re-organizing my room, suddenly I found a small box with lots of coins. I have been collecting all these coins for a long time. Literally, I forgot about them. I started collecting them when I was 16. That time I had only 5 coins. The interest in collecting coins came to mind from one of my school friends; at that time, he had a collection of 100 coins from different regions. When my friend showed me his coin collection, I got inspired & started collecting my own.
When I started collecting coins, I found out my uncle used to collect coins a long time ago. So I asked him if he was still collecting them or not. He told me that he had collected 60-70 coins & all of them from the 60-70s. But he stopped collecting coins & he lost most of them. I felt bad for him & also for me. When I was about to leave his room, he told me to wait for a while; then he left the room. When he came back I saw a small pouch in his hand, he gave it to me & told me here are some coins for you; I hope you will have your own collection soon. I thanked him & went back home.
When I opened that pouch, I found 10 coins. That time, I was determined to keep collecting more coins. That's how I started my journey being a coin collector. I am glad that I found the box. The last time when I searched for it, I couldn't find the box. All these memories came alive when I found the coin box. This happened many times with me when I looked for something ending up finding something else.
I collected 87 coins from different countries until now. But I lost many of them when I shifted things from our old house to a new house, some of them taken by others as they promised to give them back but they never did that. I have only 51 coins in my collection. Let's talk about them.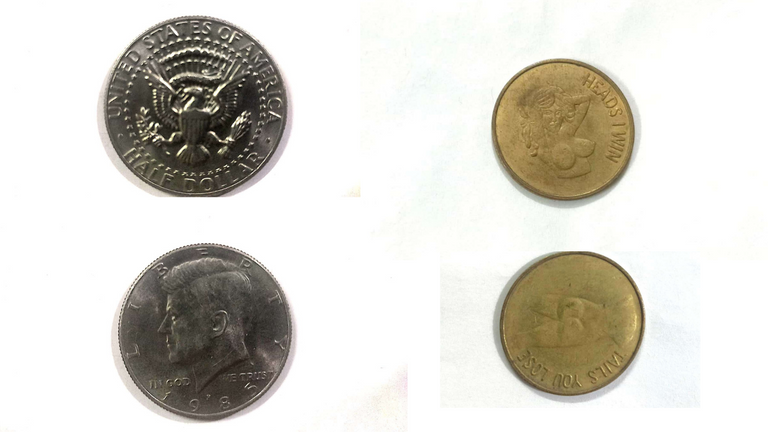 ---
The first coin you can see in this picture is the biggest of course in size which I have, this one is American half dollar that means $0.50 & this one from 1985. The second one is a tossing coin, but there is an erotic figure on it. I loved the design, so I kept it.
---
---
You all know the face of that guy; yes, that is Abraham Lincon, this is a Lincon one cent & this one belongs to 1974. The second coin you see it's an Italian 100 lier & this one from 1959.
---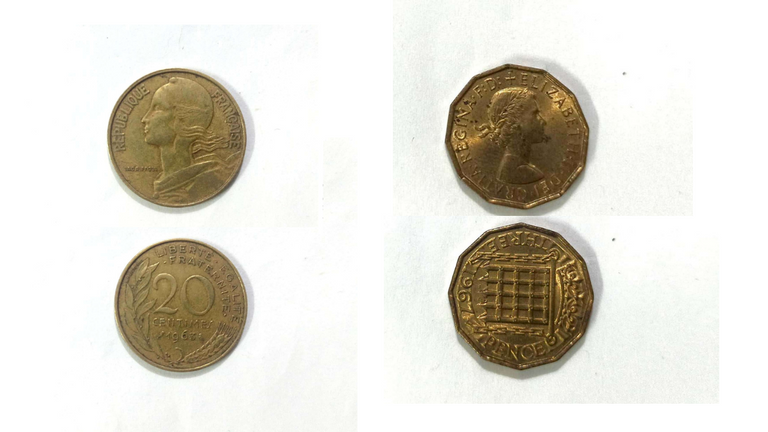 ---
The first coin you see it's France 20 centimes, which is from 1963. I have this coin for a long time. You can see the second coin in the picture of a threepenny Bit / three Pence 3p Coin from Great Britain. And this one is from 1967.
---
Thanks for reading and getting here, see you in the next post. You can give me feedback by commenting below. Your feedback will be an inspiration for me. If you haven't joined the Splinterlands yet, you can Here.