Being a follower of the @leofinace on Twitter, I have been more exposed to more crypto information than I have ever been. The leofinance.io platform further upgraded my knowledge and even threw some eye-opener along the way. I got to know about some projects on the Leofinance platform and this project has helped me in more ways than I could have ever imagined.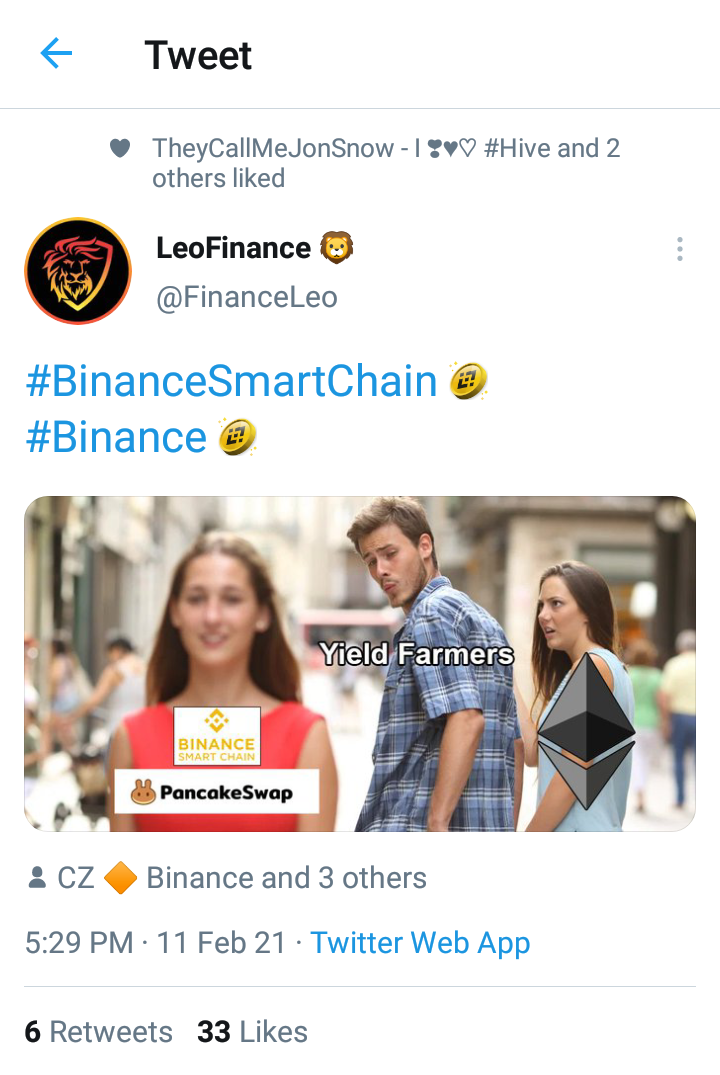 source
Well, one of those projects has been Binance smart chain tokens. I currently have some CAKE tokens and it will be surprised that I bought those tokens at the cheap rate of $0.31. well CAKE is currently worth more than $6 in today's market and yet the official leofinance Twitter account (@financeleo) tweeted about it.
Well for those who are not quite familiar with the @financeleo, this account's tweets are majorly centered around cryptos and it also points you toward the right direction in the crypto market. Some of the crypto projects which are constantly being tweeted about by the @financeleo account on Twitter are;
For starters, CAKE is the native token of the Pancakeswap.finance exchange platform, and it's one of the earliest Defi projects on the Binance Smart Chain network. I have been writing on CAKE for weeks and I have been advocating for us to buy due to its wide and broad USE-CASE. As I said earlier, I bought some of the tokens a few weeks ago at $0.3 and now one CAKE is around $6. Although 2 days ago, it attained a new all-time high at the value of $8.13. so, $6 is a dip price of the CAKE token, and it's advisable for one to buy now.
Well, it's advisable to Do your own research [DYOR] before investing in any cryptocurrencies so I will leave links of past posts written and links to other documents to help you fully understand this token better. The links below will automatically redirect you to the post links.
Posted Using LeoFinance Beta