Authored by @silverstackeruk
Hello, LBIer's. Tis the season to be merry, not saying I live in a rough area but just bought an advent calendar and half the windows are boarded up. Heads up I'll be out of the office from around 8 hours after this post is uploaded until late AM on the 26th. Feel free to continue to send LEO for LBI's but be aware that you will get them on the 26th. Tomorrow's post will be a simple upload, 8-12 lines and a nice Christmas picture wishing everyone a good day. I was thinking to not post at all but then the "monthly author" achievement is calling and I dont wanna break our streak. I'll always find a reason, haha.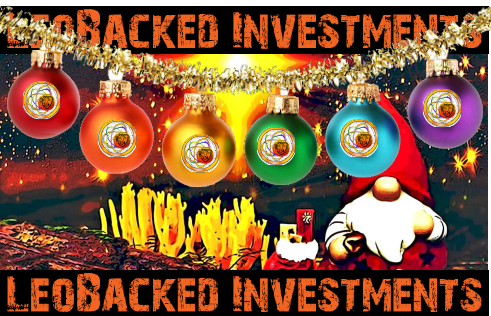 Over the next week
The first proper weeks earning and holding report will be uploaded on Saturday the 26th. The spreadsheet I am using is very basic as we are a fresh project so and you will be able to watch it evolve and grow over time. I think token holders are going to be happy enough with what we can earn in 1 week. We got a double payout on Saturday because LEO rewards are paid out every 23 hours. I never timed it like that to make our numbers look good for the 1st week, im not that smart but we'll take it and make it our benchmark for the next week.
The governance post will be uploaded next Thursday and will decide on a model to go with. I think going from feedback, most people were happy with what was suggested with a few asking to increase from 6 months to 12 months for the governance team cycles while keeping 6-month governance voting cycles where the top 5 proposals are voted on.
LeoDEX & hive-engine trading
I have noticed that the daily volume on the LBI token is always on the top 20 meaning a lot of tokens are being transferred and swapped between wallets. I see a few people buying LBI's and then flipping them over, nothing wrong with this and it's nice to see people are spending there HIVEp to get involved. I see the people that are doing the flipping are returning to buy larger amounts of LBI so i would put a guess out there and say they converted the HIVEp they got into LEO and everyone wins. More LEO being bought adding to demand, more LEO be powered up by LBI and the arbitrageur's increase's their holding.
Sorry for the broken record but...
LBI is only 17 days old and we've issued a massive 177,442.669 LBI tokens at the time of writing. We've powered up more than 178k and that LEO is as good as gone in terms of it being tradable. We'll hit 200k soon. I believe!!
I see a few people asking about 1/, the LBI hard cap and 2/ when we will stop issuing tokens.
1/ There were 1 million LBI's created so max hard cap is 1 million. Be aware that 80% of the final hard cap for LBI will consist of 80% sold tokens and 20% content team rewards. So, in our case, the max amount we can convert to LEO by selling them is 800k. With most people having already filled their bags with big LBI buys, i can safely predict we will not issue another 550k LBI tokens.
2/ Simple, when people stop buying them directly from @lbi-token. A rough ballpark figure would be when leoDEX/hive-engine trading volumes overtake direct sales. Of course, we will give it 2 last pushes to maximize the amount of token we issue. We could offer up a limited amount on the exchanges for HIVEp for maybe 1 week are something and as a last LEO grab, exchange LBI's for wLEO for another week before hard capping. This is all months away so there's no rush at all right now. The LBI issuing price will remain at 1 LEO until at least February and then we'll see what happens.
Good news is I see a lot of token holders putting in direct buys everyday almost like buying LBI's has become a part of their daily/weekly routine. Nothing wrong with saving a cut of the LEO earnings, good strategy as little and often soon adds up to something big and expensive. If this is the case and we can issue a decent amount every day, maybe we never stop issuing them. If the demand for LBI remains as it is now, we would continue issuing them until all 800k are gone. Might take a few years all the same.
Teaser
Here's a look at how our LEO earnings are coming in this week so far. We can see that curation rewards have taken over content rewards as predicted. As we continue to add LEO POWER to the LBI wallet, curation will continue to increase.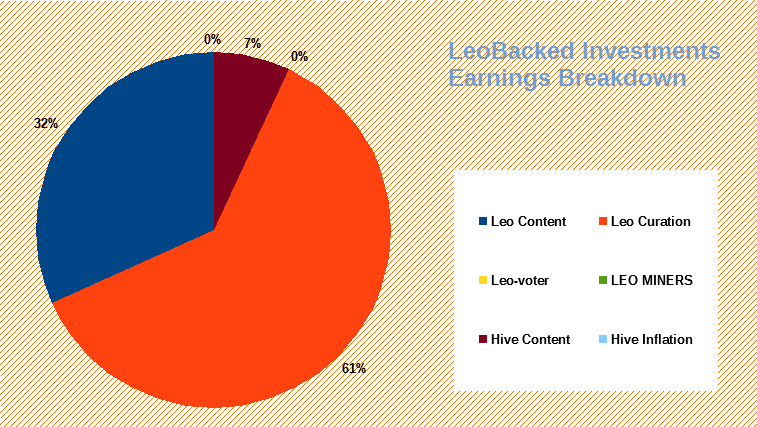 Thank you to everyone for the support shown toward this project already, we welcome comments always and love to interact.
Posted Using LeoFinance Beta