Hello LBIer's, today we are going to look and vote on the governance model for LBI
LBI Governance
LBI tokens holders shall be responsible for selecting a governance team and governance model based on the suggestions below. Things can be changed in the future but to get the ball rolling, let's start simple and build on it.
In a nutshell, today we are looking your vote to decide 3 things we need to get started. I have already shared a basic model and time frames in a previous post. The feedback I got back was people liked the model but thought the times could be better. I am confident these's models will be good starting points for us. Both are outlined below to refresh your memory and today we will be voting on...
1/ Governance team term lengths
2/ Proposals and voting duration per round
3/ How many proposals do we vote on and how many do we pass?
Governance Team
This team will consist of 2-4 LBI token holders that will nominate themselves and be voted in by token holders when the time comes. This is will the first official vote after we collect the results from this vote are finalized. Once a governance team have been selected, it starts. Please see the table below with the 2 options of 3 and 6 months

The governance team will post and repost from @lbi-gov
Collecting proposals - All proposals will be made from token holders personal accounts using #lbi as the first tag. The post will be reposted by @lbi-gov to verify it's inclusion for pre-voting. The governance team will be responsible to ensure all proposals are reposted for max exposure to feedback.
Host pre-vote - The governance team will collect together all proposals and show them all in 1 post. All proposals will be represented equally but not all will make it to the final vote. LBI token holders will have 1 week to vote on which proposals shall go through to final vote.
Host governance vote - The governance team will create a final post containing the top voted proposals selected from pre-voting. This vote will last 1 week and the top voted on proposals shall be put into action.
Collect nominations - These 2 weeks will be for LBI tokens that would be interested in being part of the governance team are for someone in the governance team to reapply and nominate themselves for the role. The current governance team will collect and repost all nominations. On a 6 months model, these weeks fall on weeks 24 and 25, on a 12-month model, these 2 weeks fall on weeks 50 and 51. The same applying for below.
Vote for new governance team - The governance team will create a final voting post from all those that nominated themselves and the token holders will have 1 week to vote on their ideal team based on the candidates. When the vote is counted and double-checked, keys of @lbi-gov are changed and issued to winning candidates.
There is the model. It is very simple but can be changed if required. The role of the governance team is mainly to collect and repost proposals, create, host non-biased governance voting posts, tally up the votes and post the results. What do you think is best? 6-month terms are 12-month terms
---
Proposals and voting cycles
How often should we vote on proposals? In the table below, you can see how 3 and 6 months cycles will work. I had thought about including 12 months but I think 3 and 6 would be most popular and yearly is too seldom.

We have 2 options to pick from, they sort of explain themselves. Would you rather have a 3 or 6-month cycle?
---
How many proposals at once?
This is this one that ties everything together. How many proposals should go from the pre-vote to the final vote? How many from the final vote should pass?

Proposals - How many proposals should verify from pre-voting to the final voting round?
Pass - How many proposals from the final vote should pass and be put into effect?
The one thing i would like to remind people is to use common sense and remember that voting to pass 5 proposals every 3 months make soon turn into an endless list of things to do, whereas voting to pass 3 proposals every 6 months or 1-2 every 3 months would be more achievable.
---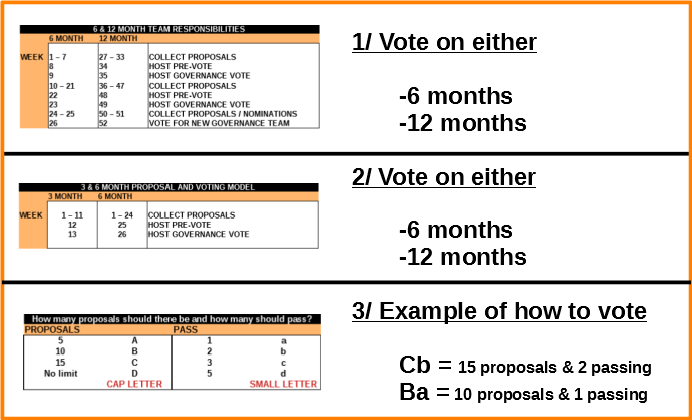 Please format your vote/comment like the example below
1/ 6 months
2/ 6 months
3/ Aa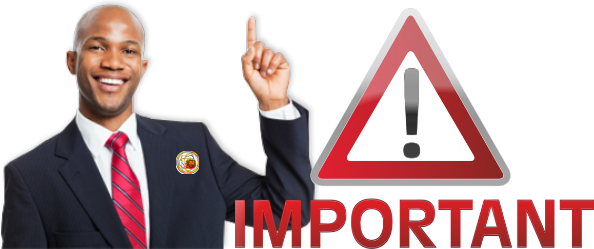 Voting Weights
LBI governance voting is based on weighted voting tiers dependent on your LBI holding. We have 5 tiers ranging from 10 tokens worth 1 vote to 10k+ worth 5 votes.
1/ 10-99 LBIs will earn a vote equal to 1
2/ 100-499 LBIs will earn a vote equal to 2
3/ 500-2,499 LBIs will earn a vote equal to 3
4/ 2,500-9,999 LBIs will earn a vote equal to 4
5/ 10,000+ LBIs will earn a vote equal to 5
---
All future governance voting will come from @lbi-gov
Please go and follow @lbi-vote to ensure you dont miss out
Posted Using LeoFinance Beta