Authored by @silverstackeruk
Hello LBIer's, it is the best day of the week. Saturday is the day we will all look forward to every week as we find out how much LEO LBI has made this week and what our total holdings are worth. Let's jump into LBI's 2nd weekly report.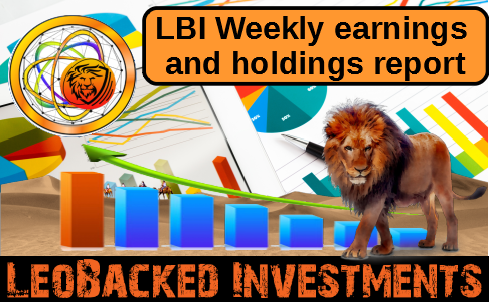 Week 2
EARNINGS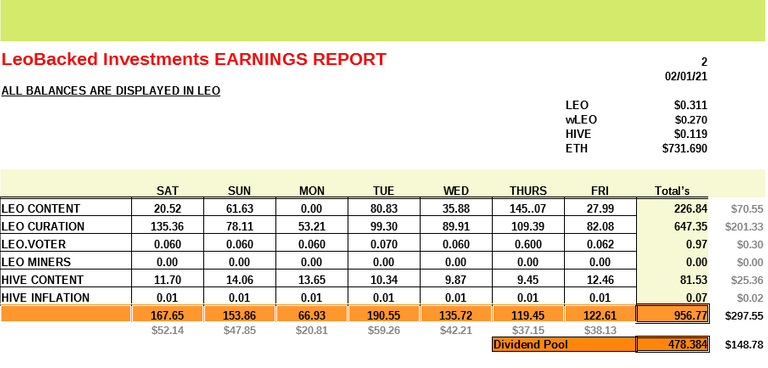 I have something to admit, I am finding it hard to get into the flow of how LEO rewards for content and curation are rewarded. As payments are paid every 23 hours and posting times are random we might sometimes receive no content rewards for 1 day and then double rewards the next. One thing I can assure you is that the number received by contract_tokens every day is equal to content and curation rewards added together. I tried hivestats as I see its fully working again but it appears rewards per day do not match up to what is paid by contract_tokens. I think hivestats put all rewards together and we are only after LEO.
Either way, the LBI pulled in earnings of 956 LEO this week for a daily average of 136.5 LEO. We set the bar at 100 LEO per day last week but to be honest i had higher hopes and thought we would have hit 1000 LEO.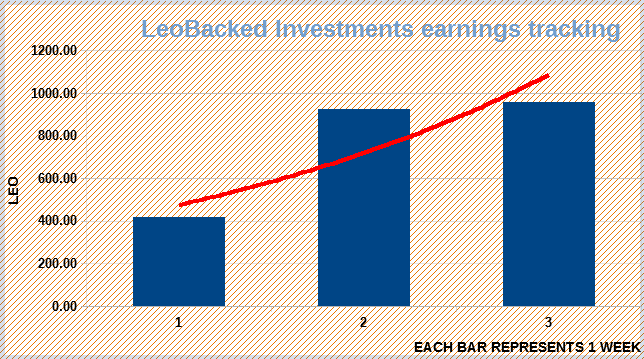 We can see we did a little better this week compared to last week but last week we had a double contract_tokens payout 1 day so receive a total of 8 payments. I think we break through 1000 LEO earned this week. Let's have a look at see where our income came from this week.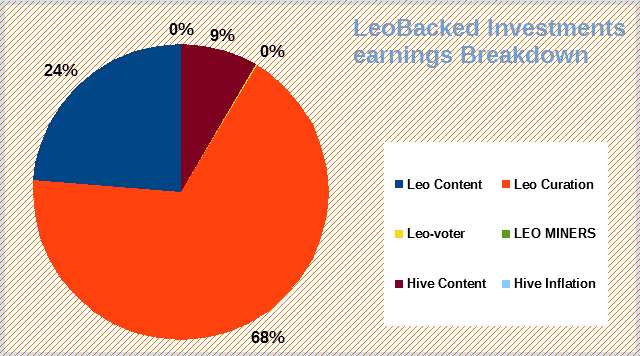 Curation looks to be king for us with a daily average daily earning of 92.8 LEO. We can see from the daily earnings that curation varies between 53 and 135 LEO per day which I find odd, I would have thought curation to be more consistent on a day to day basis. LBI upvotes are manually curated and im guessing this is the reason why some days are better than others. We can take this weeks daily average of 92 LEO and see how it compares with next weeks.
Content earnings are down a little bit on last week but it was Christmas week people were doing others things. HIVE earnings went up a touch and with taskmaster4450's HP delegation plan, we should see more growth in HIVE earnings going forward.
Here is a breakdown of LBI total earnings to date and how it's been earned.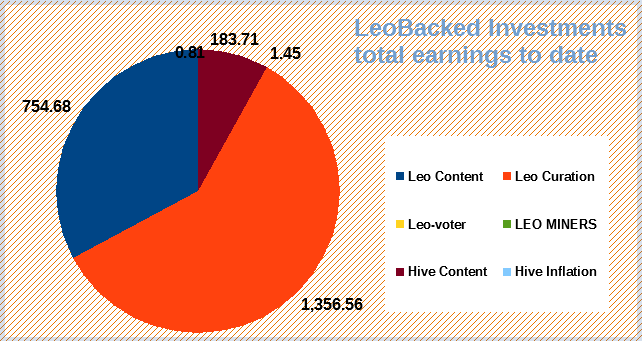 The numbers total 2297.21 LEO. We earned 956 this week, 923 last week and 418 pre token launch. Same if you might have thought how can it be over 2200 LEO is both earnings reports so far show us making under 1000 LEO. We had 420 LEO on the books before we launched.
To wrap, earnings were good this week but nothing to write home about. I think we break through 1000 LEO next week and try to keep it above 1000 for the rest of January.
Great job everyone for all the comments and upvotes, this is helping us massively to keep LBI posts in the trending section which brings in new investors and keeps it in the minds of these interested in what we are doing.
---
Holdings
Holdings are up this week. Get used to reading that first line every week.
As we have issued a few thousand LBI tokens this week, our powered up LEO balance just touching the 200k mark and our HIVE balance is grown to almost 500 with is decent considering that's 100% from content only.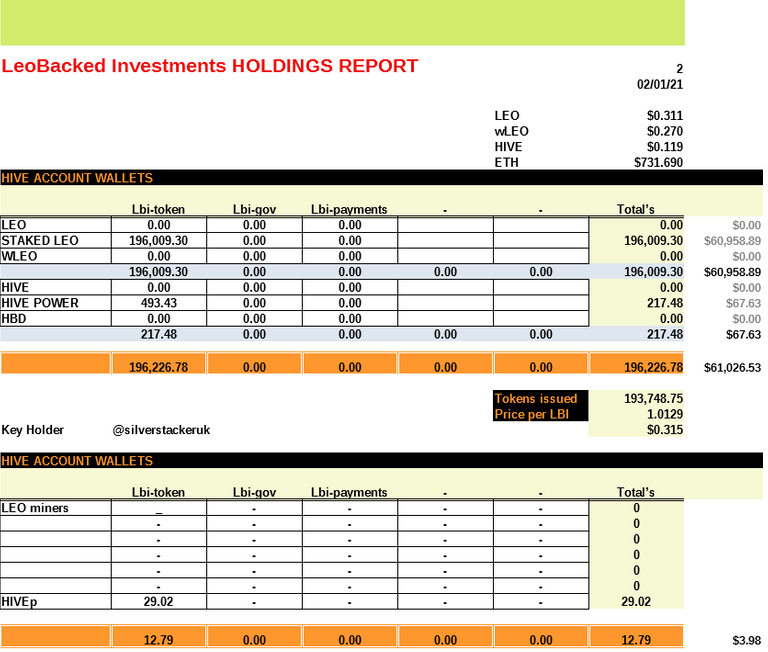 Again not much to look at but we can see exactly where everything is. We have become the 4th biggest LEO wallet when we exclude wLEO/null/noleo4u. Can we take 3rd spot by month end?
I will show this chart again as i do update it every week but there is not much change as 100% of earnings are being powered up. Here is LBI's total assets in pie chart form.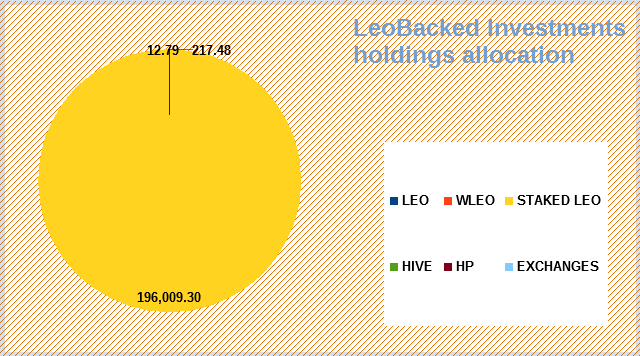 Something much interesting to look at for us. Here is the weekly chart for LBI total worth. We should cross over the 200k mark within the next week providing token issuing does not dry up to anything and then we can set our sights on 250k. Again, get used to seeing this increase every week are at least until we start investing off-platform. It's hard to lose value when 100% of the earnings are reinvested back into the base currency asset.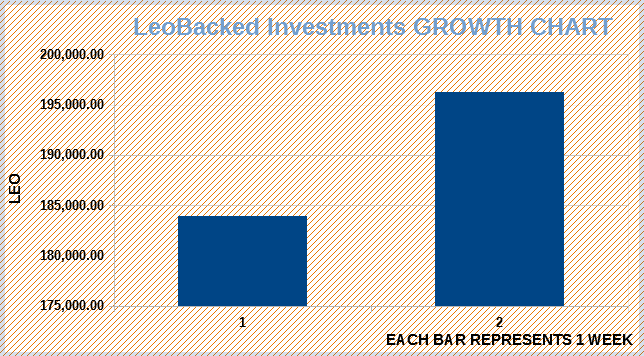 LBI TOKEN PRICE
Total assets worth in LEO
Total LBI tokens circulating
LBI token price - 1.012 LEO
Weekly Wrap Up
It's has been a good week for LBI and i know next week will be better again. We can already see that the price of each LBI is currently up 1.2% from launch which is amazing considering the size of our LEO wallet. Funny thing is we are still going getting started and have so many things to explore and addon to LBI that will generate us even more. This will all take time but it will happen and earning 1000 LEO in a week will seem small in a years time. I might live to eat those words but goals have to set to to hit.
Everything is going to plan and we are on our way to becoming a cornerstone project within the LeoFinance community.
Lastly - The LEO airdrop
I have seen people asking what LBI will do with this airdrop that is being talked about. The plan would is to wait and see what these airdropped tokens do and then make a plan.
Posted Using LeoFinance Beta