I saw a few conversations over the past few days on Twitter and Hive posts talking about marketing for the Hive blockchain. User growth is one of the most important aspects to making Hive a more valuable ecosystem and along with it, raise the value of HIVE.
These two variables go hand-in-hand:
As we work hard to market the ecosystem and get more users, the HIVE token price increases.
In turn, as the HIVE token price increases, we will get more users (because of post payouts being more valuable in their USD equivalent)
@dalz put out a great post which dove into the details outlining active accounts on the Hive blockchain. We frequently see people talking about active users on Hive, but the way Dalz framed the data makes a lot more sense. He categorized it by transaction types: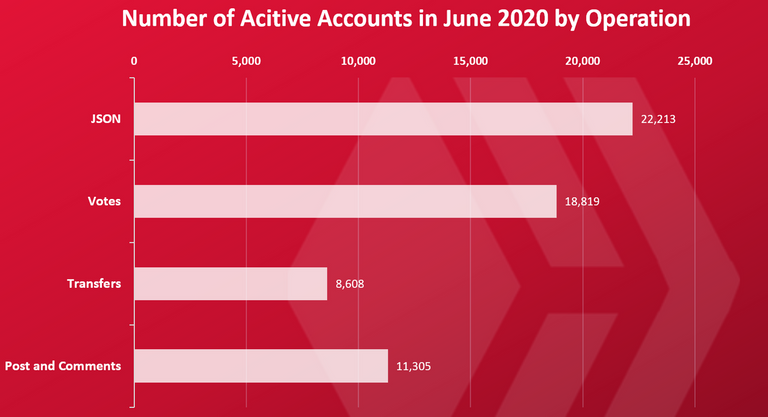 Source: The Best Hive Statistician Alive
2 years ago, Hive activity was all about being an author or a curator. You were active on this blockchain because you either wanted to:
Blog and earn HIVE
curate and earn HIVE
Fast forward 2 years and now we have a thriving ecosystem of dApps that allow you to not only earn HIVE for playing, posting, vlogging, buidling, etc. but you can actually earn second-layer tokens like LEO, SIM or DEC as well.
Hive is one of the (if not the) most active blockchains in the world based on real people. Everyday humans use Hive which is what makes this blockchain so powerful. The usability of Hive is clear when you take a look at the Dapp Rankings or blockchain activity levels.
The only chains that rival Hive in terms of users are Ethereum and Bitcoin (in my opinion).. the cool thing is that these 2 blockchains have two entirely different use cases than Hive.
Hive is meant to be a platform for web-based social activities. Whether that's playing a game like dCity, answering a Quello, vlogging on 3speak or blogging on LeoFinance - it doesn't matter. The possibilities are endless.
How Do We Get More Users
As I mentioned at the start of this post, getting more users begets getting more users. It's a snowball effect - when you get more users & activity, you get more investors and an increased token price. When the token price increases, you get more users.
With that and various other network effects in place, why isn't Hive growing at an exponential pace?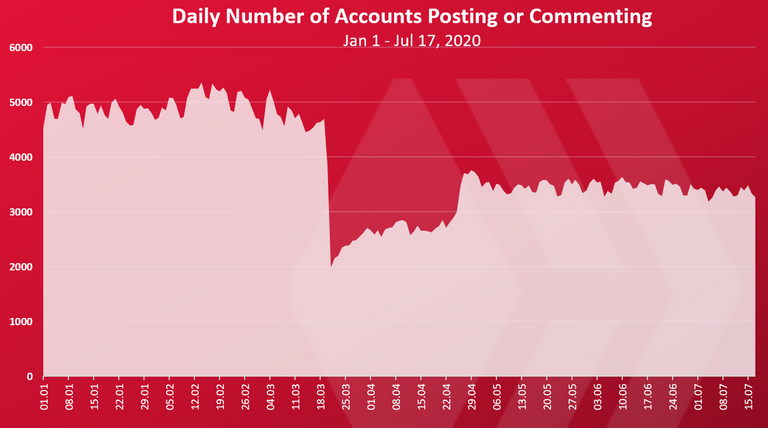 Source: The Best Hive Statistician Alive
Above is another chart from @dalz's stats post which shows the number of active accounts based on posts/comments. Again, we're seeing a rising level of accounts that are used solely for custom JSON operations (which this chart does not account for), but to me this is still an accurate gauge of the hardcore users of Hive.
These are people who use Hive daily and interact with/create content regularly. While it excludes a lot of users, I still find it to be one of the most accurate measures of Daily Active Users (DAU).
From the chart, we can tell that DAU are not on the rise - as one would expect with such an amazing blockchain that is filled with opportunities.
In fact, when you compare this chart to the chart of money locked up in DeFi, it can actually be a little depressing. Why are billions of $$ flowing into these crazy DeFi ecosystems while little-to-no value is flowing toward something like Hive?
It all comes down to branding, onboarding and ongoing marketing initiatives.
I truly believe that if we had the right marketing initiatives, we could bring in users from far and wide. The opportunities are here, we just need to light the path and guide new users properly.
My personal ideas when it comes to marketing Hive are actually not about marketing Hive at all. It's about positioning communities and having those communities market themselves.
For example, with LeoFinance we've got social media accounts on nearly every major platform. YouTube, Twitter, Medium, Facebook, Reddit, LinkedIn... We're using these accounts to propagate https://leofinance.io content links with the goal of getting more readers + more ad revenue + more potential account signups.
Right now, the main issue is getting a better account creation process directly on-site. This is something we're addressing with the new interface that we are building at the moment. Once that interface is live and we get the account creation features added, it's going to be just as easy to sign up to LeoFinance (which means creating a Hive account) as it is to sign up with something like Facebook or Twitter.
The point is that communities will market Hive if they are positioned correctly, have the right tools and understand the value prop. of bringing in new users for the whole ecosystem. LeoFinance's entire mission is built around that idea and I know that many other leaders in the broader Hive community have the same ambitions.
It's counter-intuitive, but to grow Hive we actually need to use other social media platforms. Similar to how Bezos grew Amazon by starting out as a service for his competition before absorbing their models and improving them, we must work with our competitors (the traditional social platforms like Twitter) to eventually absorb a % of their user bases and kickstart the network effect on Hive.
---
Join The LEO Community and Help Grow the Hive Blockchain!
LeoFinance is an online community for crypto & finance. We run several projects that are powered by Hive and the LEO token economy:
Posted Using LeoFinance