If you are into crypto, this post is for you.
A few days ago I made a discovery that I almost missed, but today I am coming back to present you a brand new crypto-platform.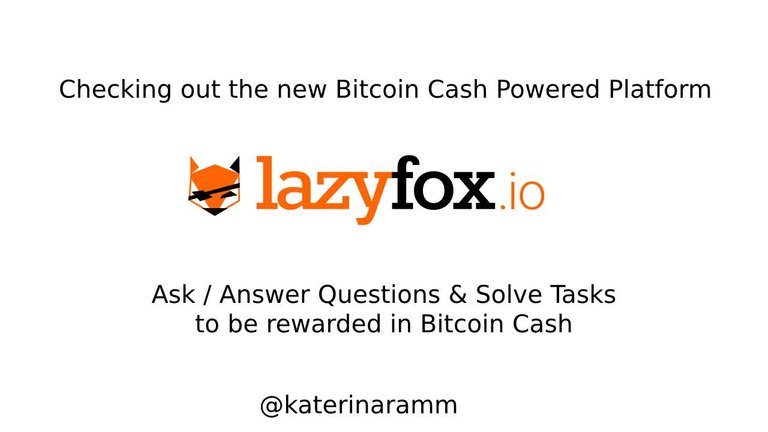 Introducing .. lazyfox.io
For lazy, or not so lazy foxes that are into the cryptospace - and ideally love BCH ;) this (still beta) platform, is a Bitcoin Cash powered Question and Answer / Tasking Platform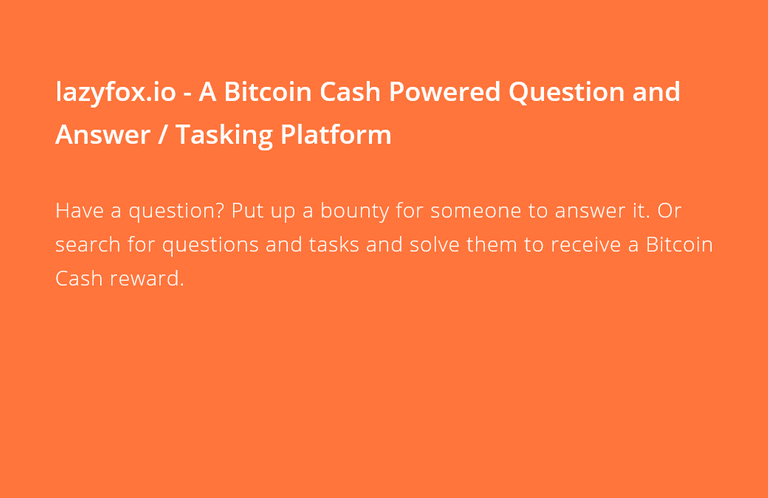 The way I think of it, it is like a combination of Upwork freelancing platform, with quora. All this with crypto rewards!
It is still new, so let's see how it works and what you can do with it!
Sidenote
We got to give credit where credit is due, I first saw this platform from a mention by a noise.cash user Toorik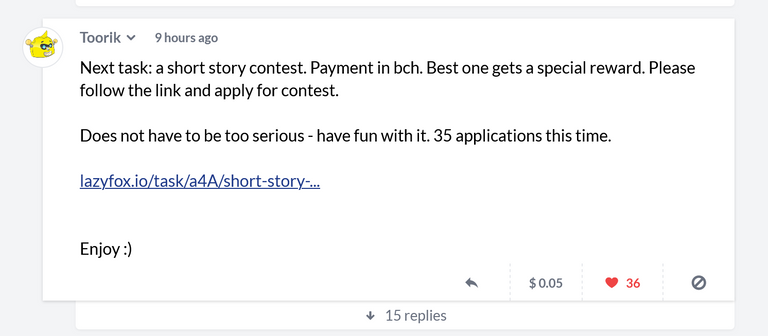 ---
Sign Up process
Lazyfox gives you 3 options to sign up
(a) You can sign up with your BCH address + a signature
(b) You can sign up with a username
(c) You can sign up with badgerwallet
I selected (b)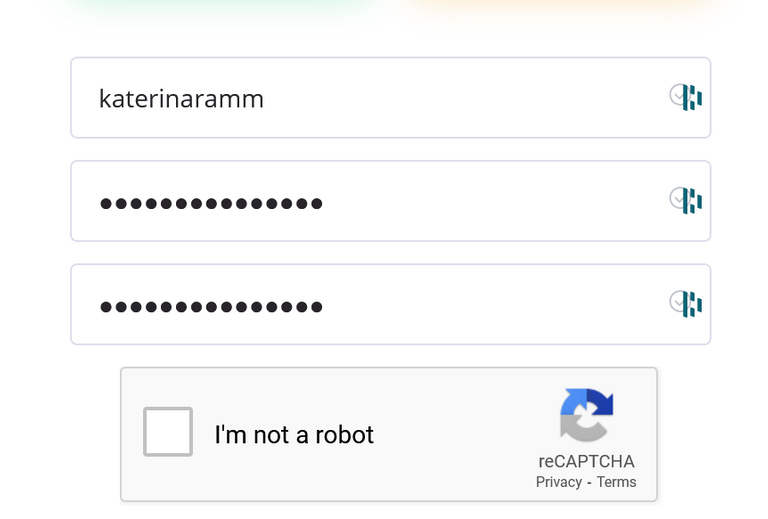 How does it work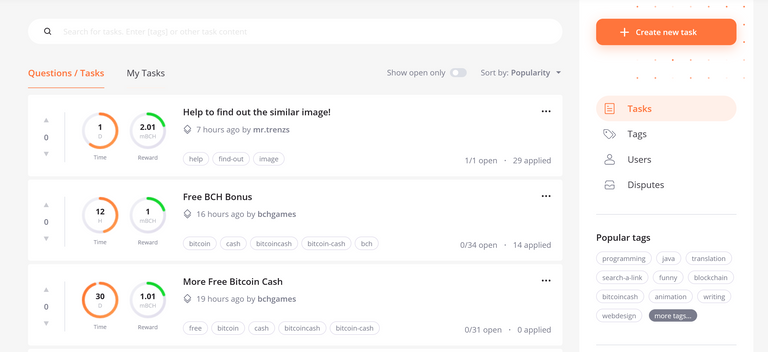 How does it work?
On lazyfox.io you can ask questions, answer questions and resolve conflicts between other users. As answering questions involves receiving rewards paid in Bitcoin Cash the boundaries between questions and tasks might often blur. This is why the terms "question" and "task" or "answer" and "solution" are used interchangeably throughout this site.
As I understand the users have a reputation that increases as long as they use the platform and answer questions, earning rewards. The below options are available as this article is written.
Asking a question:

Solving a task:

Resolving disputes:
This looks very interesting, I would love to see this working..
Apparently, if the creator rejects the solution of the task solver, there will be a conflict resolution mechanisms where users can be chosen to vote on whether they approve ro not the solution and if it should be rewarded.
To be invited in such cases click on "Disputes" and activate your random and/or preselected notary status. Preselectable notaries can also set their fee here whereas random notaries will always receive a fee of 1%. Users are more likely to be selected as a random notary when they have reputation for some of the tags the task uses.
Tags are used to categorize tasks.
Reputation Both for creators and solvers, and also for notary users who vote for the solution validity, if their vote agrees with the majority of votes.
Feedback is received after a project/task is finalized. Both the creator and the solver are asked/encouraged to provide feedback and that will cost some of your own reputation. (praising is the act of giving some of your own reputation with a positive feedback and burning is the act of reducing the other user's reputation, however at the same time also you loose 50% of that amount)
They also have established the mBCH which is the milli Bitcoin Cash.
1 mBCH is one thousandth of a Bitcoin Cash or 0.001 BCH.
Currently this is the best format to have numbers that're not too big and not too small for the purpose of lazyfox.io.
So 1 mBCH = 0.001 BCH = 0.001 Bitcoin Cash.
---
Available Options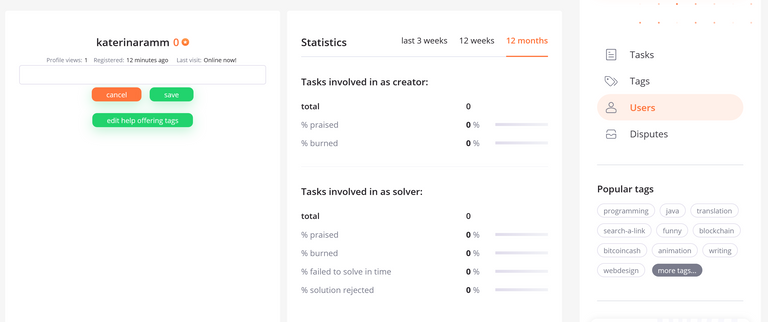 You may edit your profile and see your statistics, however I was expecting a little bit more info for the profile section :)
Settings
Go to settings and insert a bitcoin cash address, that is how your payments will be received.
Notary
You need to have at least 1000 reputation to be able to activate this option :)
Would you activate it?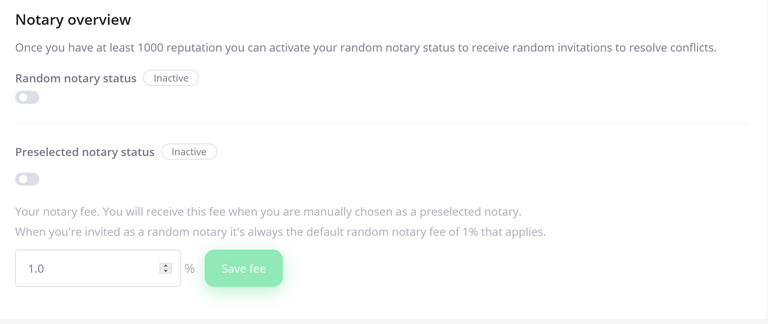 Most popular tags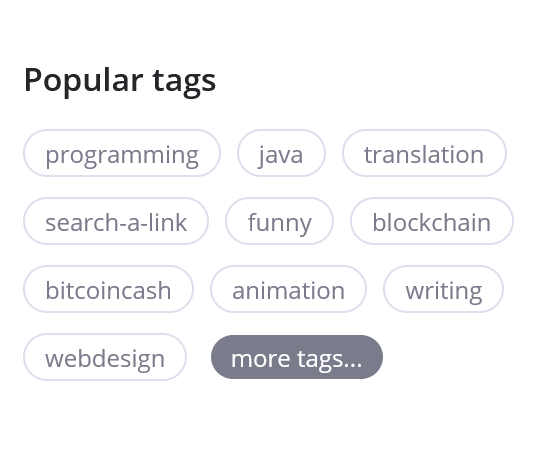 It is interesting to see that programming is always number one tag :) I knew I should continue learning to programm!
Let's check how a task appears!
https://lazyfox.io/task/Nvl/help-to-find-out-the-similar-image
First impression .. it has been downvoted 11 times!
So first thought; I would not apply for it.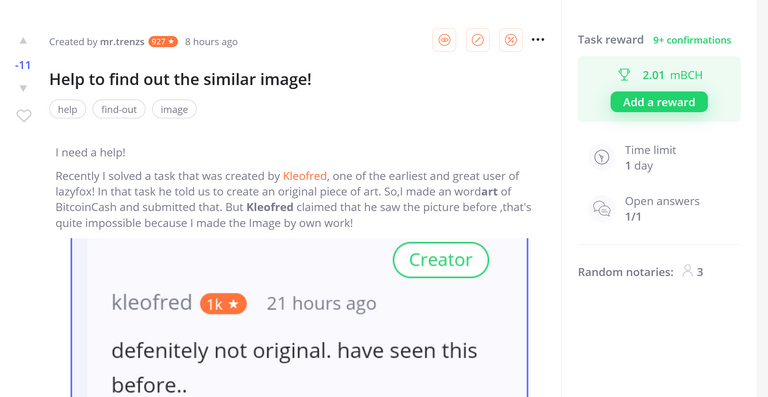 Taking a more careful look we see that the user has high reputation, you can apply to help him resolve this and check out more info by hovering the mouse over the buttons.
User's profiles
All users' profiles are visible and here we can see the one by Mr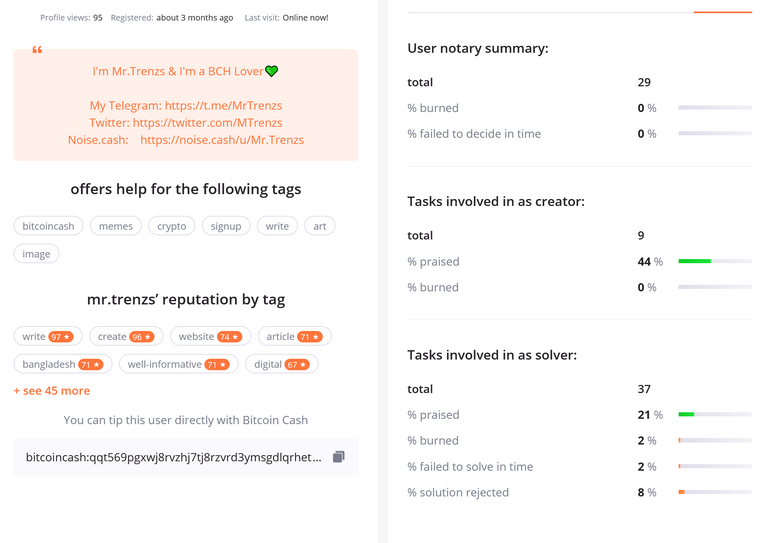 Scrolling will also show you the history of his tasks and also for the solutions provided!
If I am not mistaken, more than 1500 users are now registered (I am user #1574 apparently) so this really gives a great advantage to early adopters, if this platform will attract the attention of many creators and BCH advocates.
I plan to devote sometime and see if any project is interesting so that I can come back with a complementary review : )
If in the meantime you got more time, I will be looking forward for your reviews & experiences of lazyfox.io :)
Feedback
Would/Will you join? Would you consider being a freelancer in your spare time? Are you aware of other crypto-freelancer platforms?
Let me know below!
Who am I?
I am Katerina from Crete, Greece. An enthusiastic content creator with a passion for photography. Interested in the blockchain technology, in new social media platforms and in trying to educate new users who wish to explore the blockchain social media world and its possibilities!
---
Posted Using LeoFinance Beta