Cool Updates in the CryptoBrewMaster Game since yesterday! I entered this morning to realize that there were some new stuff I needed to explore immediately! A new type of beer is added and also a new House to Rent :)
I hope you are fine and still playing the game "CryptoBrewMaster" :)
If it is the first time you hear about this game, scroll to the end to find out more about it :)
Exciting News! New American Lager Beer in the BrewHouse!
You can now craft an American Lager :)
After adding the beautiful .. "BELLA" beer, today I noticed that a new lager has made its appearance.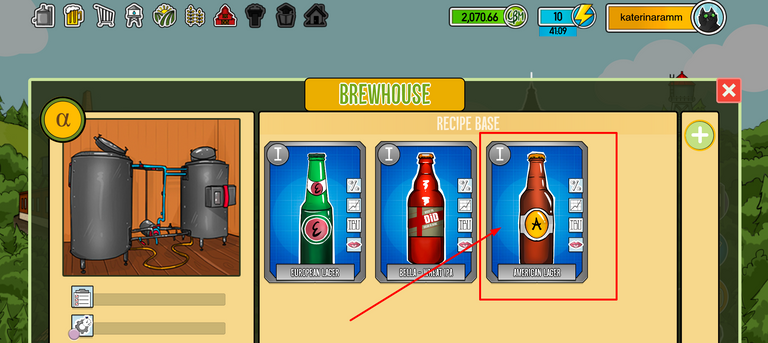 Of course I did not want to miss the opportunity so I immediately went to check out what ingredients were needed :)
Ingredients for the American Lager

To craft this beer you will need
water
6 row barley malt *
bittering hops ** (good quality ones)
aroma hops
yeast
Challenges ...
(*) I could not understand what was missing from my ingredients at first.
(Maybe the team at @cryptobrewmaster could add a tip or the name of the second ingredient?)
It took me sometime and finally I went over to the Market (where I bought it)
Finding/Buying the 6 Row Barley Malt
Apparently this card is not available in the quests .. so you can only get it in the Market or rent your Malt House and produce it.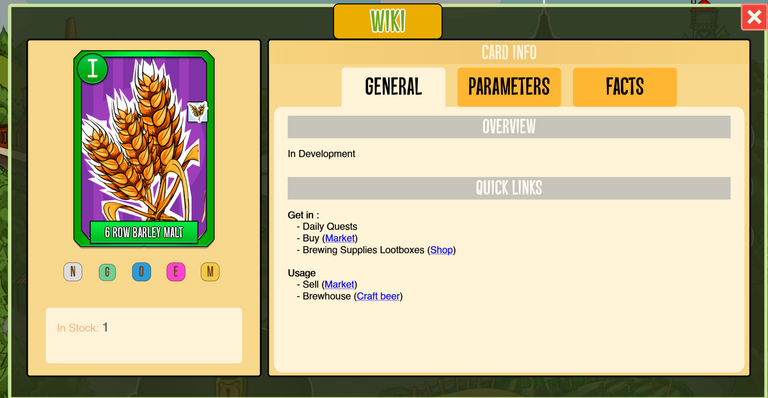 So I was in a hurry to make this post so I got in the Market and bought the good quality for 25CBM (too expensive?)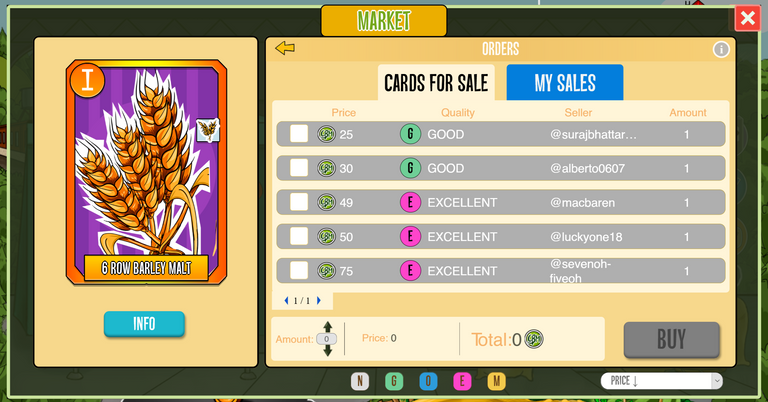 (**)
TipAt first I could not understand why my bittering hops would not be selected. I bought myself more neutral ones, but still - I was unable to craft this beer.
I wanted to buy a good quality one, but this time the Market was out of it :(
Oh crap! I had to wait until my Good Ale Yeast was over!
Tip Why not being able to finish the quest by paying CBM? Same like finishing Beer Crafting?
So I went over at the Discord server of CryptoBrewMaster and asked .. whenever I need help, someone always is there assisting!
And I learnt that I will need only Good Quality Bittering Hops.

Getting/Paying American Lager for Energy!

Selling my American Lager
It seems that even though I used some good quality ingredients, my Lager came out neutral.. that is bad luck but at least it gives me the opportunity to share it with you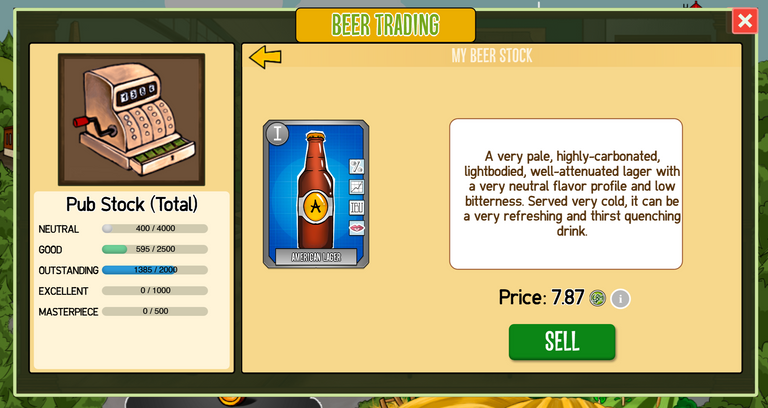 Opportunity!
I also saw this as a good opportunity and thought I should rent the new Malt House for 17,7 CBM per day!
I spent lots of CBM today but I hope it will worth it in the end :)
Conclusion
It seems that the CryptoBrewMaster Team is releasing more and more features and is keeping us all busy with beer crafting!
I enjoy playing, it does not take so much time on a daily basis (except sometimes when I try to find out what I am doing wrong - like today)
Feedback
I would like your feedback on the game..
What do you think is the best strategy?
Selling ingredients to the Market?
Creating Beers?
Are you selling your beers?
Are you keeping them?
Let me know your thoughts, so far I am a little bit clueless so any extra tips/insight would be appreciated :)
I got some requests for the CryptoBrewMaster Team
Please add description or maybe even link at ingredients like the 6 row marley malt needed for the American Lager

Please advise why something is not clickable - add a question mark so that someone could easily see what to do

Please add option to finish quests quicker (by decreasing energy or by paying in cbm or both)

You can also add a .. whats new option to link in your blog with the announcements/news!
---
About CryptoBrewMaster
(In the words of its creators)
It is a simulator of a craft brewer with elements of economic strategy, training, and even with the opportunity to earn money by playing.
Brew - Study - Trade
The main idea of the game is the ability to play by developing your own brewery. Pump the character - brewmaster, collect cards (this is where you need a blockchain, because each card will be recorded in a decentralized database, and will be permanently assigned to the player who owns it) learn to brew beer, compose recipes, use ingredients, and trade all assets of the game with the game itself or with other players!
source
To get started feel free to use my ref link and get a full pack to start with :)
Referral Link
---
Who am I?
I am Katerina from Crete, Greece. An enthusiastic content creator with a passion for photography. Interested in the blockchain technology, in new social media platforms and in trying to educate new users who wish to explore the blockchain social media world and its possibilities!
Posted Using LeoFinance Beta