The crypto space is full of opportunities .. you just have to know where to look and of course to be careful not to be scammed.
You also need to know when you should devote your time for participating and when not. Is the prize worth your time? Will you get anything if you don't win the contest/earn the airdrop? Will it cost you something? How easy is it? Would it be better if you would devote your time into something else? More productive, more fun or more fruitful?
All these questions are yours to respond.
I usually take them under consideration when participating into a contest/giveaway and when I do, I always share it here for the rest of you! It's always more fun to share with friends :)
This time I come to inform you of a CoinMarketCap Contest - they tend to have giveaways or contests often so do follow them and create an account if you have not already.
p.s. If you do sign up, I suggest signing up in Binance too and do the verification if you wish to earn the earn campaigns airdrops
If you use this link for signing up we both earn 10%!
So lets check out the contest!
Today I saw this banner and I decided to click :)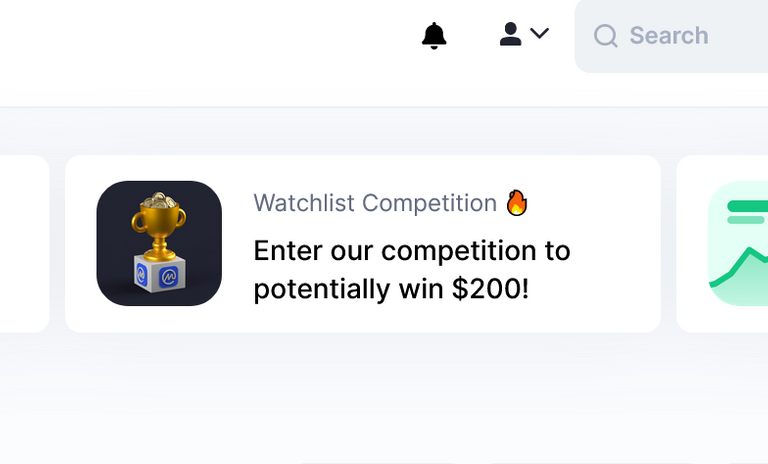 This is the link where it leads to
Contest Details ..
And you see the requirements of the contest
CMC Watchlist Challenge Lucky Draw
To be eligible for the 'Watchlist Challenge Lucky Draw', one would need to fulfill the following conditions:
Create a brand new watchlist and name it [Username]- [Watchlist Challenge Lucky Draw]-[Date]
Add a maximum of 10 assets (cumulative volume of at least USD 70K over 14 days) to your watchlist
Quote Retweet [
1377978258608754693] during the START date of the competition and tag 2 friends. In the same Quote Retweet, include: twitter metadata:Q29pbk1hcmtldENhcHx8aHR0cHM6Ly90d2l0dGVyLmNvbS9Db2luTWFya2V0Q2FwL3N0YXR1cy8xMzc3OTc4MjU4NjA4NzU0NjkzXSBkdXJpbmcgdGhlIFNUQVJUIGRhdGUgb2YgdGhlIGNvbXBldGl0aW9uIGFuZCB0YWcgMiBmcmllbmRzLiAgSW4gdGhlIHNhbWUgUXVvdGUgUmV0d2VldCwgaW5jbHVkZTp8 ~~~
A screenshot of your entire watchlist (all 10 assets and your follower count must be visible)
Watchlist composition cannot be changed once the screenshot has been taken
Your watchlist URL (e.g. https://coinmarketcap.com/watchlist/6009a726e748a2a980b0d62a)
Watchlist must yield a return of at least 100% from the start date to the end date
Watchlist must have at least 100 followers
At the end of the campaign, up to 10 lucky winners who fulfil the aforementioned conditions will be randomly selected to win USD $200 worth of prizes (KYC may be required).
Users from from the following countries or regions that will not be able to participate in the Campaign: Belarus, Democratic Republic of Congo, Cuba, Iraq, Iran, Mainland China, North Korea, Sudan, Syria, United States of America and its territories (American Samoa, Guam, the Northern Mariana Islands, Puerto Rico, and the U.S. Virgin Islands), Zimbabwe.
As this is a lucky draw, please note that fulfilling the aforementioned conditions DOES NOT guarantee success.
Questions ..
Having read the above I have some questions ..
When does the contest end?
Will the prize be distributed in Fiat or in crypto? And where?
What does it mean that watchlist must have 100 followers? 100 people should follow the watchlist I create? I think it will be difficult if this is the case
Any other questions you have?
Would/Will you participate?
My entry
I have created a watchlist so far (feel free to check it out and if you want to follow it) https://coinmarketcap.com/watchlist/605374479feab48b9097416a and I will possibly participate tomorrow! If I understand the questions asked ;)
Opportunity!
If you have not already - create a watchlist (anyways) and add hive, hbd, wleo & cub!!
That will increase their popularity ;)
---
Any other cool contests/airdrops to check out?
Extra
I noticed today that my friend @lordneroo has been searching out and participating in every active airdrop - maybe you would like to check out his twitter account and give him a follow?
---
I am also thinking of creating another giveaway soon so.. stay tuned for that too :)
Thank you for clicking, reading, supporting my post!
---
Who am I?
I am Katerina from Crete, Greece. An enthusiastic content creator with a passion for photography. Interested in the blockchain technology, in new social media platforms and in trying to educate new users who wish to explore the blockchain social media world and its possibilities!
Posted Using LeoFinance Beta