Are you also overwhelmed by the many social media platforms? Are you everywhere? I think it is not easy to keep up with everything ..
but most of us have been here long enough to know you/follow you/respect you and to want to share my opinion with all of you.
I am a member of many social media channels with my katerinaramm account.
It took me a while to find my username, which is a mixture of my first and last name, and I use it for the last 3 years. Ever since, I signed up for a number of social media channels, and even though I do not use all of them - I do want to have my own experience about each of them.
Recently, I joined the new crypto-social media platform "Torum"
Not only I joined, but I also became their Twitter PR Ambassador
Or should I say Ambassadrice? Please tell me my French speaking friends :)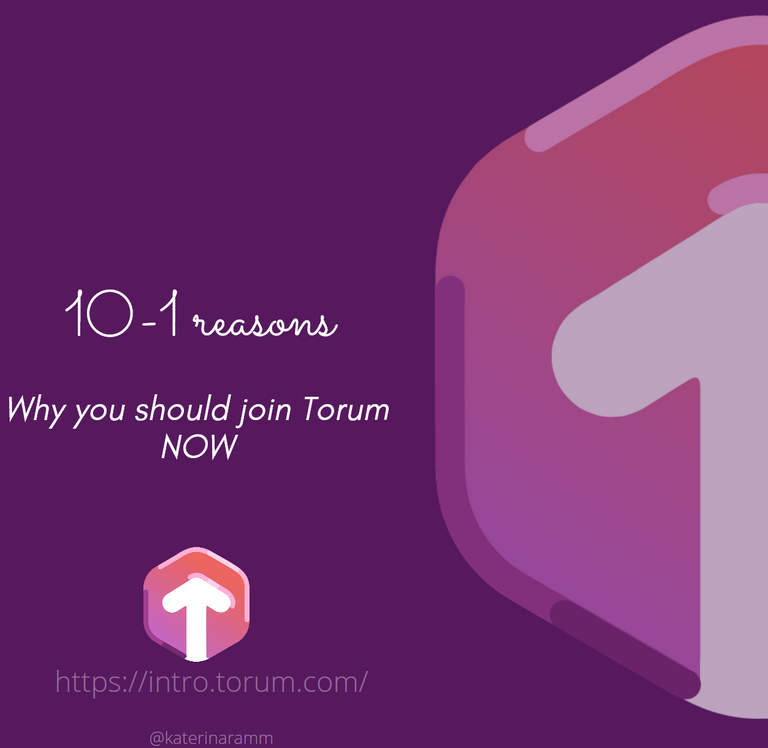 So in this post I am here to let you know my 9 reasons why I believe that you should also join (even if you do not have the time, the focus, the mood to start now)
At the moment Torum has more than 9K members, most of them crypto-oriented.
If you have been feeling hesitant about joining, or if you don't find time to do it, maybe you should read below!
1. Hold your username
You mostly use one username for all platforms/social media channels - right? So why not make an account on a new social media that is apparently growing fast?
Yes, I know .. who will go and make an account with your username. .. Well, I don't know? But my twitter & instagram are katerinnaramm1 - because someone else uses my username :(
If you are on Torum, find me at https://www.torum.com/u/katerinaramm
I know, you will say now .. Yes, but I will need to verify via telephone and i don't want to!
Let me tell you a secret. You don't need to. That will save Torum 75 XTM ;) My friend @trumpman has come but is still unverified and thats ok :)
2. Torum is a platform where you can easily share links!
In Torum it is so easy to share a link to your post, to other people's posts, to a twitter question/poll etc etc etc .. So why not take advantage of it?
I have shared my links of #leofinance, my friends' links, twitter links etc etc! I even got a few people to follow my crypto instagram lol
3. For Individual Users..
There is a whole crypto community out there! Will you be absent?
Yeah, ok - at the moment only 9300 people, some of which are not active all the time - but
Come on! This project is only a few months old and check out how far it has traveled! And its only the beginning. I think that crypto users needed a place where all other crypto-spaces could mingle.
All in all, it is a nice place to join other communities & to start your own!
4. For Individual Users or for Companies..
So what if you have a niche you like to talk about ... let's say .. airdrops?
You can build yourself a CLAN!
What is a CLAN? I would say something like a Facebook group :)
A clan community interacts mainly using thread, which is the combination of the post function of Reddit and the article writing function of Medium. You can use threads for a variety of purposes, such as:
Writing articles,
Organizing an AMA,
Creating your crypto bounty program
And any suitable purpose according to your creativity
source
5. For Companies
If you have a crypto-focused business, you may consider creating a Company Profile

One of the projects already on the Company List is Banano
Did you know Banano? I just found out about it via Torum today :) I also followed then on publish0x, from a link they posted :)
See how all these come and match perfectly?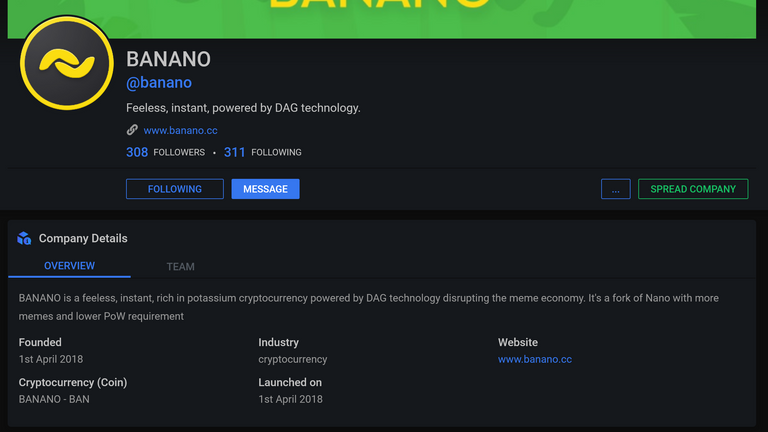 6. Direct Communication
I love the ease-of-use when there are private messages, they can solve a number of problems on-the-spot!
A few days ago, my friend @ervin-lemark signed up for Torum but had an issue and sent me a message at publish0x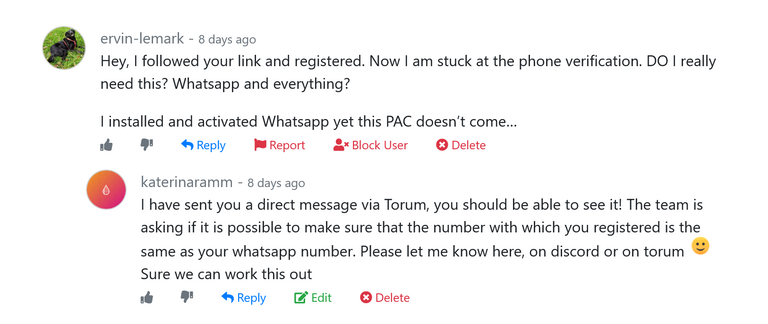 He had some issues with whatsapp verification.. So I immediately messaged him via Torum and asked Jayson (@jayson9711) to assist, who immediately came to the rescue (Thank you Jayson!)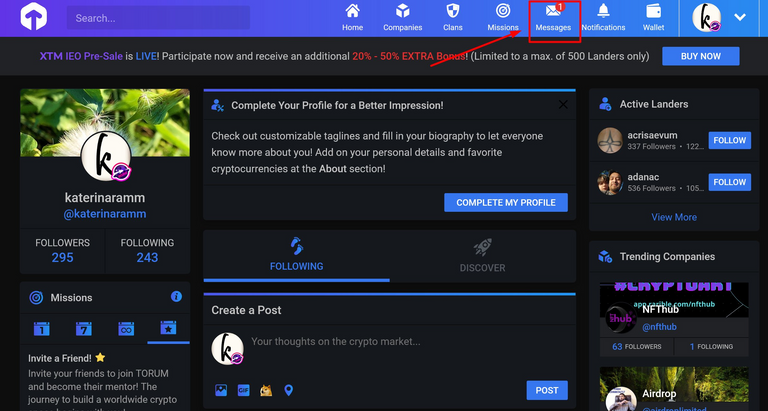 7. Easy accumulation of cryptocurrency!
Did I hear anyone say no to free crypto?
Well, in Torum you can join every day and earn some free XTM even if you don't want to post :)
There are the mission rewards that help you earn if you accomplish simple tasks on a daily/weekly basis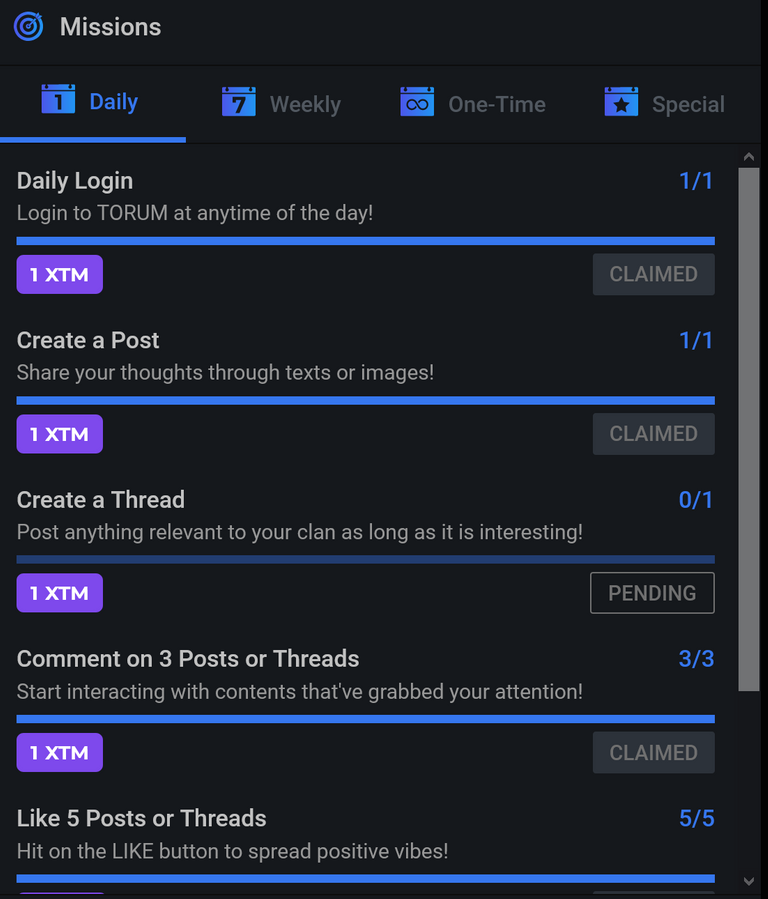 8. If you are an experienced crypto-user or someone who would like to enter the crypto-world
then this place is for you :) Easy to use, friendly people in the team and you can ask anything you want, or find information about many things!
My friend Emerson there posts great content, so I suggest that you give him a follow if you are on Torum!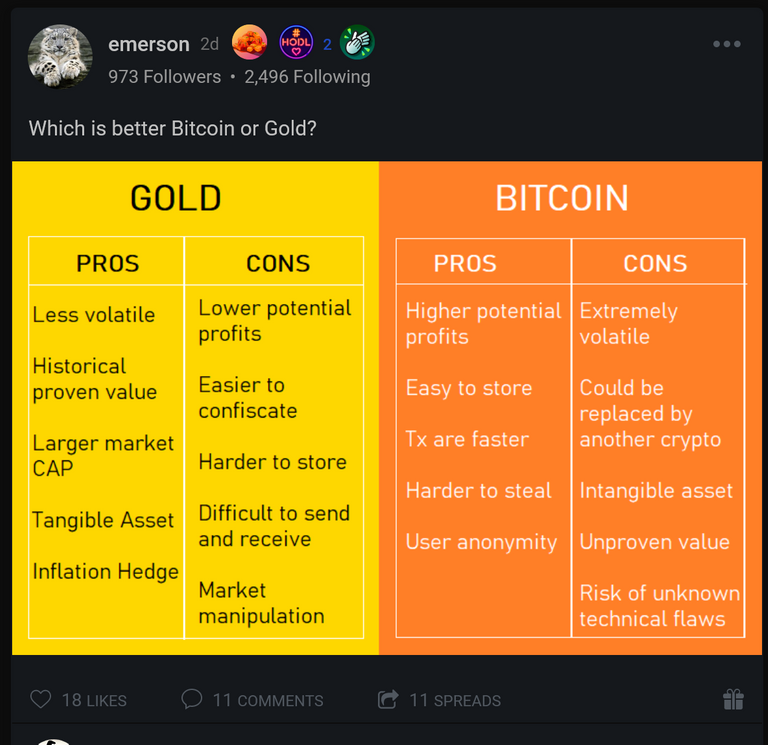 Of course there are many many of my friends with amazing content - but the first who came to mind now was Emerson also posts some funny memes, so you get to learn (if you are a new crypto user) + laugh :)
9. Find answers to your questions
Or find that beautiful crypto-belly dancer you have been looking for and did not remember her name :))
Yes, you heard that right! Jayson (yes, him again), was looking for a girl who had danced the belly dance while she was singing some crypto stuff... He could not remember her name, so he asked the community to assist and guess what?
Someone did come to the rescue and Jayson found her :)
(Posting proof in case you don't believe me)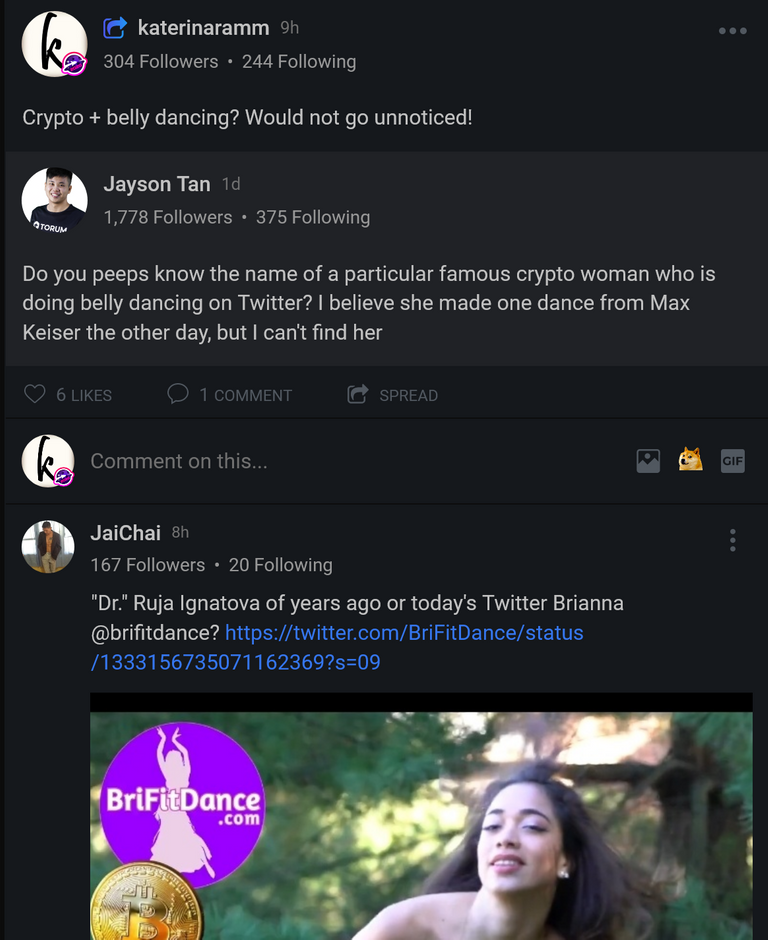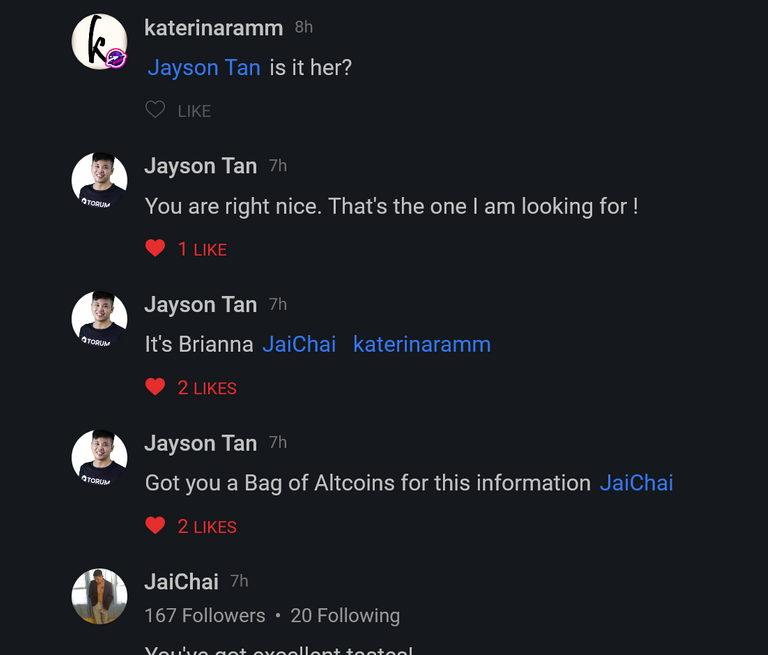 These some of the most important reasons I could think at this point. Others come to mind but they would make this post too big and also ... I would like to let you find out for yourself!
What I would like to tell you is that ..
Not everything is for everybody, I agree with that
But since we are here, since we have already spent time with a variety of platforms, we can easily see what's going on with a new one. We can try, see for ourselves and then judge and act accordingly.
To me, Torum is fun.. I already have thought of some actions I may take in the future, but let's see how it goes! So far, I am enjoying the ride :)
Thank you for visiting! I will welcome any feedback to my post!
---
Useful Links
---
Who am I?
I am Katerina from Crete, Greece. An enthusiastic content creator with a passion for photography. Interested in the blockchain technology, in new social media platforms and in trying to educate new users who wish to explore the blockchain social media world and its possibilities!
Posted Using LeoFinance Beta