When I joined Hive I noticed there are a lot of different games on this platform. I like playing games and I like the fact you can actually earn something with them instead of spending time.
dCity sparked my interest because of the loads of positive blogs being posted about this game. Most of them describe dCity as a good investment since you will be able to generate SIM tokens with your city.
dCity is a game like many others where you have to invest before you can play. This made me a bit hesitant, but after joining the discord I was soon convinced.
So I started investing a bit of Hive in the game. With the help of @luca-legend I bought my first houses and forests and started earning my first couple of SIM. I started investing some more, bought some cards in the game, some on the market, but all really without a clear idea behind it.
I did see the amount of daily SIM grow, started reading more about the game and asking questions in the discord.
And now it's time for some more tactics.
Which cards to buy?
Within the game there are two ways to buy cards; you can buy a random card for 800 SIM each or you can find one on the market.

I've bought a couple of cards in the game, received a couple of nice ones, but also some cards that I could have gotten a lot cheaper on the market. I also received a Shopping Mall which was robbed two days in a row taking 150 of my daily SIMs (which is quite a lot for a starting mayor like me).
So I decided to focus on the cards on the market. But what cards should I buy? There are so many… And what is a good price?
I went back to the discord group again to ask for some help.
The first tip I received was to look for cards that earn SIM and divide the price of the card by the daily amount of SIM the building generates.
This way you can calculate how many days it will take before a card generates more SIM than it will cost you to buy the card.
I created a spreadsheet with all the buildings and the amount of SIM they create where I could fill in the actual market prices. It would then automatically calculate the number of days until the card earns more than it would cost me.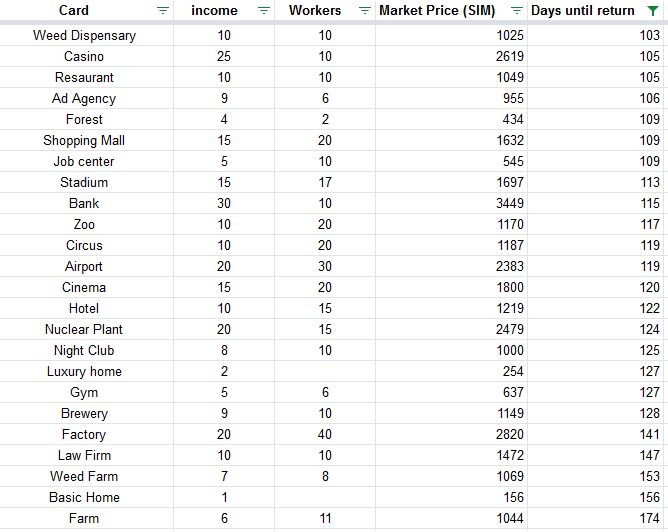 The table shows that at that moment the Weed Dispensary was the best building card to buy. But then I received another tip in the discord about technology cards. I didn't look into the technology cards yet, but @rahul.stan pointed out that buying a GMO Farming guide would give each farm an extra income of 4 SIM. Since I already had some farms this would be the best option for me at the moment. So, I will buy a lot of farms now.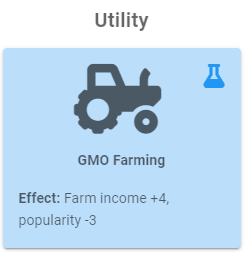 My City stats
These are my city stats at the moment; 285 citizens and a daily income of 220 SIM which is equal to $ 0,1386
It isn't a lot, but the fun thing is; I don't really have to do a lot for it too :D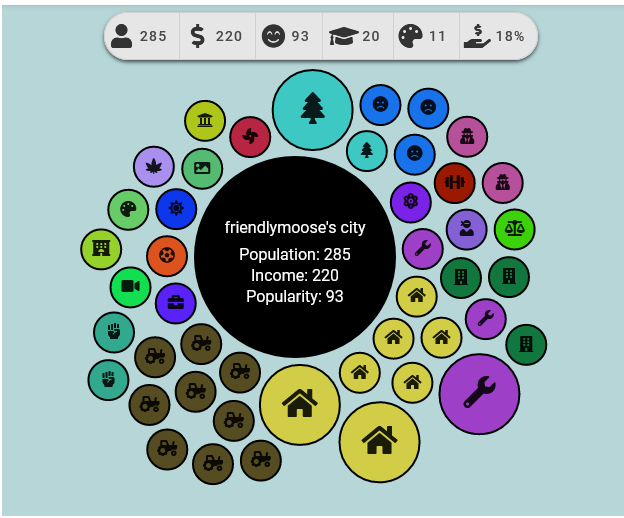 Investments
I don't want to spend a lot of money on the game yet. My focus on Hive will be on powering up my Hive and Leo for curating purposes.
But since I also want to grow my city I decided to convert all the other tokens I earn to SIM. I'm also on my way to the withdrawal on Cryptobrewmaster and considering to invest this in dCity as well.
Thanks everyone in the dCity Discord. You are very helpful!
Any other tips and recommendations are always welcome!
Posted Using LeoFinance Beta