2020 is a year of turbulence in the global economy. Affected by the epidemic, many governments have begun implementing quantitative easing policies, banks have cut interest rates, and legal currencies have devalued. In this regard, more and more people are focusing on the blockchain field. DeFi has become the fastest blockchain concept this year to attract money. In just a few months, the total volume of DeFi locks has increased from US $ 1 billion It has jumped to $ 11.7 billion.
The current protagonist lending giant, Aave, the price of LEND tokens has jumped a hundredfold, the market value has fully increased, the lockdown volume is far ahead, and the two-way recognition of surveillance and markets has been recognized. Aave is without a doubt the leader and beneficiary of this DeFi blast wave.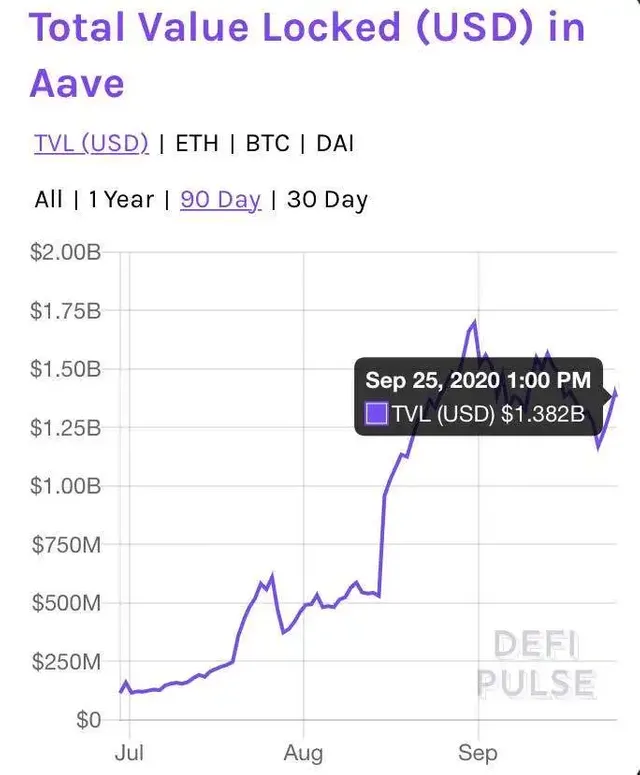 According to data from DeFi Pulse, the number of locked positions in the Aave protocol has increased from over US $ 310,000 to more than US $ 1.4 billion today, an increase of 4300%.
As volume continues to grow, to further promote unlimited finance, the Aave team proposes a new version of the Aave V2 initiative. Currently, Aave V2 has entered the testing phase. Under the influence of Uniswap publishing, Aave's lock-up volume rating dropped to No. 4. Will the upcoming Aave V2 help Aave regain some of the benefits?
Aave V1 Review
Aave is an open source decentralized lending protocol that guarantees fairness of collateral price through the oracle Chainlink, and provides savings and loan services to users. When the user makes a deposit, he will get a token that is linked 1: 1 with the asset value as proof of deposit. Interest will start to be calculated as soon as deposit, and the number of tokens held by depositors will continue to increase. Deposit users can also lend 25% -100% of other assets on the platform depending on aToken.
According to Debank data, the current total volume of lock-up for Aave deals is US $ 1.39 billion. The current LEND governance token price is US $ 0.5042, with a total market value of over US $ 633 million and a 24-hour trading volume of US $ 1.74 million, which is the equivalent of 4999 ETH.
Two other innovative points, Aave launched Flash Loan (Flash Loan) and Credit Delegation (Credit Delegation), two lending methods to lower the borrowing threshold, increase the liquidity of agreements, and improve credit efficiency.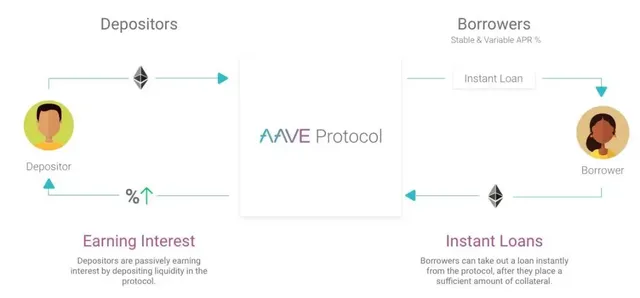 Flash loans are a risk-free lending method designed for users with technical knowledge and investment experience. Users can obtain loans from Aave's pool of funds without collateral, but liquidity needs to be returned before the transaction is closed. If not paid off, all operations in the transaction will be canceled. Credit guarantees allow users to make point-to-point loans without collateral. Depositors can entrust their credit line to those they trust if they don't borrow. The credit loan agreement shows on the digital contract platform OpenLaw that if someone defaults on the loan, the defaulter will face serious legal consequences.
A dual channel rate, i.e. a fixed rate parallel to a floating rate, is Aave's innovative arrangement to adapt to changing DeFi market conditions. For stability and high interest rates, users usually choose a fixed rate. But when the market fluctuates sharply or market expectations are lowered, users will choose a floating interest rate to reduce borrowing costs. If the floating rate is more than 20% lower than the fixed rate, the loan will be automatically deducted to cover the difference.

Apart from the Aave market, Aave also integrated the Uniswap market. Uniswap liquidity holders can store Uniswap tokens in the Aave protocol and use them as collateral to participate in transactions.
 Highlights of Aave V2
Token migration and governance innovation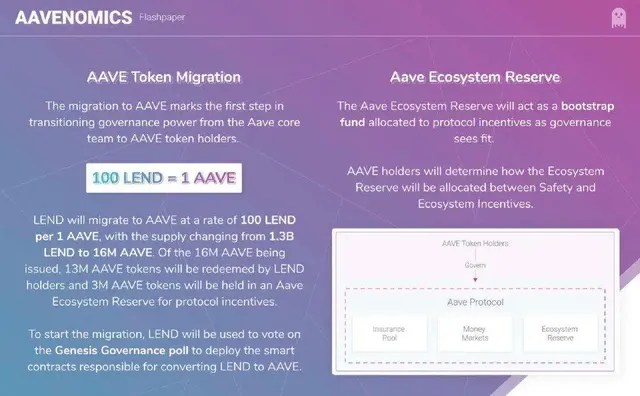 In Aave V2, the Aave agreement will be transferred with a conversion ratio of 100 LEND: 1 AAVE. The total supply of AAVE is 16 million tokens. 13 million AAVE tokens will be exchanged by LEND token holders, and the remaining 3 million AAVE tokens will be allocated to the AAVE Ecosystem Reserve. AAVE will become the protocol governance token, so that AAVE holders can vote for the governance smart contract renewal. AAVE holders can also place AAVE in a security module to ensure protocol security while earning a security award.
Tokenization of physical assets

Aave is working with the Ethereum RealT real estate project. RealT token holders can use the Aave protocol to deposit collateral for a loan. Regardless of the collateral value, when the user uses the RealT token again, the initial value will be larger. instability. Apart from getting more liquidity, because real estate volatility is much less than encrypted market volatility, RealT market stability also reduces Aave's risk of default. This collaboration will continue and develop in the V2 version.
Aave V2 faces a challenge
Even though the Aave team continues to improve the deal, security issues are always Aave's unavoidable risk. On March 12 this year, the Lending platform builder protocol was unable to deal with Ethereum's sudden downturn and there was a bug, and user data disappeared at once.
Founder Aave Stani Kulechov said in an interview with Reuters that the conformity of the DeFi protocol code was the basis for the program's normal operation. However, code bugs and hacking attacks occur frequently, and we can't predict when there will be issues with smart contracts.
As with the potential security risk, how to balance internal and external controls is also a tough issue for the Aave team. This summer, Aave's corporate entities were authorized by the UK Financial Conduct Authority (FCC) as an electronic financial agency. This authorization enables Aave to facilitate currency payments and conversions, and provide electronic money accounts for consumers and businesses. At the same time, some users in the community question whether Aave can maintain its "original intent" of decentralization once regulatory authorities participate, and whether there is a risk of disruption and manipulation in the trading behavior of platform users.
Today, Aave V2 is running on testnet and will be officially launched soon. It is not yet known whether this new version can help Aave return to the top of the DeFi list, but for sure Aave V2 will bring a new wave to the stable DeFi field at this time.