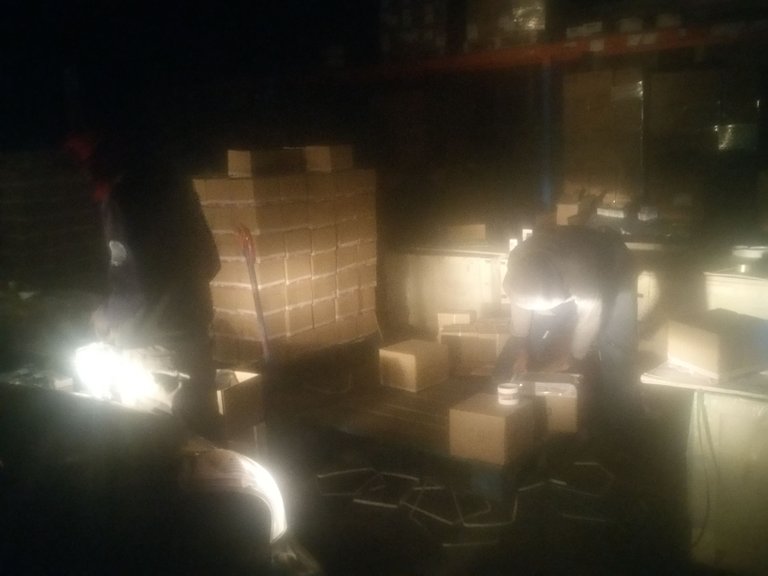 It looks like a shady drug warehouse, but this is the conditions sometimes we have to resort to. Not ideal by any means and having no electricity is fine if you don't need to work. This is just wrong whatever way you look at this. My generator was obviously too small to power the warehouse so it was used for the printers tonight.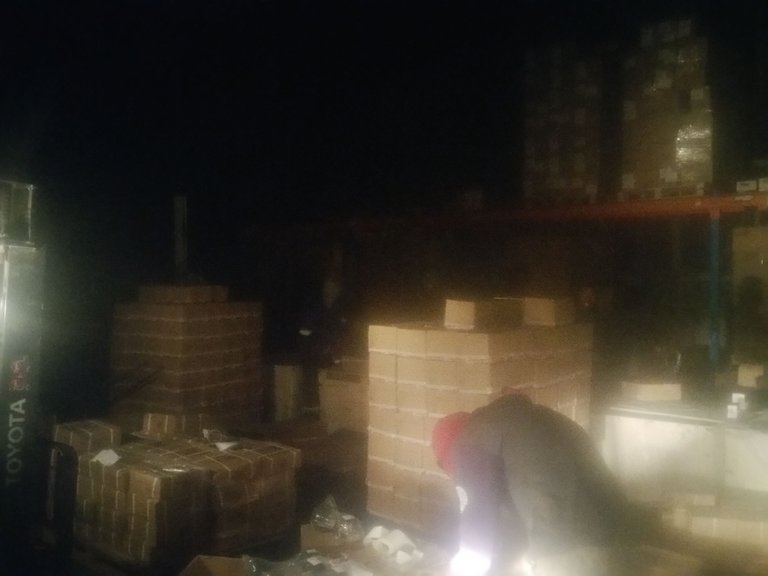 Today was one of those days you could do without as you just know at some point you are going to run out of time. here I am writing this post with literally 43 minutes before the lights go out.
We had planned on working late tonight as we had a massive order that needed to be processed so it can be dispatched first thing in the morning. I kind of got sucked in as I realised the magnitude of the task as what needs to happen is time consuming.
Working quicker and smarter in an orderly way was what was required as the rate that I was watching would have taken the group to 10am tomorrow and that is not exaggerating.
This afternoon at 4pm the lights went out for load shedding so this was going to happen somehow and a plan had to be figured out. In the past I have used the car headlights and that is how we worked this evening. Bloody ridiculous if you ask me as I had to pinch the generator from home to run the printers at the office as well.
Capping this all off we are in Level 2 and have a 11pm curfew so the staff need to be on their way just after 10pm. They left at 10.20pm tonight with 99% of the work completed and a few bits and pieces for the poor souls that need to come in early tomorrow morning. Now I have received a message the lights go out here at midnight and I have left the generator at the office.
The one highlight from this whole debacle is my business received some much anticipated orders today and emails still need to be read so this is a post on the fly. I have never missed a day of Hive except for the odd day when I never had a generator of for the down time during hard forks and today I was not going to miss.
I have always believed one has to stay consistent in their dedication to posting and staying active in order to grow and you just have to work around any obstacles thrown at your door. Tomorrow should be better aa the family business is becoming more organised every day that passes as it is the sudden growth that has thrown everything out of sync. Growth is good so there are no complaints, but the backend needs to grow at the same rate as the front end and this is what happens when this is not the case.
Posted Using LeoFinance Beta