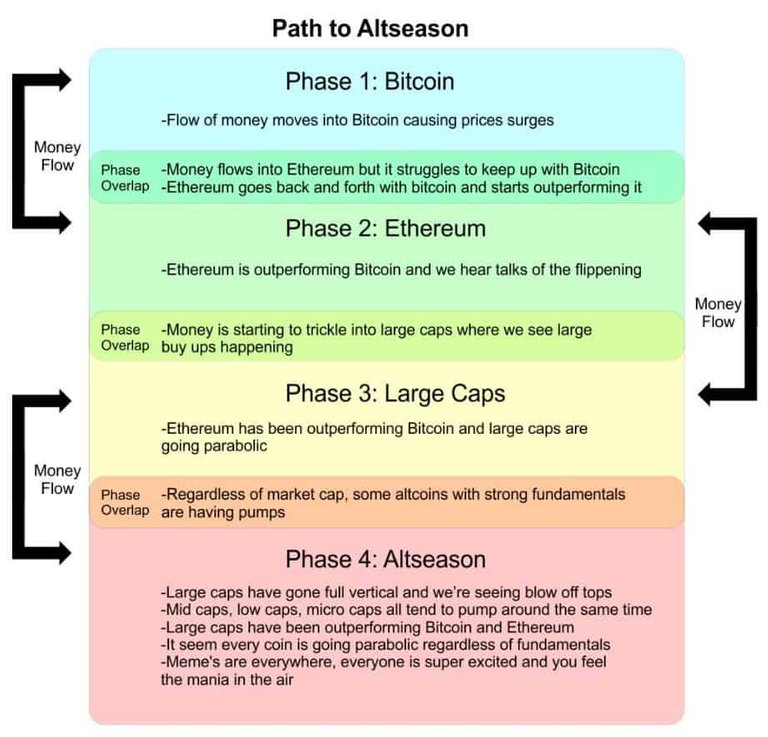 source
Looking at this I think we are about or are in the yellow section "Large Caps" and was going to ask others what they thought?
From everything I am hearing through social media we are heading for lift off soon. This is not the normal chat as many bag holders of various coins talk about Lambo's and wen moon every day of the week and no one pays attention to that type of crap.
I missed the last bull run and alt season so this is my first and to be honest have no idea what to expect. The idea is to take everyday as it comes and not get caught up in distractions by keeping it simple. I have heard many stories about traders who did well in 2017, but never took profits and basically lost all their earnings.
Luckily over the last 3 years I have taken advantage of the bear market by finding Hive and just remaining busy. If one thinks about it the value of this time spent has paid off massively as many of us are holding bags we never had to buy. Bags not just with Hive, but all the other tokens on Leodex.
Last night I was looking and still can't believe the value of what is on offer here just by staying busy and staking. Yes you can trade and earn fortunes but building and growing on Hive is a different skill required that many are still yet to discover.
The amount of money that is going to pour into altcoins this season could see the likes of Hive surpass $5 or even $10 as we just don't know. A $5 Hive will make this place busy again which in my mind is too late as the wealth has already been earned over the last three years when it was quiet. This is great for most of us as there was less competition making Hive and everything else easier to earn.
Every cycle brings in new users to the block chain and there are names you know and recognise who joined at a similar time and in the early group of 2018 I still see a handful of names and everyone else has gone. One has to ask why as it has to be a mindset of easy come easy go and people not being prepared to apply themselves. Talk about a missed opportunity of a lifetime as even though I am not selling as one needs Hive staked people have walked away from what could be life changing wealth which is bonkers.
Posted Using LeoFinance Beta