source
Nothing wrong with Bitcoin as it is still on it's course and will only keep becoming more valuable. The entire crypto market is increasing in value so why all the FUD and negativity. Many immature investors don't want the long game and why they sell and make things worse.
Sometimes it is better to take stock and be out of the market rather than being part of it. Over the last few weeks it has been a guessing game with no one knowing what is going to happen next as there are no obvious signals. The market is going through a shake up through manipulation and this is no normal dip.
I have managed to still hold most of my portfolio without much damage as it is important to hold the bigger capped alts rather than the small caps. A while ago I saw a chart explaining the cycles of the market which starts off favoring Bitcoin followed by the large caps like Ethereum and then the medium alt capped coins which will then finish with the smaller capped alts.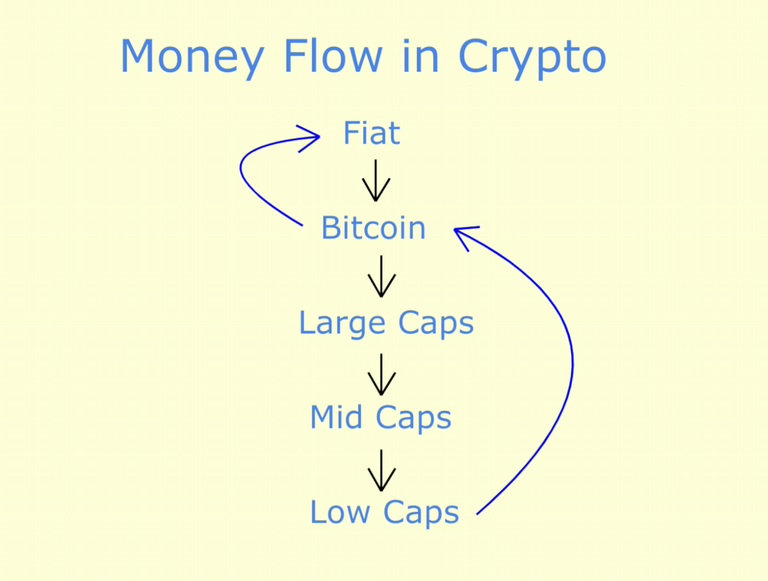 source
If we take a breath and step back for a moment judging by what we have seen so far one could argue we have seen Bitcoin and Ethereum grow and now it is the time for the mid caps and low caps to have their day in the limelight.
After the latest dip I noticed many of my mid and low capped alts were not rekt like before and have remained quite stable. Hive has to be classed as a low cap alt and normally Bitcoin dropping 5% would see the price tumble 15% or more. My portfolio has remained stable over the weekend and will not sell even if it drops slightly. The chances for a bumper month or two on the alts is just too big a chance to miss as that is where many of us make our huge gains for the bull cycle. Let us not forget Hive is still up 300% for this year as it was around 12 or 13c in January and now over 40c.
I am very bullish on what is happening and not falling for any of the FUD being thrown around and if I had more would be buying more over the coming weeks. I still see the entire market picking up at some point so any opportunities to buy extra should be welcomed.
Posted Using LeoFinance Beta