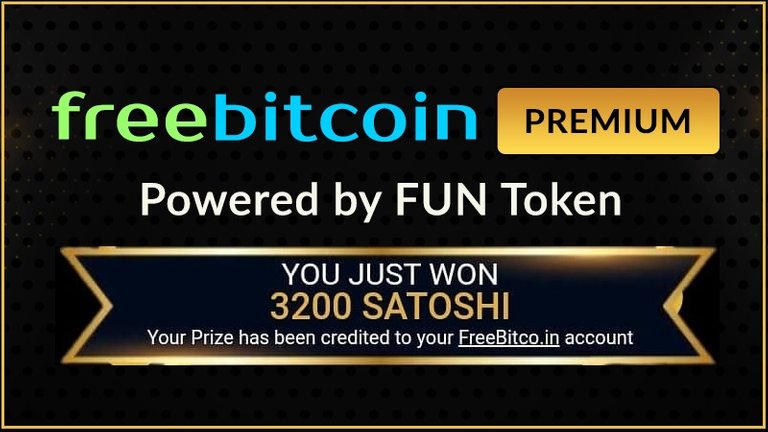 I recently took a closer look into the FUN Token (See Article) as I got quite some FUN Tokens Swapped for my investment gamble in BETR which they merged with. Looking into FUN got me to try out freebitco.in who started using the token for their reward program. About 1 month later this is my full experience with it...
---
Freebitco.in First Impression
One of the reasons FUN partnered with freebitco.in was because they saw it as an opportunity to get a bigger userbase as apparently freebitcoin has over 40 Million Registered users. Looking at the website at first was quite confusing as I assumed it was one of the many crypto gambling dice websites which on top had a horrible design leaving me baffled on how many users they were having. Looking around also was quite confusing at first which just made me leave with no intentions to return.
Freebitco.in Second impression
Since I made an account, I was on their mailing list which initially just gave a daily mail in my spam which I deleted. Wanting to unsubscribe to it, I stumble upon a 'Claim Free Spin Ticket below in the e-mail

So I clicked it which got me redirected to their site to make a free wheel of fortune spin winning 35 Satoshis also discovering the ability for users to do a free roll every hour to win some satoshis with a small chance to get a bigger price. This made me understand things more seeing freebitco.in more as a site where users can actually earn some free bitcoin in very small amounts with a chance of also winning something bigger which is how they got such a big userbase also offering them a way to actually gamble their money away which many of them eventually end up doing.
I guess the userbase is what they are mostly after since that is one of the most valuable things in crypto right now. I did find some enjoyment in the free daily spin that comes with the e-mail and have been claiming it daily slowly building the satoshis I'm getting there
---
Ways to earn Free Satoshis on Freebitco.in
1. Daily Free Wheel Of Fortune Spin
This ticket comes in the daily e-mail that is send to those on the subscription list.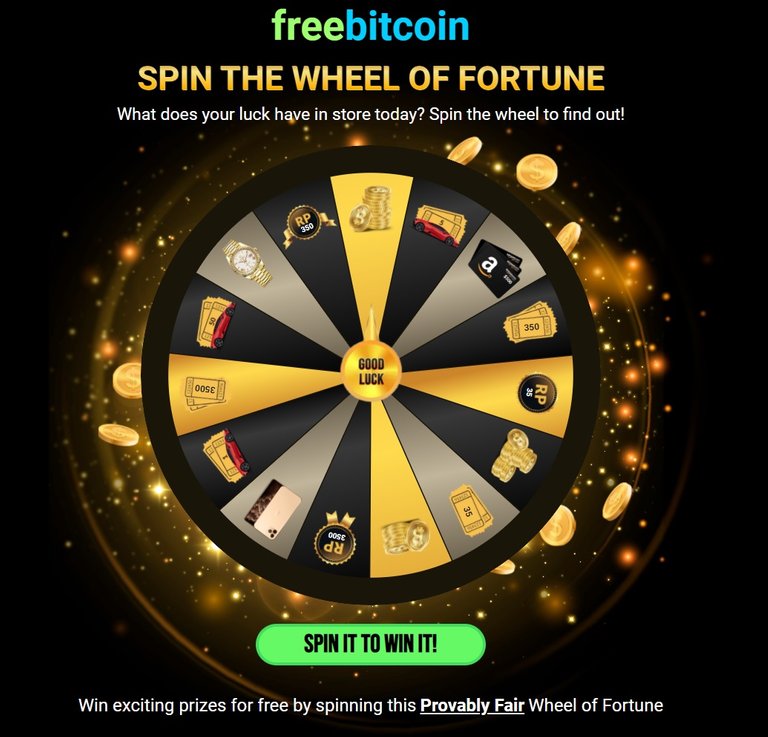 What can be won there is the following:
35 Reward Points (x2)
350 Reward Points
3500 Reward Points
35 Satoshis
350 Satoshis
3500 Satoshis
350 Lottery Tickets
3500 Lottery Ticktes
1 Golden Ticket
5 Golden Tickets
50 Golden Tickets
1500$ Iphone
15000$ Rolex
I'm not exactly sure what the chances are for each but most times you win 35 Reward points (worth 35 Satoshis) or 35 Satoshis with the rare occasion to win something bigger.
---
2. Hourly Free Dice Roll
There is an hourly countdown where a free dice roll becomes available which 98.85% of the time will earn some Satoshis along with some Lottery Tickets & Reward points.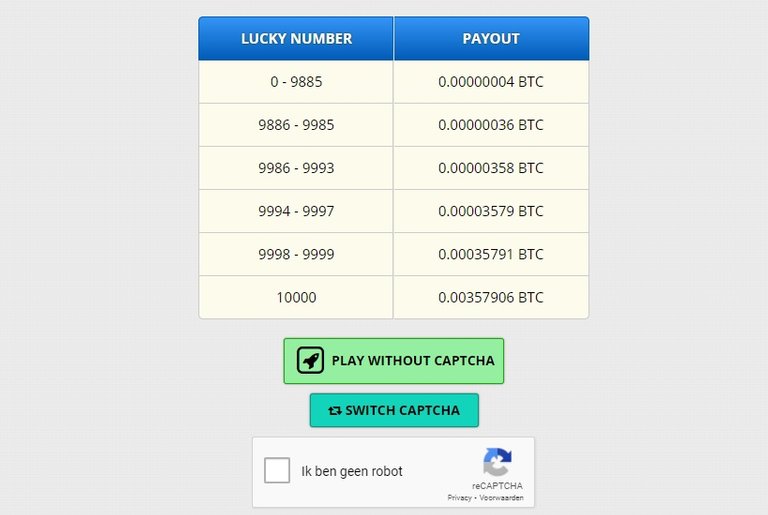 ---
Prizes and Payouts on Freebitco.in
Satoshi Balance

These comefrom direct earnings from the Wheel of Fortune and the rollw. With a current transation fee of 2523 satoshis to withdraw, most will be unable to really get far as it will be a large part of their balance unless they got lucky.
Reward Points
The reward points you collect can be converted into Satoshis or other rewards.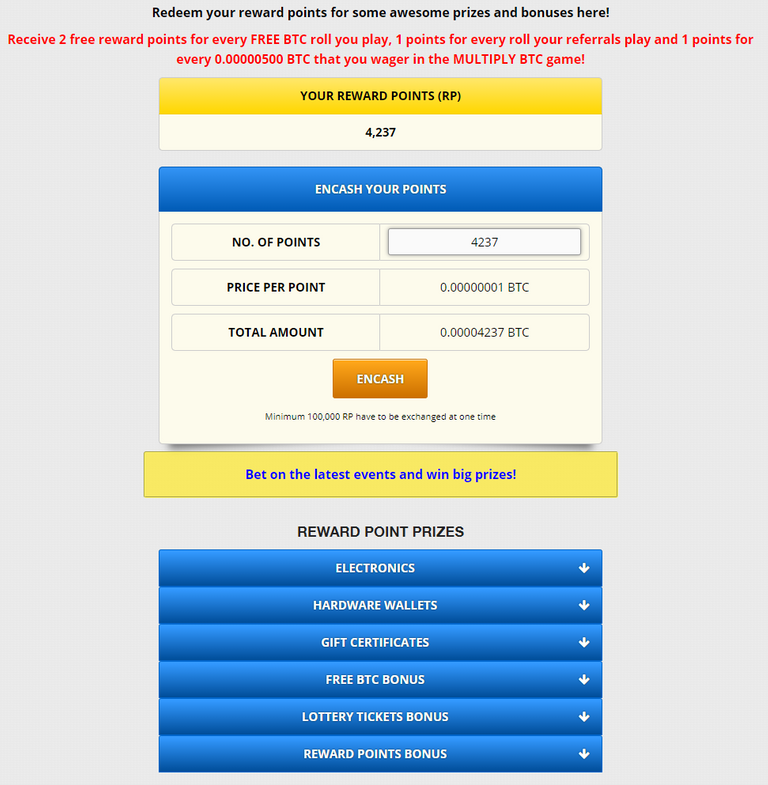 A minimum of 100k Reward points is needed if you want to convert them into extra Satoshis but there are plenty of other things they can be converted or going from an Iphone 11 Pro Max to and Amazon Gift cards or some bonusses on rolls or lottery tickets.
Lottery Tickets
Every lotery ticket enters a weekly lottery where prizes can be won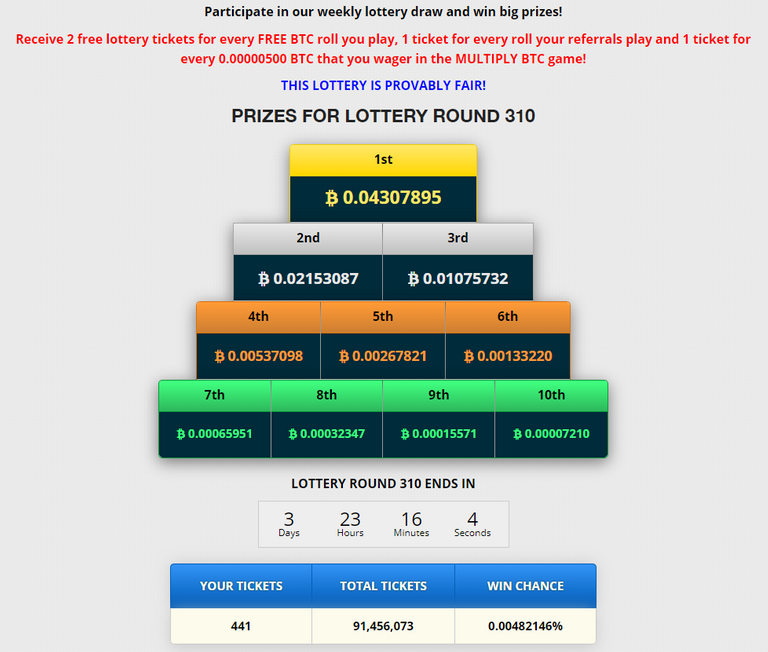 There are only 10 spots who win something in this lottery though with the winner getting around 2500$ in BTC. Extra lottery tickets can be bought or won by gambling on the website. I currently earned 441 Tickets for free giving me roughly a 0.005% of winning something.
Golden Tickets
Freebitco.in is also giving away a Lambo in another lottery which works with Golden Tickets who also can be won on the daily free Wheel Of Fortune.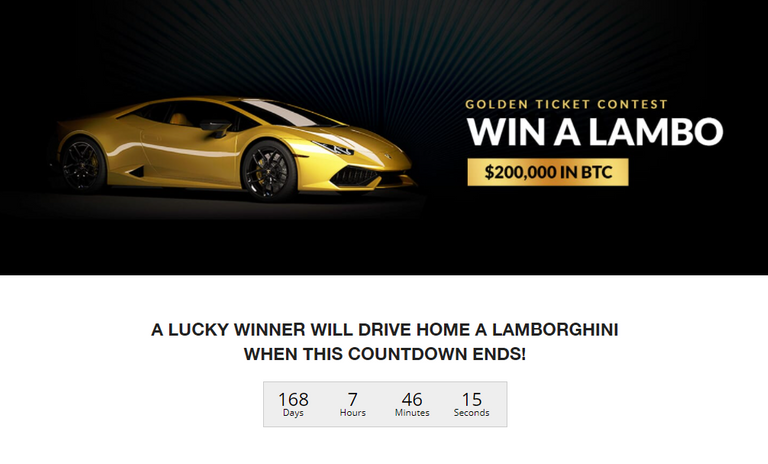 ---
Conclusion
After some initial confusion what Freebitco.in was about, I'm now finding a lot of fun just doing the Free Wheel Of Fortune Spin trying to earn some Satoshis without expectations to ever get anything out of it. They claim everything is provably fair and I do have a holding of FUN which became their loyalty program token (I'm not sure if I will actually ever stake it there). I do see what they are doing as something really smart getting a large userbase which will come in very handy the moment they bring out more products for the FUN token (Casino / Decentralized sportsbook which I will most likely end up using / Social games). Other platforms integrating the FUN token into their ecosystem as a reward program also will give those an instant userbase. So overall right now, I can only give thumbs up to freebitcoin and everyone looking to earn some free satoshis in a fun non-time-consuming way should have a look at it, especially when you believe Bitcoin will go way higher over time or if you are feeling lucky to maybe win the Lambo!
---
Posted Using LeoFinance Beta