Well I just traded BNB for some Hive with just a couple of clicks.
Straight from my metamask BNB wallet to my Hive wallet.. well then We have bridges connected to bridges of another token.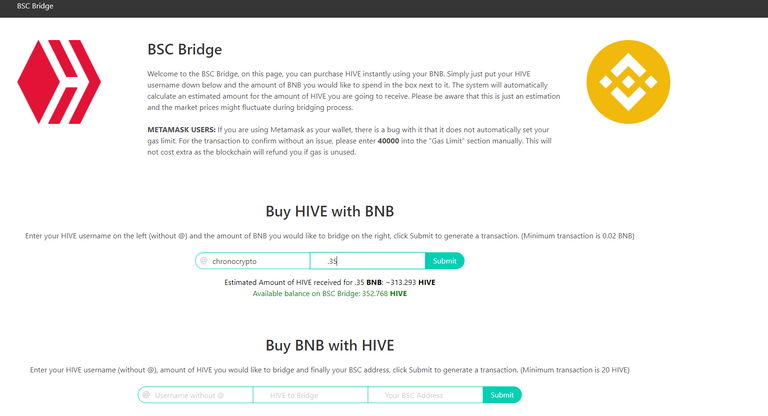 I took a couple of screenshots for you to see what I did.
You can see in the image above I was able to trade .35 BNB for some juicy hive.. I would of loved to do more since I needed to trade my bnb for Hive.
Still this is 10000x better then my way of doing it... so much hassle and even more in fees.
I was doing
Metamask to trust wallet to converting my smart chain BNB to regular BNB then sending it to atomic wallet to then trade it for BCH to then send it to Blocktrades to get my Hive...
AS you can see so much moving things and fees for me to do.. With this Bridge it cuts out at least 7 things and some fees, because BNB to BCH I am not getting a fair value.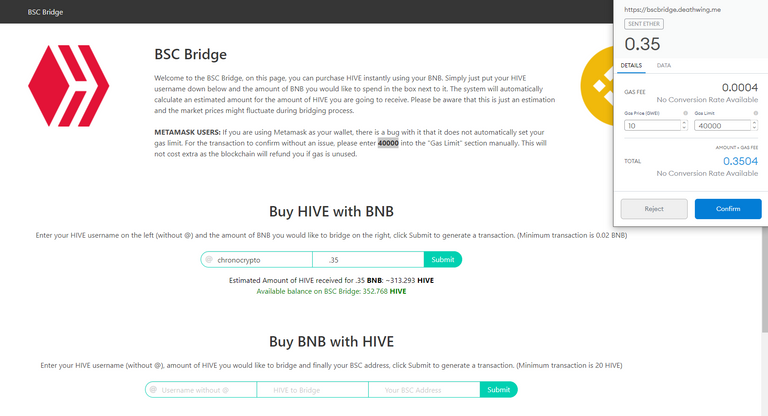 https://bscbridge.deathwing.me/
Is the site if you want a fast and easy solution to transfer your BNB to Hive or Vise versa.. but remember the liquidity still might be low this is all still being tested.
One thing to note is all this was done I think with out a proposal...
---
This is also anther reason to stock up on Hive many things popping and allowing outside blockchains connect to our ecosystem.
Posted Using LeoFinance Beta