Hey Jessatoshis
As a Bitcoin half maxi, I always enjoy hearing more about second layer solutions and giving it a try. I know they are far from perfect, but I think if I'm bullish on Bitcoin, it's worth putting a few Sats into a project and seeing how it evolved.
I've also had major altcoin fatigue my portfolio is 51% BTC, and managing all these coins is a mission. I'm actually going to be consolidating over 2021.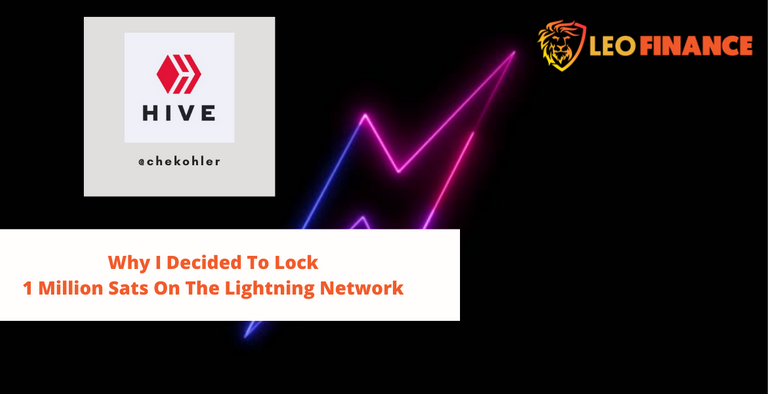 Duncan McBitcoin - There can only be one
There will be a few staking coins I keep that kick off daily cash flow that I can convert to BTC so I'll look to keep those and milk them going forward.
I think a lot of the altcoin market is more of a test of your resolve and how you fall for greed and narratives more than proving much competition for Bitcoin.
I'm not saying there aren't cool altcoin ideas and tools but let's be honest most of it comes out of Ethereum, and many of it can eventually be absorbed into second layer solutions on Bitcoin.
Why a million Sats?
The lightning network is essentially a payment rail for Bitcoin, allowing you to transfer Bitcoin without hitting the main chain! These off-chain settlements let you send Bitcoin at near-zero fees and consolidate funds, so Bitcoin doesn't have to be locked up as dust!
You can use it for day to day movements of coins, and once you've built up enough transactions to secure to the main chain you can broadcast 1 UTXO to your on-chain wallet and secure that Bag.
The issue with lightning is that no one wants to provide liquidity, and why should they? You get nothing for it, and you can instead use your Sats in CE-FI abs DE-FI if you want to hodl.
To put this into perspective, there are
14,000 public nodes
36,000 public channels
1050 BTC capacity ( >$12M USD)
On lightning but 1 Billion in wBTC on Ethereum, the lightning network doesn't have enough throughput to handle larger transactions.
The more Sats we have stored on Lightning, the bigger the volume of transactions and the shorter the hops takes to transfer.
I've seen many node providers asking for channels to be created, and a million Sats seems to be the most popular amount to open one with them.
Supporting the lightning network is an easy decision for me because this is a use case I think is valuable once we hit medium of exchange level.
So I'm getting ahead of the pack and going where clearly few Bitcoin owners are venturing!
Have your say
What do you good people of HIVE think?
So have at it my Jessies! If you don't have something to comment, comment "I am a Jessie."
Let's connect
If you liked this post, sprinkle it with an upvote or esteem and if you don't already, consider following me @chekohler and subscribe to my fanbase
| Safely Store Your Crypto | Deposit $100 & Earn $10 | Earn Interest On Crypto |
| --- | --- | --- |
| | | |
---

Posted Using LeoFinance Beta