Hey Jesspac Investors
When empires come to an end, people often scramble to grab as much as possible for themselves, before it all comes crashing down. That's often the feeling I get after watching what's going on the stock market these days, it's a complete and utter frenzy, where stocks never come down and seemingly limitless profits to be made.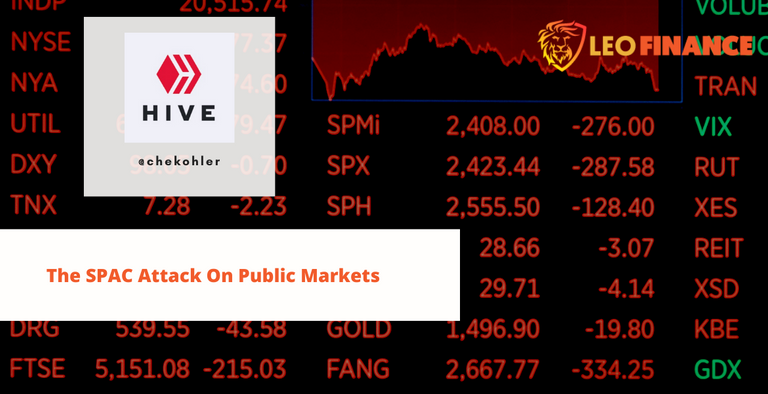 What is a SPAC?
A SPAC or a special purpose acquisition company is also known as a "blank check" company. It is essentially a shell corporation designed to take companies public without going through the traditional IPO process. SPACs allow retail investors to invest in private equity-type transactions, particularly leveraged buyouts.
What companies do with a SPAC is allow you to buy shares in an entity that will then go out and buy a company they feel could use that capital to generate profits in the future. When you invest in a SPAC, you don't know the company's fundamentals the way you would with an IPO before it hits public markets, so you are taking a massive risk.
However, in a world where the FED is backstopping the market, and retail investors are bidding up bankrupt companies, isn't that the perfect environment to launch a few shell companies and get in on the frenzy? In markets where fundamentals don't matter putting your name in the ring is sure to get some capital coming your way as long as you tell a good story.
2020 was the year of the SPAC
One of the highest-profile SPACs of 2020 had to be Virgin Galactic with Chamath leading the way on that one, and it looks like he has got a few up his sleeve for 2021 too. Another two big-name SPACS would be DraftKings and Nikola Motor Co.
Pershing Square Tontine Holdings
IPO Price: $20
Capital Raised: $4 billion
Churchill Capital Corp. III
IPO Price: $10
Capital Raised: $1 billion
Therapeutics Acquisition
IPO Price: $10
Capital Raised: $118 million
According to crunchbase
A SPAC gets around a lot of regulation, but that doesn't mean that every SPAC is guaranteed success. Those who take SPACs public and acquire companies are handsomely rewarded for their management of the fund and care very little over the long term growth of the company as a traditional investor would.
We also know that a lot of money doesn't mean a company will be successful and in some cases, it can even weigh the company down and kill it over time as they waste capital or grow at unsustainable rates which eventually fizzle out over time and before you know it, the company's losses catch up to them.
The growth of SPACs
SPAC launches quadrupled in 2020 when compared to last year, and an astonishing number of SPAC combinations (the transactions that actually take a company public) have been announced according to npr.org. 2021 seems to be no different, with double the amount of SPACS predicted to launch in 2021 than in 2020.
SPACS remind me a lot of the 2017 ICO days and we all know how that ended, I am pretty sure SPACS will end the same way once the bear ma
Have your say
What do you good people of HIVE think?
So have at it my Jessies! If you don't have something to comment, comment "I am a Jessie."
Let's connect
If you liked this post, sprinkle it with an upvote or esteem and if you don't already, consider following me @chekohler and subscribe to my fanbase
| Safely Store Your Crypto | Deposit $100 & Earn $10 | Earn Interest On Crypto |
| --- | --- | --- |
| | | |
---

Posted Using LeoFinance Beta