Hey Jesspeculators
2021 has indeed been the year of the doge; some fear the doge, others embrace the doge, and some have even been dubbed the dogefather, aka Elon Musk, who has fueled the speculative mania with his tweets and cult-like Twitter following.
Dogecoin was created as a joke and remained a joke, but as more people pile into these meme coins and meme stocks, weird narratives have begun to emerge to justify the price appreciation. I've even seen people argue about the intrinsic value of doge and why it is a viable investment.
I own doge; I've had it for years; it's never been an investment to me. It was just something I messed around with during my shitcoin phase. I eventually learned more and moved on to Bitcoin, but I don't see why a random crypto meme token can't exist.
Sending it around tipping people is fun, but it's started to take on a whole new get rich together Ponzi like theme in recent months. People who don't know the difference between dogecoin and stocks are buying this thing, and it's really spiralling out of control.
I've even seen stories of people going all-in on the doge, as in their entire life savings; now that's scary.
I honestly don't know if people are trolling or believe the crazy narratives; I've seen so-called professional investors say don't right off doge, the network effects, hey Mr Real vision. It's really gotten that far that dollar junkie will give anything a shot as long as the price in US dollar terms goes up.
Volatility doesn't die. It moves
Watching a whole lot of financial content, I think everyone is accepted that there is going to be intervention from governments at certain points of failure and break down. Providing liquidity, bailouts and softening the blows for speculators puts a damper on volatility and removes risk from the system.
Instead of people being rewarded for allocating capital to good projects and punished for backing bad ones, it's just we'll save you from speculating another day because you've already created jobs.
It sounds nuts, but that's basically what I see happening. When you're always coming to the rescue in markets, volatility is hidden, or it moves somewhere else. I think this is why Bitcoin and the wider market of random coins have become too popular. It's a free market; no one is coming to save you, regulate you, bail you out, it to the moon or bust, and people seem to love it.
Now there is nothing wrong with speculating, gambling and taking a moon shot, but I think this has become a lot more sinister than that.
Speculation based on hope now based on nihilism
Previous speculative bubbles from the radio, railroad, dot com and more, had something tangible attached to it. Bitcoin even goes through its programmatic bubble phase where it gets overbought, but it is trying to solve it. The system might not be ready for all that capital yet, and it corrects with time, but you can see where it's going.
Businesses are being built, jobs are created, industries are being disrupted, and deflation comes into play as more efficiency is brought to the financial system through this new bubble called Bitcoin.
In the case of doge, however, it was created as a joke a meme, and while it was fun then, people are taking it way too seriously now. I feel like it's become a sense of financial nihilism.
Investors are signalling to the market that they feel hopeless, the system has failed them, and they'll much rather take a flyer on dogecoin than participate in the rigged economy.
Why be cautious? Why save? It's getting you nowhere; just YOLO into doge instead. Instead of misallocating capital based on a hope of a new future, this is a misallocation of capital based on mocking the system.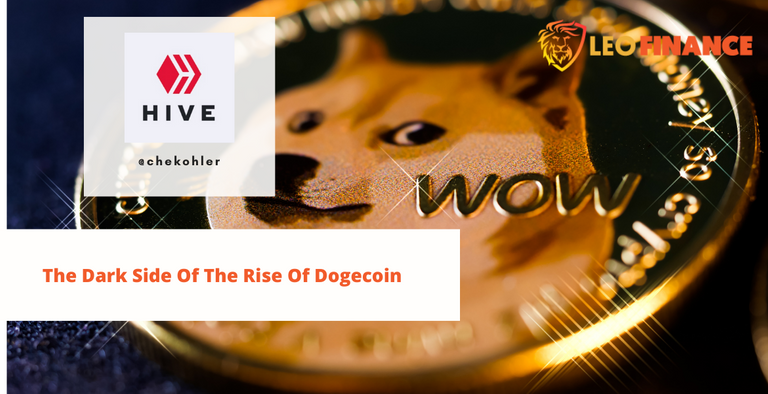 Capitalism should incentivise value creation
Capitalism is broken; I am not here to debate the merits of it and if we should have another system. I think capitalism works fine; the implementation is just well off point when you have a fiat money system. The same would be with socialism or any system you create; fiat money would rip it apart eventually.
The whole reason I bring up capitalism is that its founding principle is one that if you allocate resources accordingly, if you create value, you get rewarded.
Dogecoin is meme'ing capitalism; it's saying it doesn't matter what the asset is or what it does. It can be completely useless, and we can still make it worth more than these so-called big tech companies and certain countries mismanaged currencies. A dogecoin is worth more than my local currency, and that speaks volumes.
Mocking the system
I totally understand why people feel that way, I feel like the system has failed me too, but I've taken on a different approach. Focusing on Bitcoin, trying to stack slowly and participate in building a new economy that values saving and the principles I believe in.
Dogecoin seems to be an antithesis of that; yes, both Bitcoin and dogecoin feel like the system needs reform, but with Bitcoin, I feel like there's hope, there's a plan, but with dogecoin, I feel like it's a case of let's bring this fiat thing down without a real solution.
Have your say
What do you good people of HIVE think?
So have at it, my Jessies! If you don't have something to comment, "I am a Jessie."
Let's connect
If you liked this post, sprinkle it with an upvote or esteem, and if you don't already, consider following me @chekohler and subscribe to my fanbase
| Safely Store Your Crypto | Deposit $100 & Earn $10 | Earn Interest On Crypto |
| --- | --- | --- |
| | | |
---

Posted Using LeoFinance Beta