Hi Jesspeculators
Ever since the ICO boom of 2017 altcoins have been popped out at a frantic pace, 99% of them aren't worth much, and hundreds even thousands of tokens have gone the way of the Dodo.
Certain altcoins have risen to the top, built cult followings and have secured a reasonable market cap.
To me, I don't see any altcoin as invincible and unable to be taken down.
be it through government,
be it through self-sabotage of the core team,
be it through hackers
or through disruption by future projects
I think many altcoins have yet to be tested the same way Bitcoin has and while Bitcoin takes the brunt of the pain from regulation and governments, altcoins have been able to hide behind it.
BTC also provides capital inflow into altcoins, and when it goes on its bull run and settles at its new floor, it also helps fund and maintains the stability of these projects.
Absorbing ideas and liquidity
The way I see altcoins are as experiments of new ideas, the move fast and break things kind of thing. Some pretty cool ideas have come from it things like decentralised exchanges, DE-FI, Smart contracts, DAOs, dApps and more.
I am sure new ideas are in the works as we speak and we'll have new things to keep us busy with especially as cross-chain assets, atomic swaps and liquidity pools become more popular.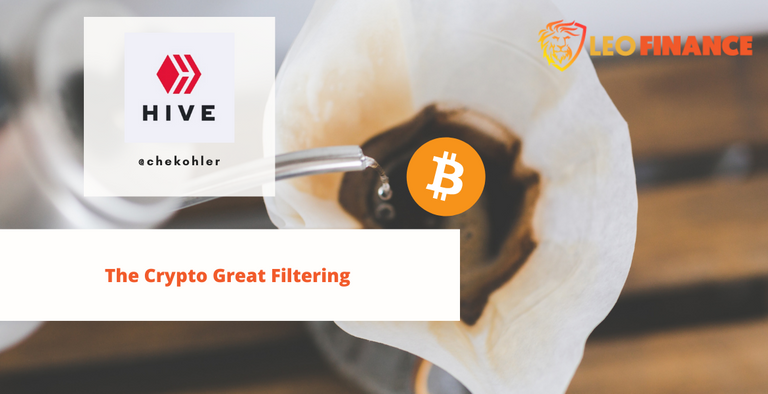 Network effect
No altcoin is going to beat the network effect of Bitcoin; the gap is far too large. No altcoin has the penetration or attractive monetary policy that Bitcoin has and will continue to outpace others.
I see more companies willing to support BTC, hold BTC, accept BTC, build BTC products, BTC lawyer 2 solutions and integrating and accepting BTC. The network effect is a runaway effect; once it takes hold, it multiplies each year and far outstrips the competition.
We've seen this with tech companies like Facebook and so many other examples, but none will be on the scale of what BTC can achieve, with so many people willing to invest time, money, labour to grow the network.
Plenty of coins will be filtered out
Many projects rely on the bull market for survival; they are usually the first to go as the long crypto winter sets in. You only have to look at the top 10 coins each year since 2015 to realise every few stay the course.
As BTC layer 2 solutions improve, they can also start to absorb the ideas from the alt-coin market and look at alts as a benchmark for improvement. If an alt has a unique property, BTC cannot replicate it will survive, if not it will die.
As more companies start to build on Bitcoin, and focus less on the core chain and move to side-chain, cross-chain, and layered solutions, it's only going to filter out more coins.
Personally, I do enjoy bear markets more, where there is less noise, and you have time to see what these projects are about rather than now where its all about look at me, invest, number go up.
Bitcoin not only absorbs value from energy and the fiat world, but it will also take from the fintech and altcoin world too.
Have your say
What do you good people of HIVE think?
So have at it my Jessies! If you don't have something to comment "I am a Jessie."
Let's connect
If you liked this post, sprinkle it with an upvote or esteem and if you don't already, consider following me @chekohler and subscribe to my fanbase
| Safely Store Your Crypto | Deposit $100 & Earn $10 | Earn Interest On Crypto |
| --- | --- | --- |
| | | |
---

Posted Using LeoFinance Beta